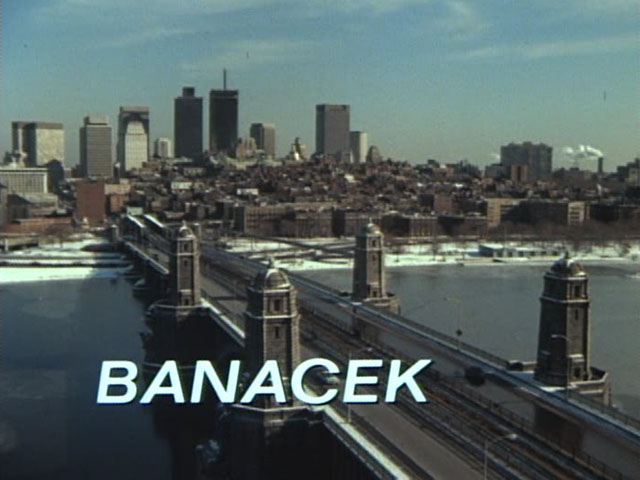 1. Title
Allen Markham and his wife Lydia come to an expensive Boston hotel to sell a small coin collection
for several million dollars. Allen has spent 15 years assembling the collection, called "The Kings",
as the coins depict monarchs. The coins are stored in a special red velvet lined suitcase.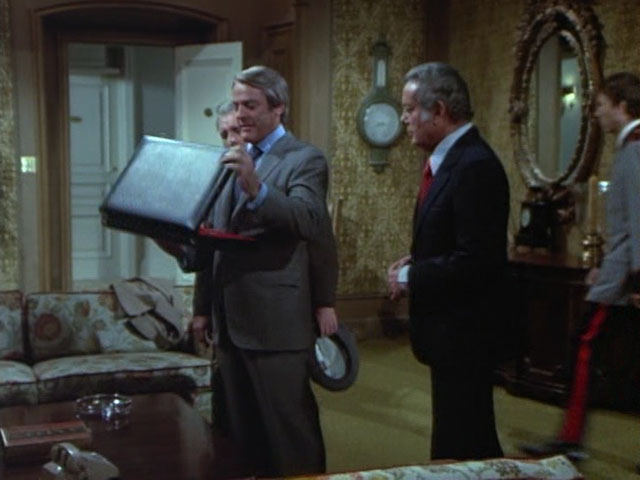 2. Allen Markham checks coin case
The case is opened to show the ten coins.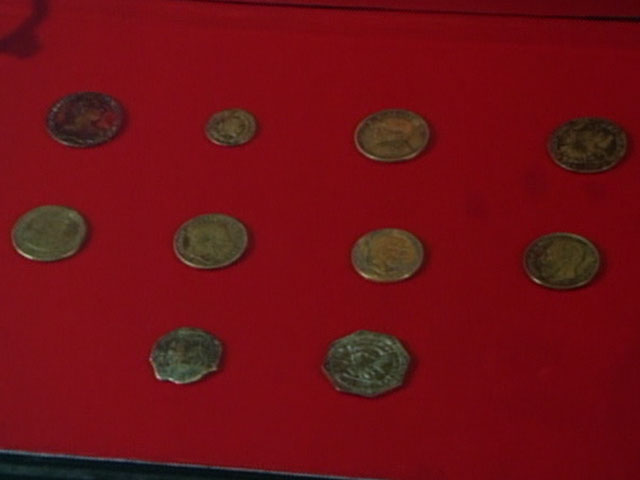 3. The Ten Kings
Some of the coins can be identified.
Maria Theresa thaler, small coin, China Yuan ShiKai dollar, unknown,
Spanish dollar, unknown, unknown, Belgium 5 francs,
Spanish cob type coin, California slug medal.
The hotel room has a large safe with a time lock, Markham puts the suitcase in the safe,
and a hotel employee sets the safe timer to re-open it at 9:00am the next morning.
Markham looks to spend some quality time with his wife Lydia but finds her asleep.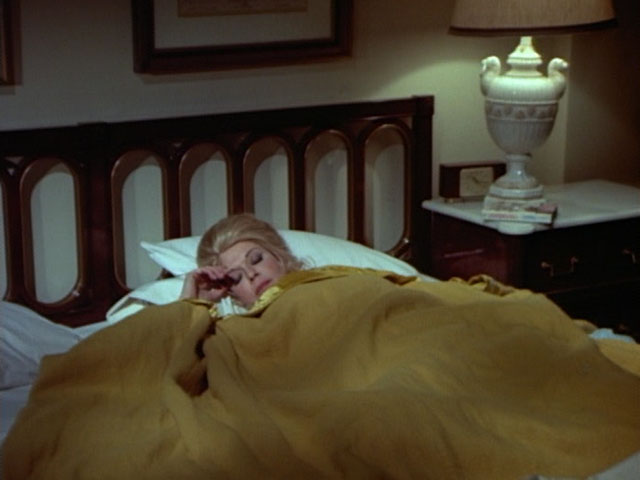 4. Lydia asleep
The next morning Markham gets up and opens the safe to find the suitcase and coins missing.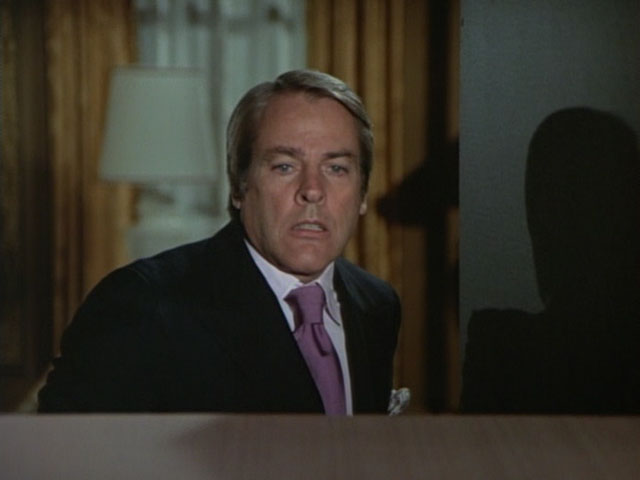 5. Markham discovers missing coins
He calls the hotel security and the police, and Banacek also arrives to offer his services.
Markham is worried that he and his wife will be blamed for the theft and called the "notorious coin thieves".
While checking around, Banacek encounters Sharon Clark who he knows.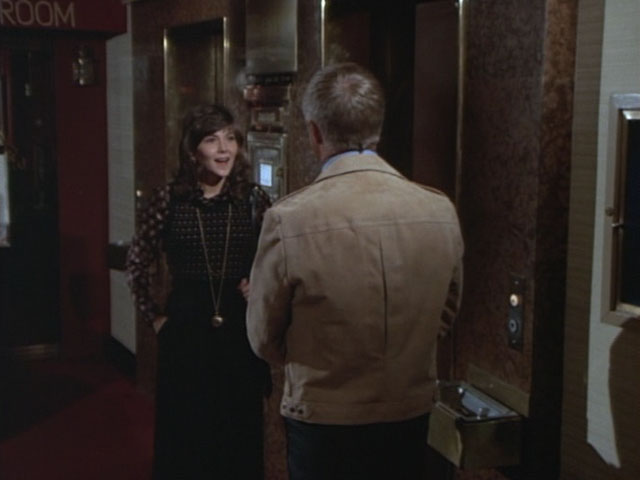 6. Sharon Clark meets Banacek
Sharon works for the "Amsterdam Bank" and was in Boston to make a deal with Markham
to purchase the coins for her bank which wants the publicity.
She tells Banacek that if she is successful she will get a promotion at the bank.

7. Thomas Banacek
Banacek starts investigating by questioning witnesses.
At one point he carries a coin catalog.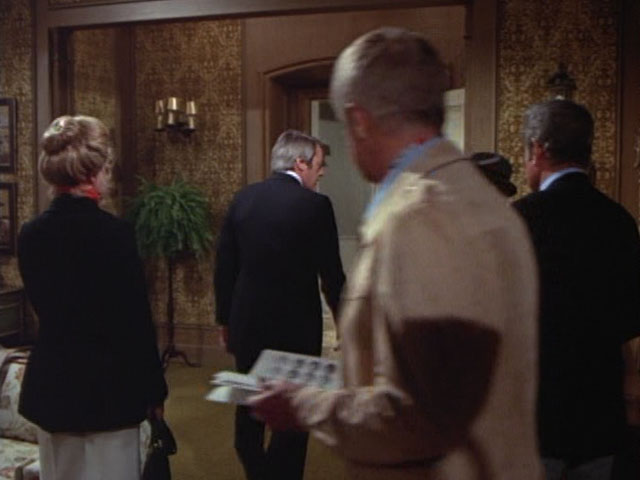 8. Banacek holding coin catalog
Banacek spends some time at a nearby park and there he meets the Garson brothers.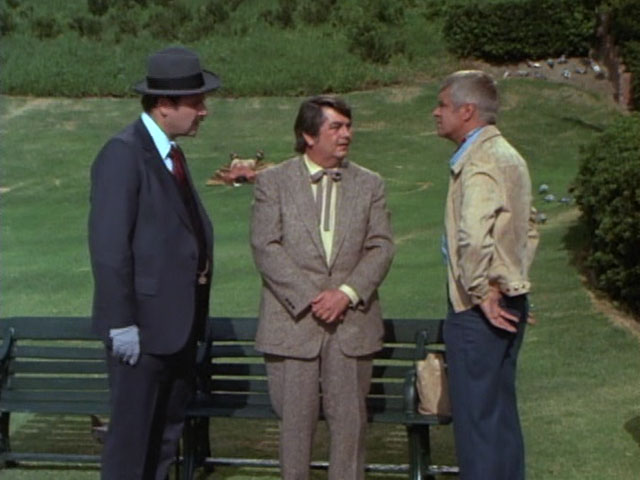 9. Banacek and the Garson brothers
The wealthy Garson brothers Oliver and Roland assume that Banacek will recover the coins.
They make him an offer to buy the coins from him directly.
Later he encounters Sharon in the park.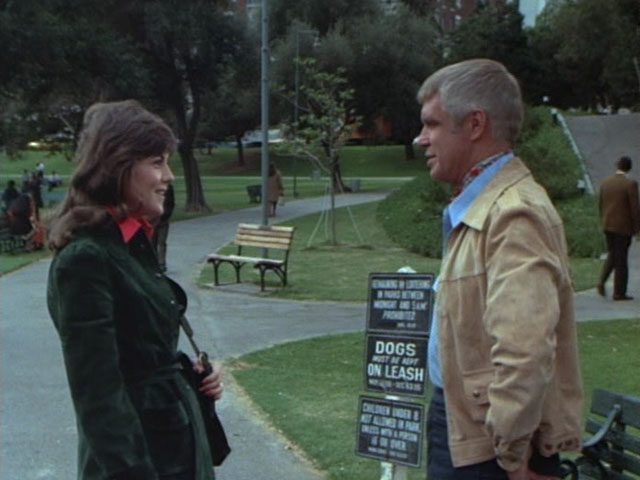 10. Banacek and Sharon
They become more friendly with each other.
Felix Mulholland is a rare book dealer who also knows numismatics.
He describes some of the missing coins to Banacek.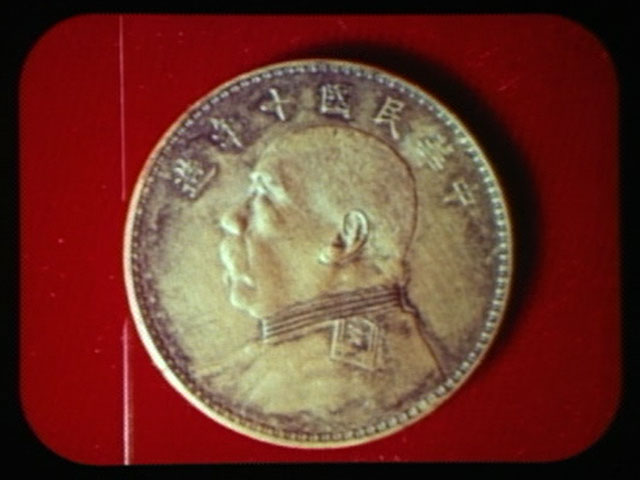 11. China "Fat Man" dollar Yuan Shih-kai Year 10 (1921) obverse
Described as a "$100 gold commemorative 1921 China Republic Yuan Shikai".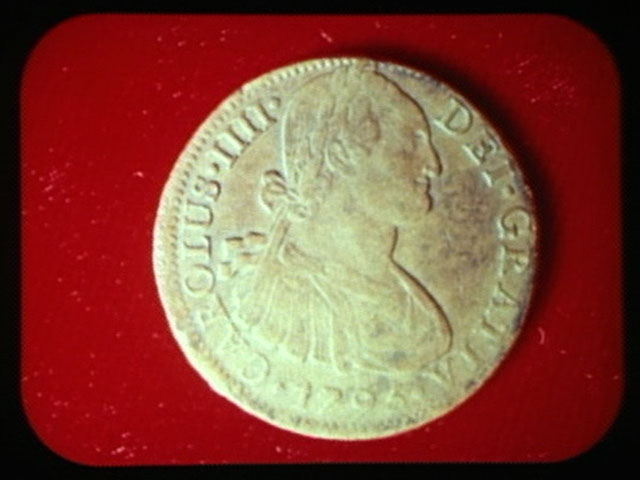 12. Spain silver eight reales Charles IV 1795 obverse
Described as a "gold 100 real portrait of Carolus IV 1795".

Banacek:
All I asked for was your opinion of their authenticity, not a crash course in numismatics.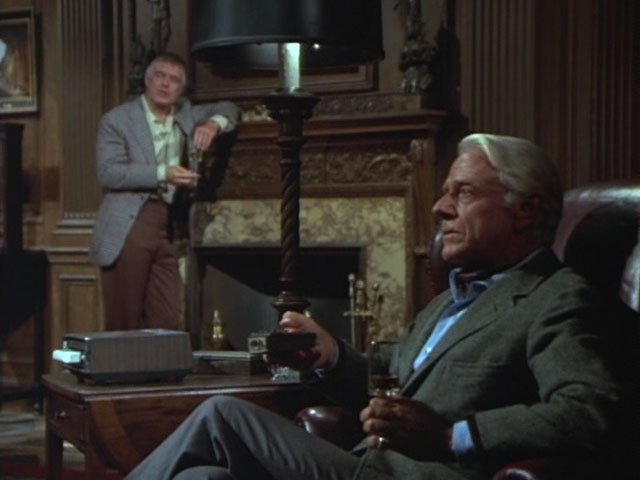 13. Mulholland describes coins
Mulholland continues to describe the coins.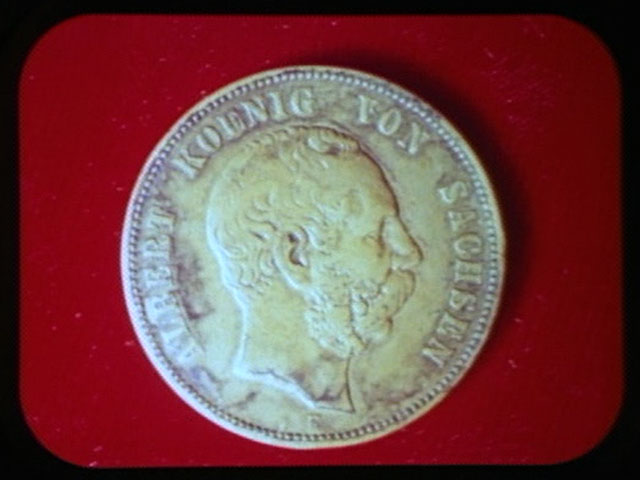 14. Germany Saxony (Sachsen) Albert 5 mark (1891-1902) obverse
Mulholland:
Well, It's difficult to tell whether they're genuine or not from these photographs, dear boy, but there's ...
Ah, Albert I of Saxony, the golden 100, 1821, or is it '22? Yes, '21.
I'm always getting them confused.
Banacek:
Everybody does.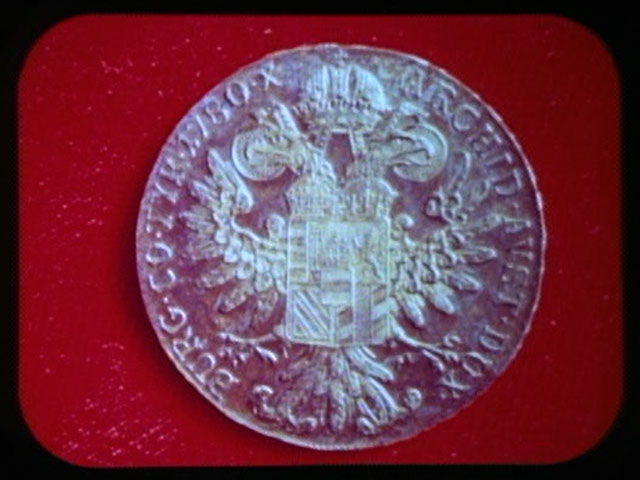 15. Austria Maria Theresa thaler reverse
Mulholland:
And just when we were coming to you favorite, the 10 zloty, Vladislav IV of Poland, coined 1640.

Sharon comes over for a visit, ending Banacek's coin education.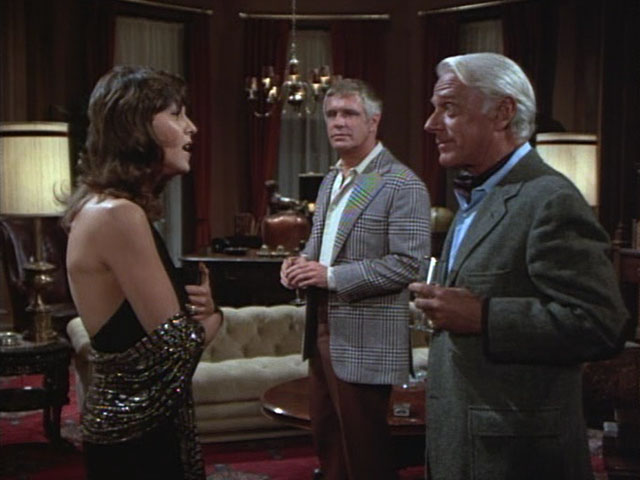 16. Sharon, Banacek, Mulholland
Sharon apparently spends the night with Banacek.
The next morning Banacek encounters Matthew Donniger in the park.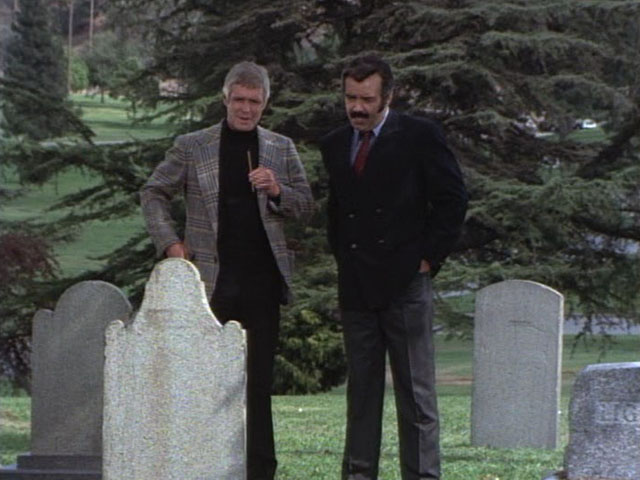 17. Banacek and Donniger at cemetery
Donniger met Markham and his wife some time ago through coin collecting circles.
He had an affair with Mrs. Markham and feels that Markham cost him a lot of money when he
bid up the price of a valuable set of coins at an auction.
Banacek drives his 1941 Packard to the large Garson brothers house.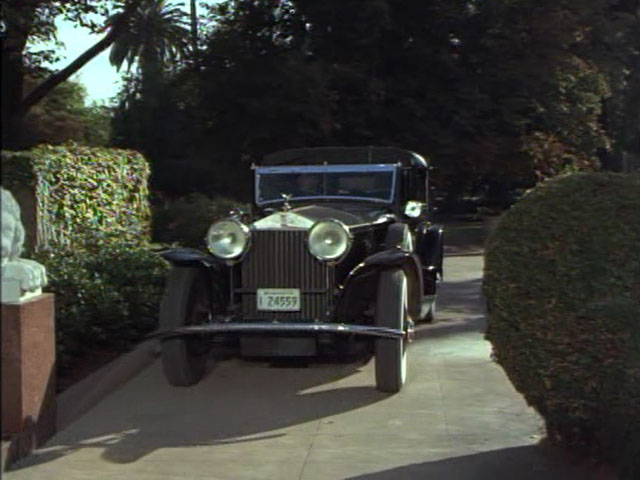 18. Banacek's car, a 1941 Packard
The Garson house is full of antiquities.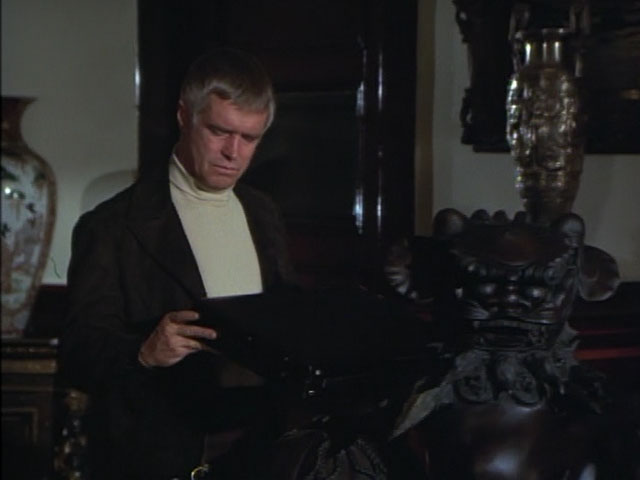 19. Banacek at Garson house
He spots a familiar looking case, opens it, and discovers the missing coin collection.
He holds up a coin to examine it.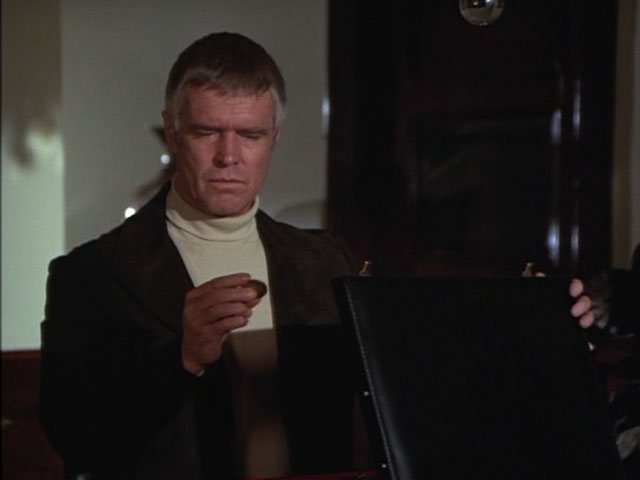 20. Banacek examines coin
The Garsons tell him that all of the antiquities in the house are copies
and that the real ones are housed elsewhere.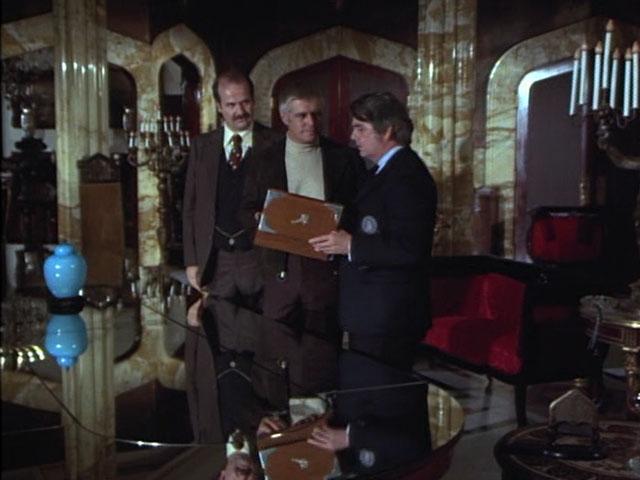 21. Roland holds copy case
The coin collection that Banacek found also consists of copies.
The idea of copies gives Banacek the solution to the crime mystery.
The principals head back to the hotel where Banacek explains things.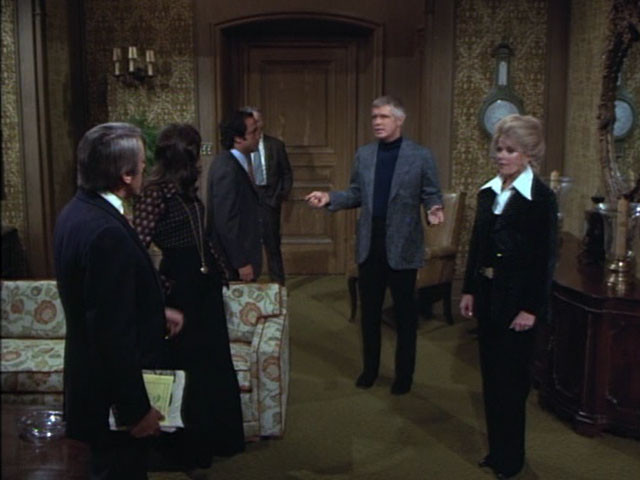 22. Banacek explains how the theft took place
Markham's wife and the hotel manager cooked up the scheme.
Markham gets his coins back.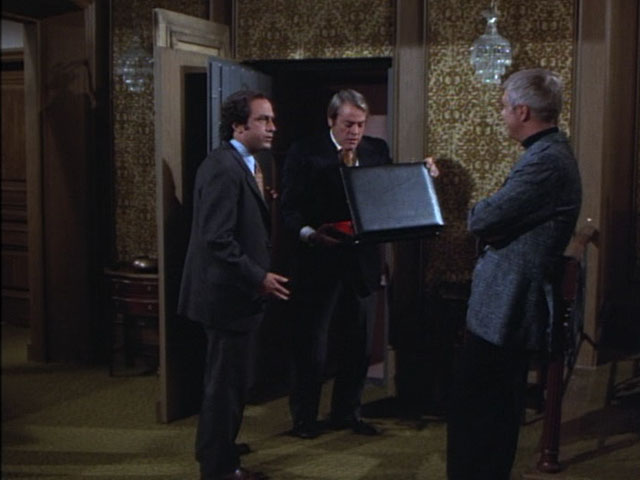 23. Markham gets his coins back
Mrs. Markham then confesses her part in the scheme.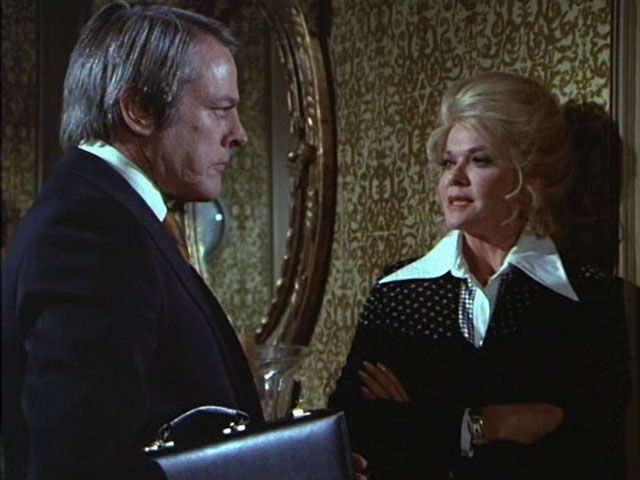 24. Lydia confesses
Lydia tells Banacek that she was tired of Markham's travels to coin shows and of him in general.
She knew that he was broke except for the coins.
She had had an affair with Donniger, her husband had found out, and in revenge, he told her how
valuable a set of coins was that Donniger planned to bid for, then he bid up the price causing
Donniger to pay a vastly inflated price for the coins.
When this transaction became public, coin magazines made fun of Donniger, calling him "rich and stupid".
Lydia admits to Banacek that the deal cost her "all marital loyalty" to her husband.
The theft involved drugging Markham and moving him to a similar hotel room two floors above.
Her accomplice the hotel man put a device on the room safe to record the combination which
Markham had set, stole the coins, then moved the drugged Markham to the correct hotel room.
The insurance company is happy it won't have to pay the claim, Banacek gets his ten percent,
and the wife and her accomplice are presumably arrested.
Banacek meets Sharon outside the Amsterdam Bank which has bought the coins and has them on
display, which was her mission for the bank.
The Garson brothers are left as spectators only.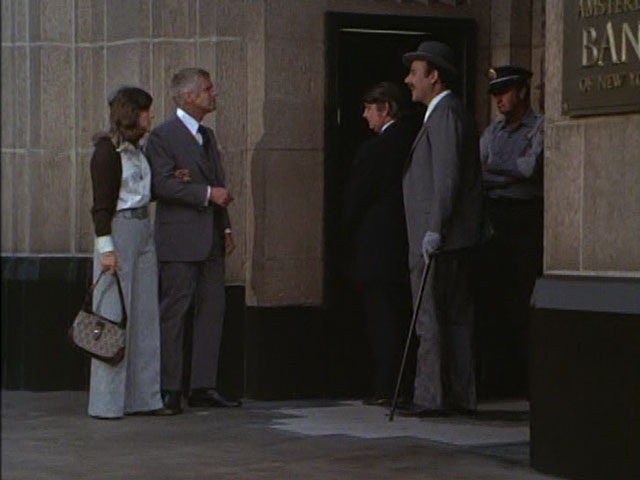 25. Garson brothers unhappy
Banacek and Sharon walk away after their successes.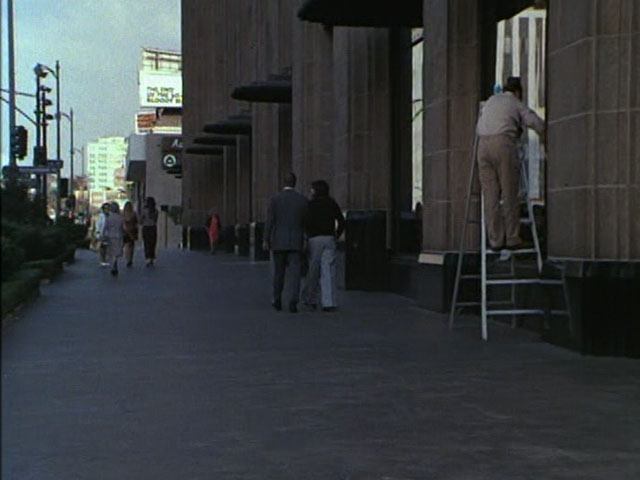 26. Banacek and Sharon walk away