1. Title
Barney Fife is complaining about his small paycheck.

2. Barney hold his check
He complains about taxes and wants a lucrative investment.
Andy tells Barney that his attitude would make him prey to a confidence man.
He then suggests:
Well now, I'll tell you. If you're really considering investing, why don't you try coin collecting?
Well sure, its a good hobby, and you can't never tell when you'll come across a rare old coin
that might bring you a whole lot of money.

Then Andy takes out a nickel.
3. Andy holds the nickel
Andy explains about the coin.

An Indian Head or Buffalo nickel five cent coin: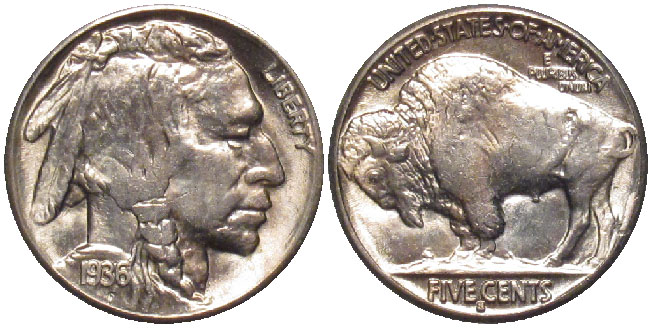 4. Indian Head or Buffalo nickel 1936-S
Indian Head nickels were made from 1913 to 1937.
Andy tells Barney it is worth a lot of money because, due to a mistake at the mint,
the buffalo is facing the wrong way.
Barney offers to buy Andy's nickel and they agree on a price of $75.
Barney pulls out what he calls a "regular" Indian Head nickel which implies that
they were still in circulation then.
Buffalo nickels were last made in 1937 and were replaced by the Jefferson nickels in 1938.
5. Barney compares nickels
Barney compares the nickels and realizes that they are the same.
He sees both buffalos facing the same direction, and gets the point.

6. Barney is shocked
Ellie brings in a Mr. Maxwell, he is a music producer looking for folk music which he can record
to sell to a music company and produce a phonograph record.

7. Maxwell arrives with tape recorder
He wants to record some of Mayberry's musicians.
Andy brings over a country group and they play a short number.

8. Andy and country music band perform
Maxwell records performances by some other residents.
Various townspeople offer Maxwell investment money for his project.
Andy declines, stating that Maxwell is probably a confidence man.
Maxwell leaves town, causing the residents to have doubts.
Sometime he returns and shows Ellie a contract with a record company and a check.
They visit the sheriff's office and Maxwell shows the contract and check to Andy.
9. Andy looks at Maxwell's check
Andy realizes that he has made a mistake and that Maxwell is honest.
Sometime later Maxwell and Ellie bring in the record album.
10. Betty arrives with record album titled "Music from Mayberry".
The final scene shows Barney trying to decide what to do with his money.

11. Barney studying investments in The Wall Street Journal