Anna Eva Fay Token:
Anna Eva Fay (1851-1927) who was a spiritualist popular in the late 1800's to the early 1920's.
She was one of the most famous and successful mediums and mentalists of her time.
Anna married Henry Melville Fay, another medium, and they had the son, John Truesdale Fay.
Anna Eva Fay retired in 1924 and died in 1927.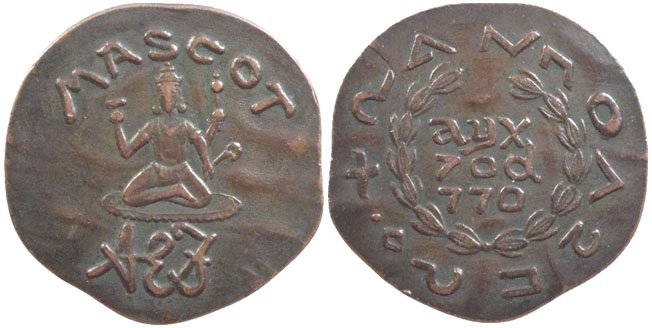 1. Fays Mascot Anna Eva Fay Token
Bronze, 32mm, 10.33gm, irregular shape
Obverse:
Sitting figure with legs crossed and three arms
MASCOT
AEF in script

Reverse:
Wreath
Magic letters in circle
AYX-7OD-77O