A.B. Woodruff wrote the check to James Inglis Junior:
I found this old check and became curious about the payer A.B. Woodruff and payee James Inglis Junior.
Absalom B. Woodruff was a lawyer who lived at 159 Main and had an office at 38 Market. in Paterson.
James Inglis Jr. was a judge, a Civil War veteran, and owned a store in Paterson.
Thanks to the internet and some Paterson New Jersey historians who posted old city directories,
I found out who the people were.
Neither was a relative of mine.
The most interesting thing was that the US government charged a stamp tax to write a personal check.

James Inglis Jr.'s Union Civil War military record:
James Inglis Jr. twenty-fifth Regiment-Infantry-Volunteers, Rank Qr. Mr.
Enrolled Sept. 25, 62 Must'd in Sept. 26, 62 Must'd out June 20, 63
Capt. Co. H Sept. 18, 62: Qr. Mr. to fill original vacancy. Regiment.
He took part in Fredericksburg, VA. Dec. 13 and 14, 62:
Near Suffolk, VA., May 3, 63.
He was a judge and stationer in Paterson NJ.
Member of 2nd Presbyterian Church of Paterson NJ.
Died June 1, 1914.
He married Ella M. Field.

Paterson city directory:
Inglis, James carpenter r 165 Market ("r" = residence)
Inglis, James Jr. [Field & Inglis] books & Stationery 117 Main r 43 Main
Inglis, Jane wid Charles r 165 Market
Field & Inglis Jr, Samuel B. Field & Jas Inglis Jr.
books and stationery, musical instruments 117 Main
Woodruff, Absalom B. lawyer 159 Main r 38 Market

Market Street area now: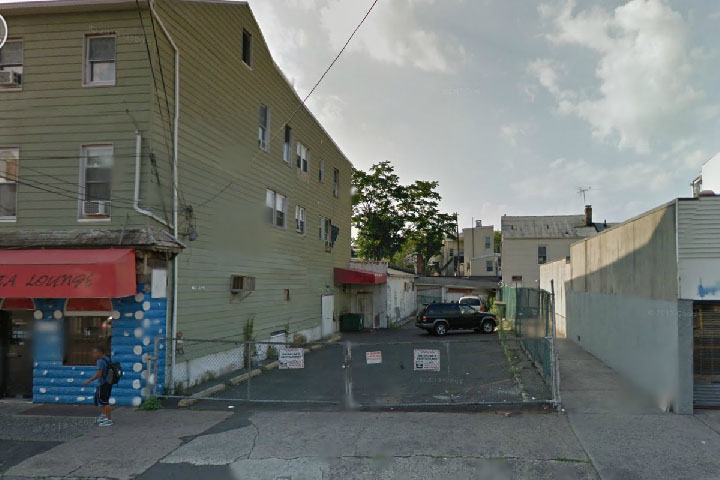 3. Market Street area now, Google Maps, October 16, 2013
38 Market Street appears to be the vacant lot between 40 on the left and 36 on the right.