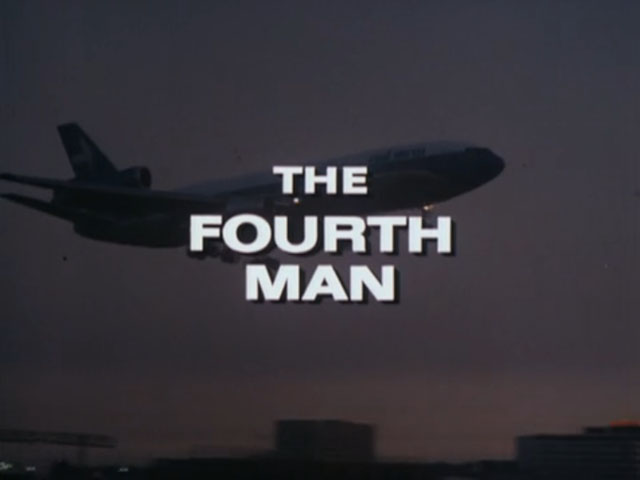 1. Title
Lori Jenivan is a Los Angeles Airport ticket agent.
She sees passenger Timson Farrell and says hello as she has seen him many times at the airport.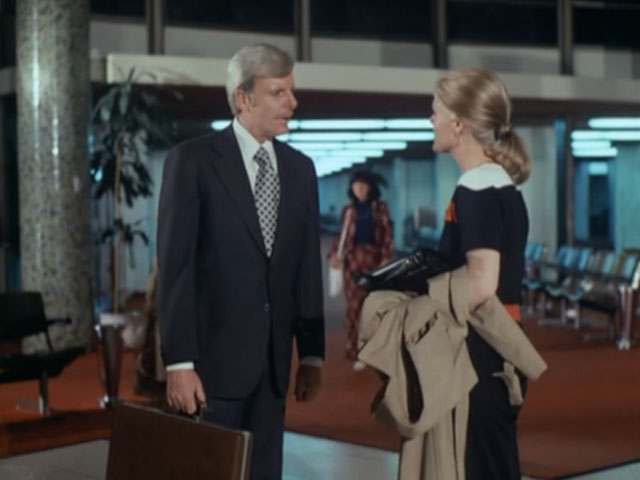 2. Lori Jenivan meets Timson
She asks him about his recent flight to Detroit, where he claims not to have been.
Lori goes out to her car and is followed by Timson, she runs and drops her purse.
She calls her friend Jim Rockford who offers to watch her apartment, which she declines.
Timson breaks into her apartment, she runs outside, and calls Jim.
They visit the police and another Rockford friend Lieutenant Dennis Becker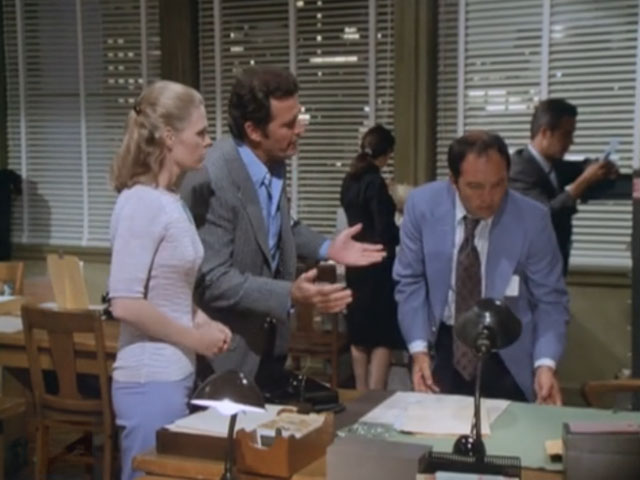 3. Lori and Rockford complain to police
Lt. Becker tells them that there is little that he can do as Lori could not identify Timson
as the man in her apartment.
Rockford finds out that Timson is a rare coin dealer and visits his shop in Studio City,
a suburb of Los Angeles.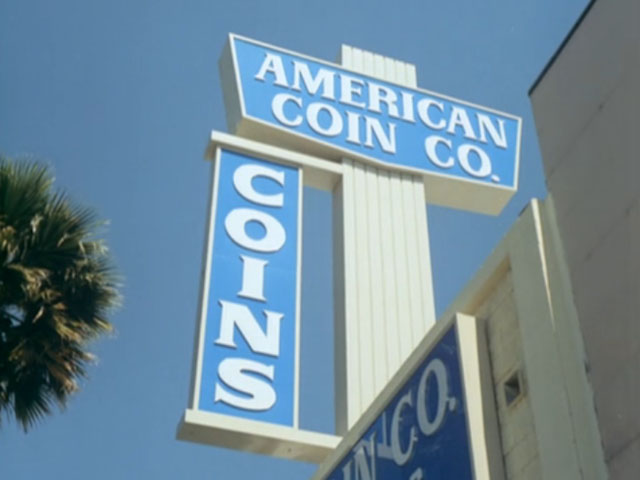 4. American Coin Company sign
The American Coin Company at 12164 Ventura Blvd., Studio City was a real coin shop at the time.
They placed an advertisement for coins in the November 1976 issue of
Popular Science
magazine.
The scenes filmed in the coin shop do not show the coins clearly, but the 1970's atmosphere is there.
Jim cons a mailman into showing some letters Timson mailed.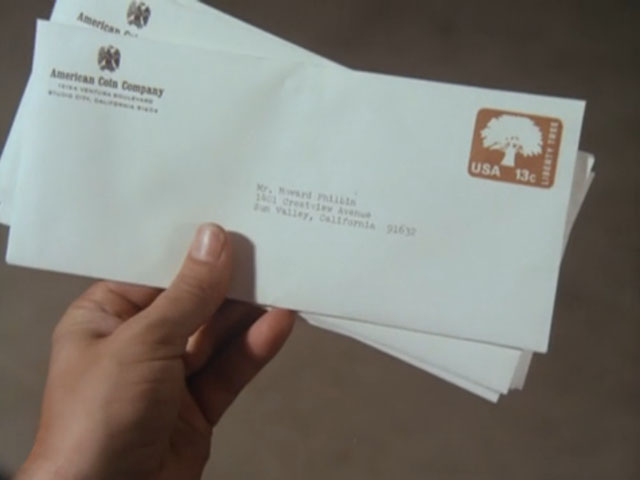 5. Envelope with the address of a customer
Jim enters the store and claims that a customer referred him.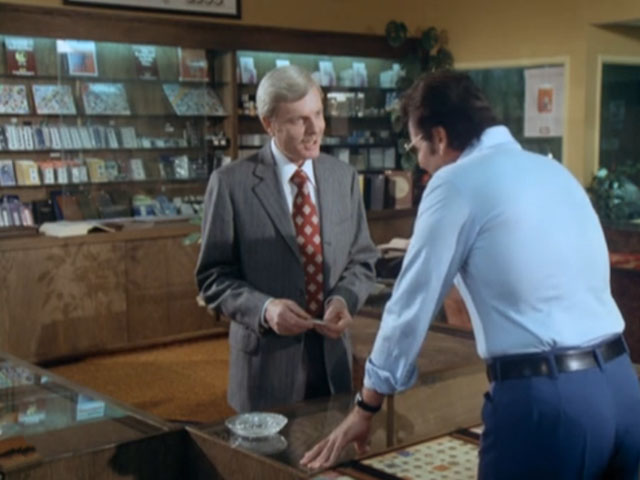 6. Jim Rockford buys a coin
Jim tells Timson that he wants to buy a coin as a birthday present for his nephew and asks him
for suggestions.
Jim also mentions an "1858 Flying Eagle cent".
Timson calls the customer who doesn't know Jim and turns him over to an assistant.
Jim and Lori get Timson's recent flight destinations and then visit the Los Angeles Library.
They look for news stories from the destinations and find that in the last three cities,
someone has murdered men who were going to testify against a gangster.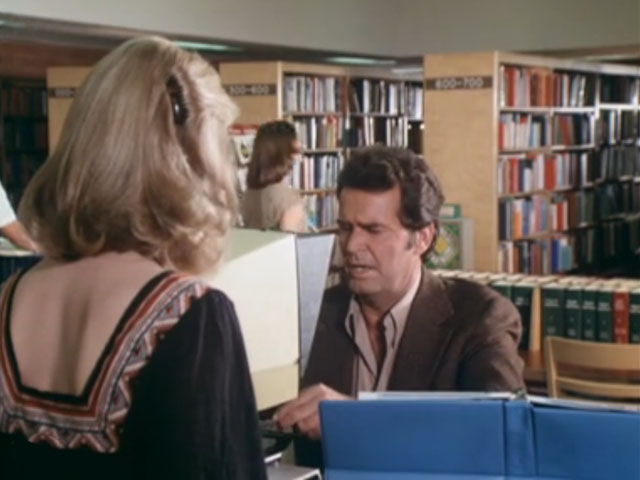 7. Lori and Jim find out about Timson's travels
Jim and Lori now know that Timson, besides being a coin dealer, is a "hitman" or professional killer.
Lori guesses Timson is going on another flight.
Jim, Lori, and Lt. Becker head for the airport and spot Timson, who is being followed by another man.
Timson runs into a repair facility followed by the three men.
The other man shoots Timson, and is then captured by Jim and Lt. Becker.
The shooter was a hitman hired by Timson's next intended victim, the "Fourth Man" of the title.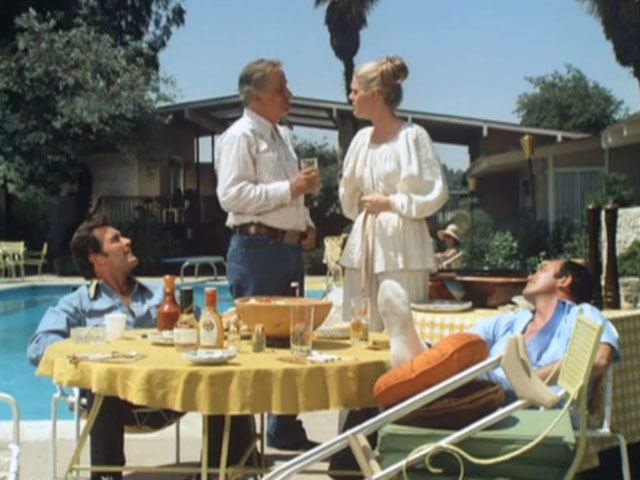 8. All happy
Jim and Lori are happy to have solved Lori's problem and Lt. Becker has stopped two killers.
Jim's father is just happy that Jim has survived another case.