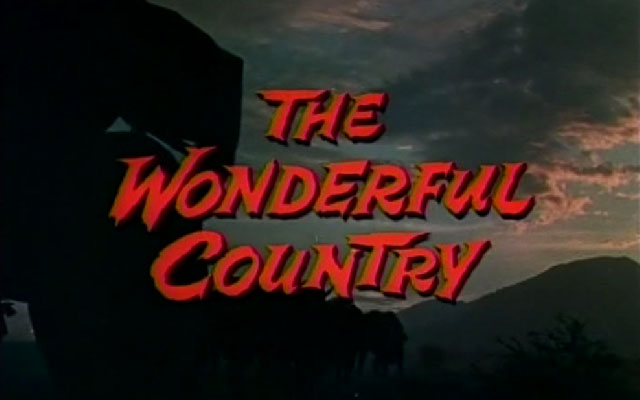 1. Title
Martin Brady is an American in 1880 who lives in Mexico and works for two
wealthy powerful brothers, the Castros.
Martin fled El Paso Texas after killing the man who murdered his father,
the Castros adopted him and raised him to be a gunfighter.
Gen. Marcos Castro sends Martin to El Paso with a load of Mexican pesos to buy rifles.
In El Paso, Martin breaks his leg in a horse accident and stays in Texas to recover.
A Texas Rangers captain tells Martin that he is no longer wanted for killing the man
and offers him a job.
Martin meets US Army Cavalry Major Colton and Mrs. Helen Colton, a beautiful woman
who is bored with the life of an Army officer's wife.
Major Colton makes an arrangement with Governor Cipriano Castro to bring his troops
into Mexico to chase Apache Indians.
In El Paso, a drunken bully pulls a gun on Martin, Martin shoots him, and heads back to Mexico.
General Castro is unhappy that Martin didn't deliver the rifles and send him to his brother,
the Governor.
Governor Castro asks Martin to kill the General, Martin refuses, leaves, followed by the
Governor's men.
Martin eludes the men and arrives at a small ranch, where he spends some time working.
Apaches attack the ranch, resulting in a gunfight.
The US Cavalry arrives, including Sergeant Tobe Sutton.
They lost many men in a battle with Indians, and Major Colton is seriously wounded.
Martin offers to guide the remaining troops back to the US.
They encounter some Indians and there is a fight over a wagon containing rifles.
They arrive at the Governor's house to find the Governor is dead and his brother the
General is now the Governor.
The new Governor orders the Americans to leave Mexico and to turn over Martin to him.
Martin takes off followed by one of the Governor's gunmen.
The gunman finds Martin, shoots his horse, Martin then kills him, and also has to kill his horse.
Martin lays down his guns and heads back to the US.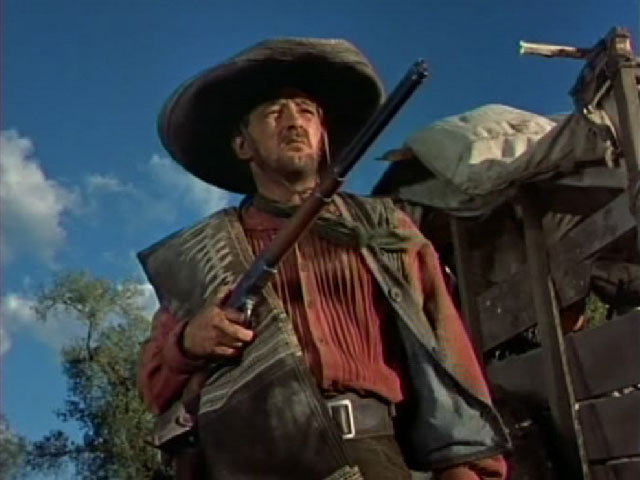 2. Martin Brady
Martin heads for El Paso Texas with bags of something.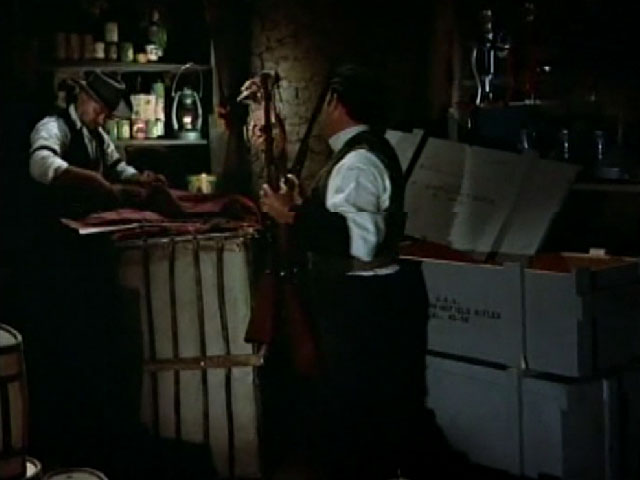 3. Rifles in boxes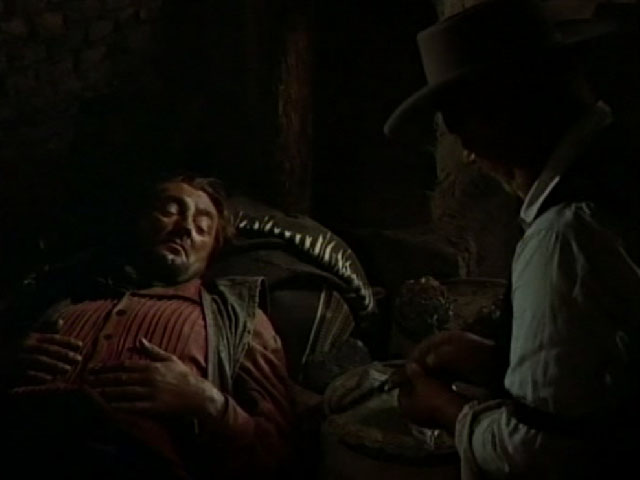 4. Martin watching
A local man wants to see what is in the bags Martin has brought.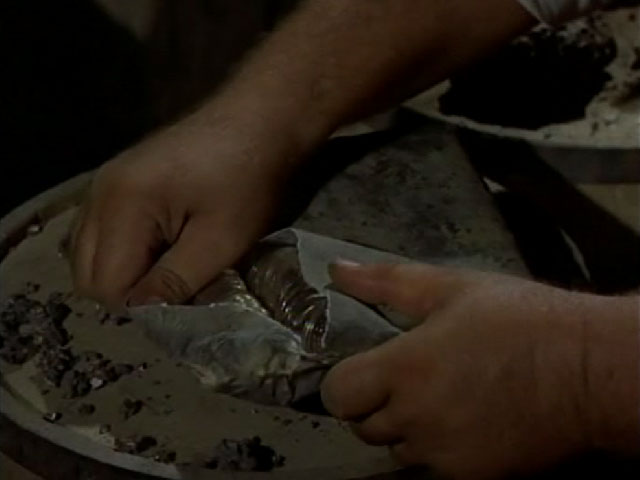 5. Opening the bag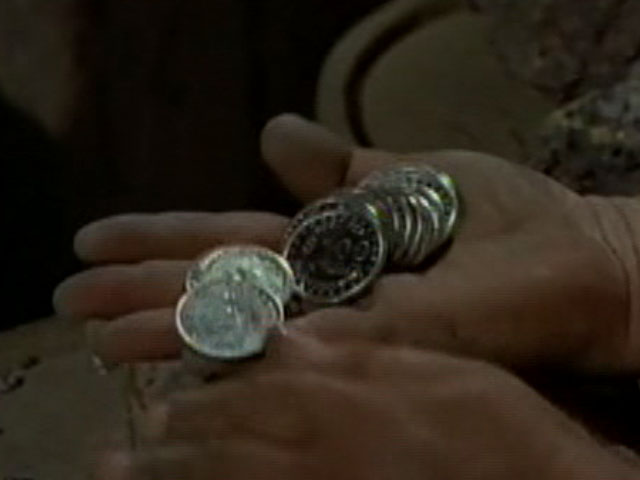 6. Silver pesos
Some kind of merchant or gaming tokens fill in as prop coins for the Mexican pesos.
They have "Good for $1.00" on one side.
The Los Angeles Rubber Stamp Company might have made these as they made similar prop coins.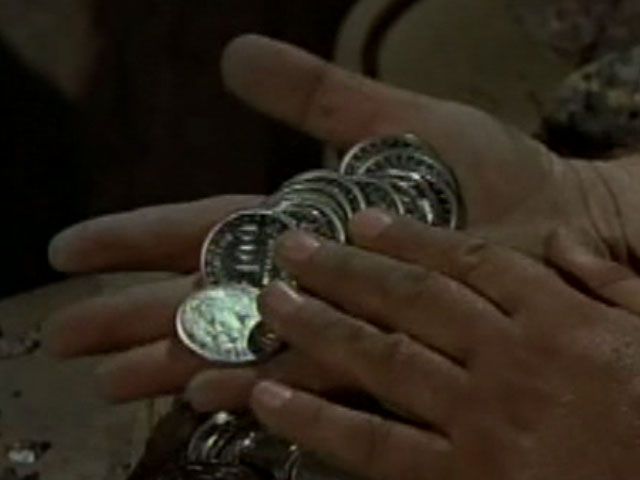 7. Silver pesos
Another view
A Mexican peso (eight reales) from the Chihuahua Mint: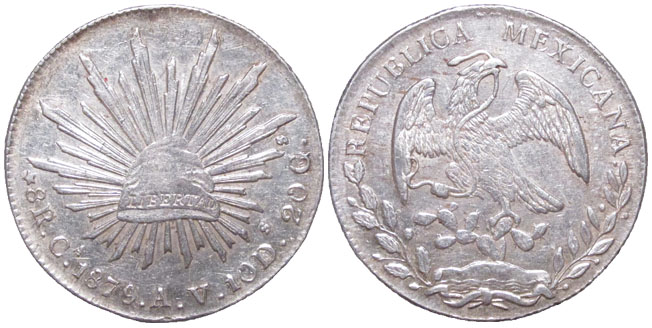 8. Mexico eight reales 1879 Chihuahua Mint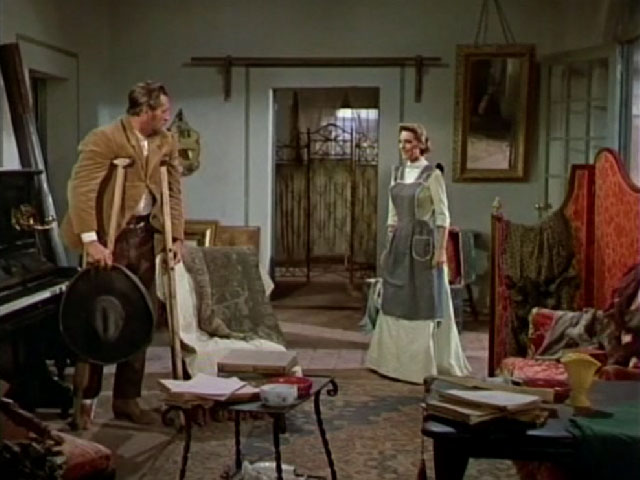 9. Martin meets Helen Colton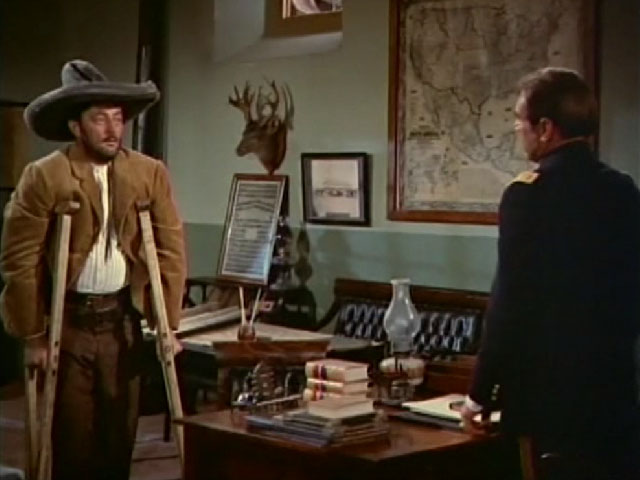 10. Martin meets Major Colton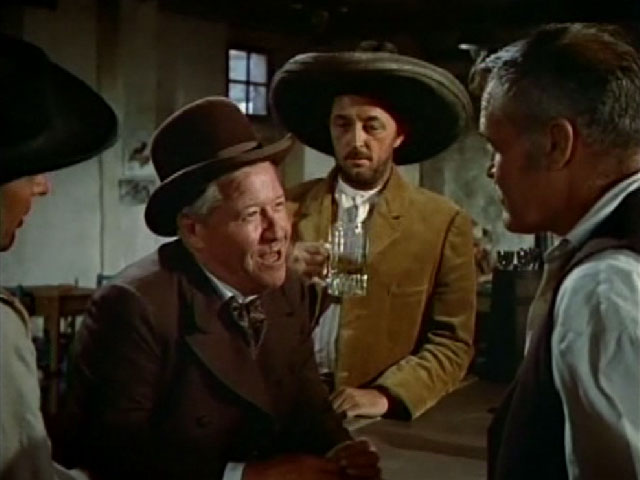 11. Martin in bar
The bartender is played by Tom Lea, who wrote the novel.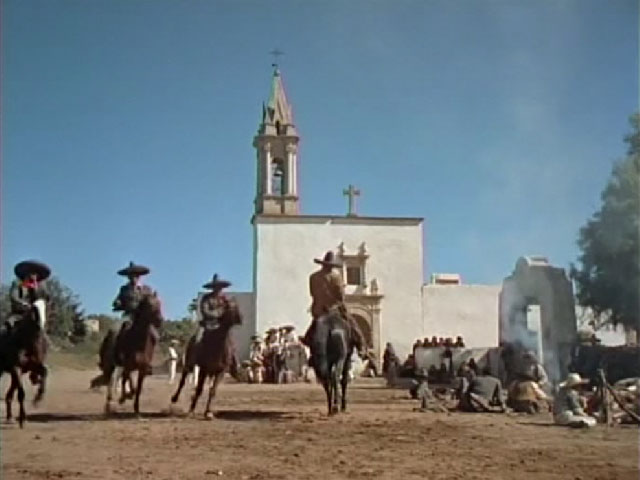 12. Heading back to Mexico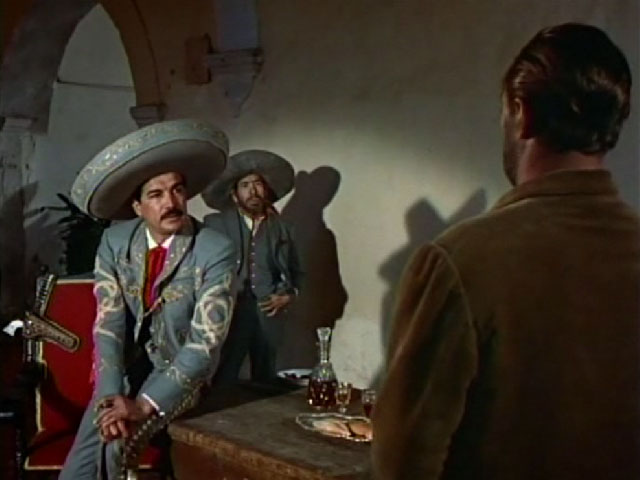 13. Gen. Marcos Castro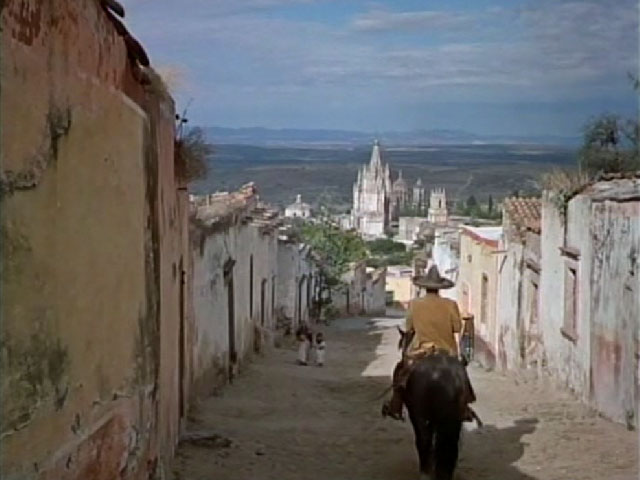 14. Martin heading into the state capitol
He is going to visit the governor.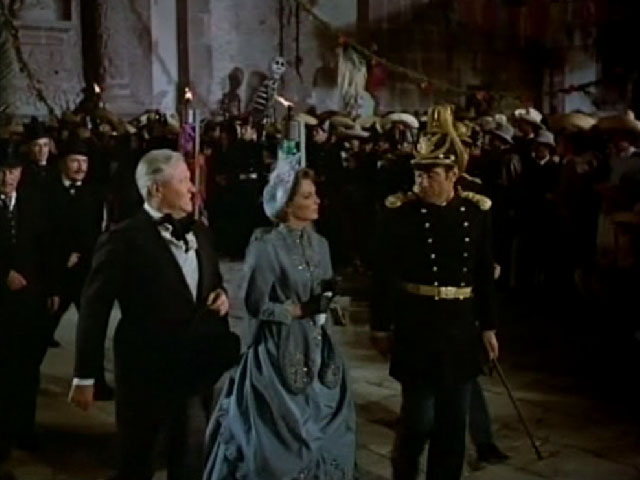 15. Diplomatic meeting
Major Colton in a dress uniform.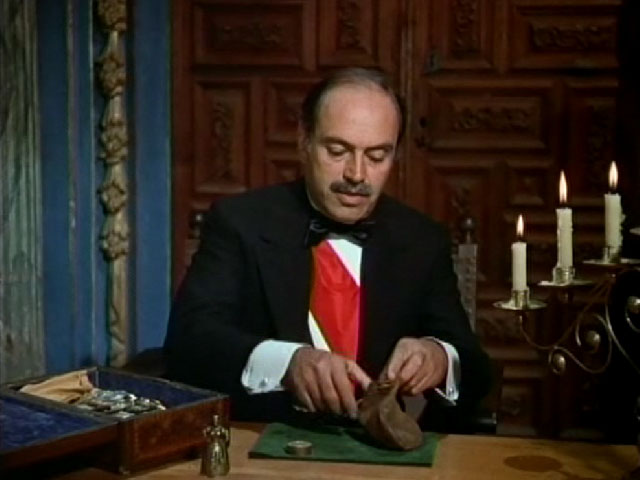 16. Governor Cipriano Castro
The governor offers Martin more silver pesos to eliminate his brother.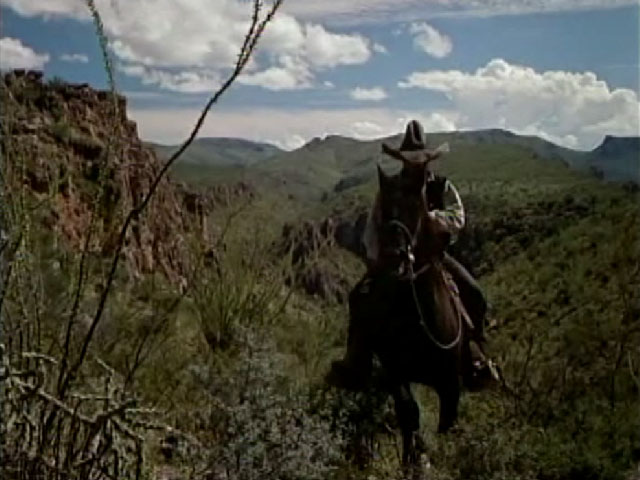 17. Riding in the Mexican desert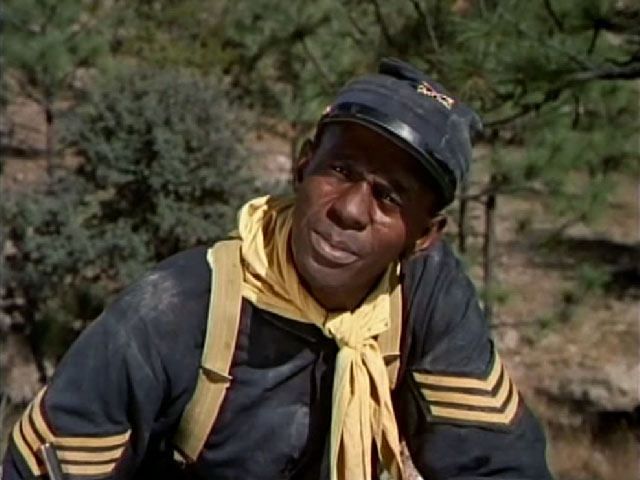 18. Cavalry Seargent Tobe Sutton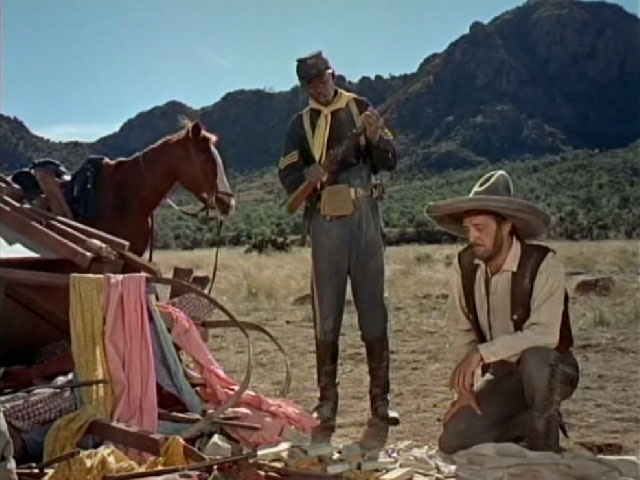 19. Wagon with guns after Indian attack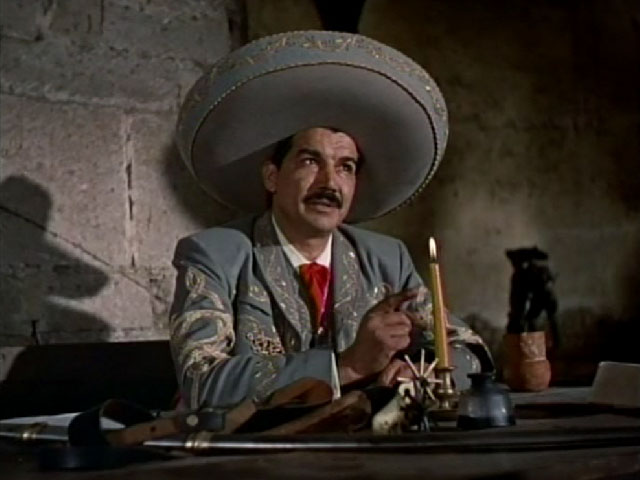 20. Gen. Marcos Castro
The General makes Martin an offer.
21. Dead horse
Martin leaves his horse and his guns on the ground, a vow of non-violence?