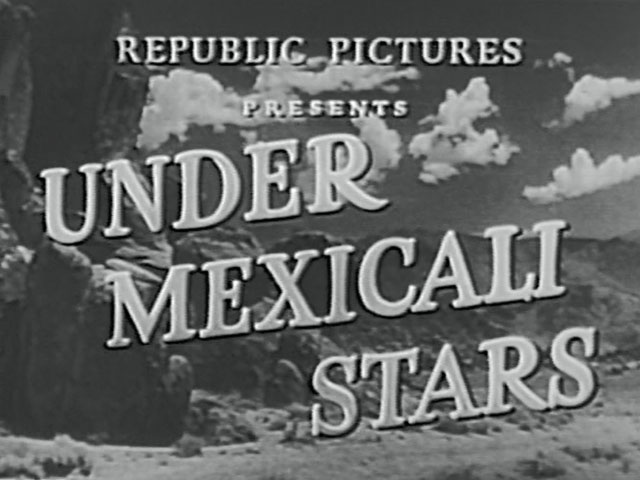 1. Title
Rex Allen begins by winning a rodeo chuckwagon race.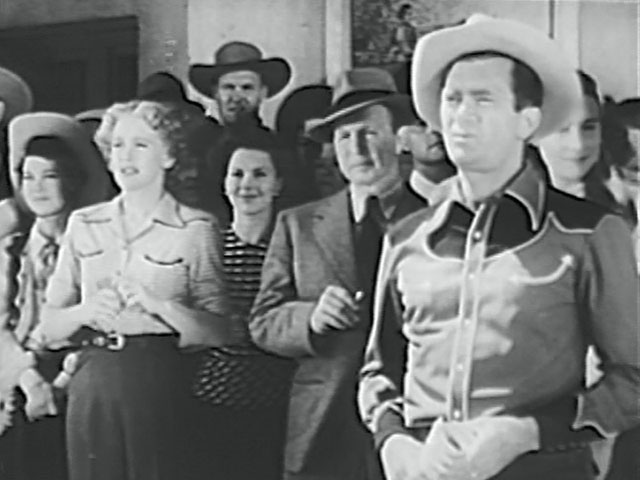 2. Rex Allen at the reins
Rex then reports to a massage parlor where his partner Buddy Ebsen is in a steambath.
The manager is a US Treasury agent who asks Rex to impersonate a counterfeiter named Jordan,
get a job at a ranch, and to find out who is stealing refined gold from local gold mines.
A Mexican Secret Service agent, Inspector Gomez, shows a coin to Rex.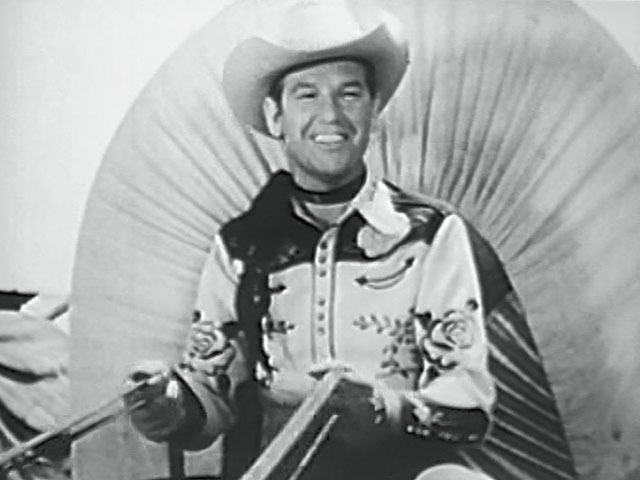 3. Inspector Gomez shows a coin to Rex and explains what it is
Some time ago my country minted a series of gold coins of various denominations called centennials.
This is one of them, worth around sixty dollars in your money.
My government discovered that those coins are being counterfeited by experts.
Coin collectors purchase some of them but most of them go to the black markets all over the world.

Rex looks at both sides of the coin.

4. Mexican coin obverse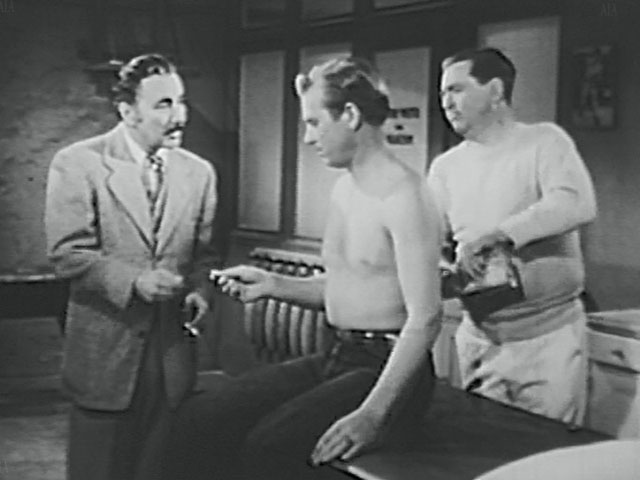 5. Mexican coin reverse
The coin is a Mexican centenario 50 peso gold coin.

A Mexican centenario gold coin: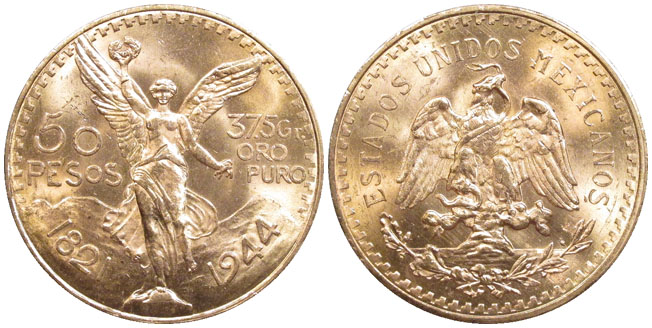 6. Mexico centenario 1944 gold coin
Mexican centenario coins were originally minted in 1921 to commemorate the centennial of
Mexican independence from Spain in 1821.
Mexico kept making them until 1947, then continued with the 1947 date until 1972.
They are normally classed as "bullion coins" and are made for gold investors.
They have a denomination of 50 pesos to make them legally "coins".
They contain 37.5 grams or 1.2 troy ounces of gold.

Back to the film:
Rex has invested $1500 and gone to work for a ranch and mine run by Dorothy Patrick and her father.
He is assigned to take a shipment of gold to town, he and the shipment are hijacked by outlaws.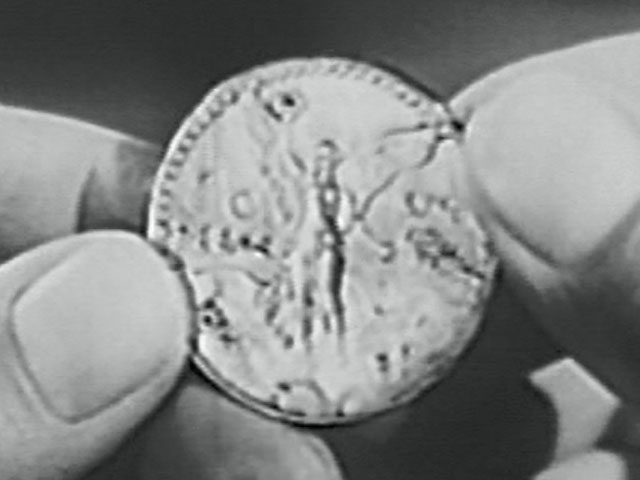 7. Outlaws pursue mine wagon
The outlaws leave Rex and ride off with the gold to a box canyon.
Dorothy and her father pick up Rex, then the father and Rex and head into town.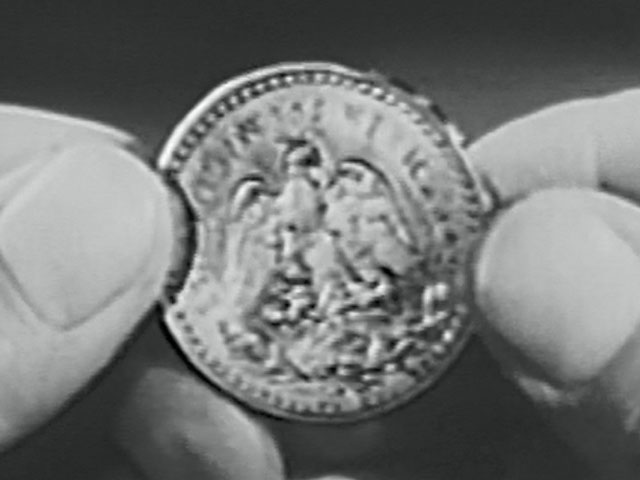 8. Town with modern cars
An old car and a modern 1950's station wagon appear.
Rex reports the latest theft to the sheriff and a group heads out to the box canyon.
They find the wagon and footprints which suddenly stop.
Rex and Dorothy decide to visit the mine and look around.
Three outlaws show up and capture them.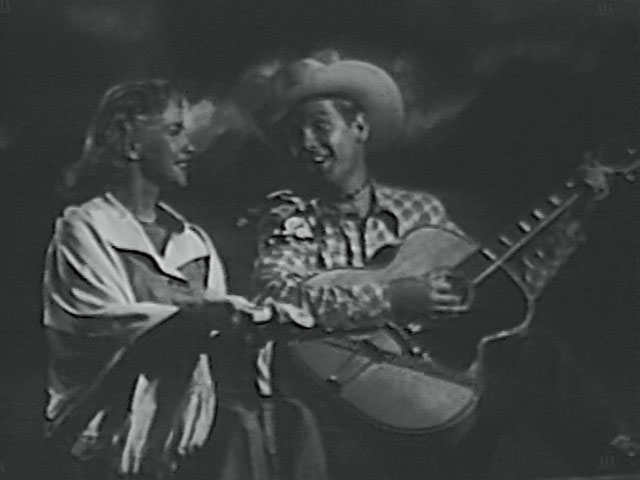 9. Outlaws capture Rex at mine
They find out how the thieves are transporting the gold to Mexico.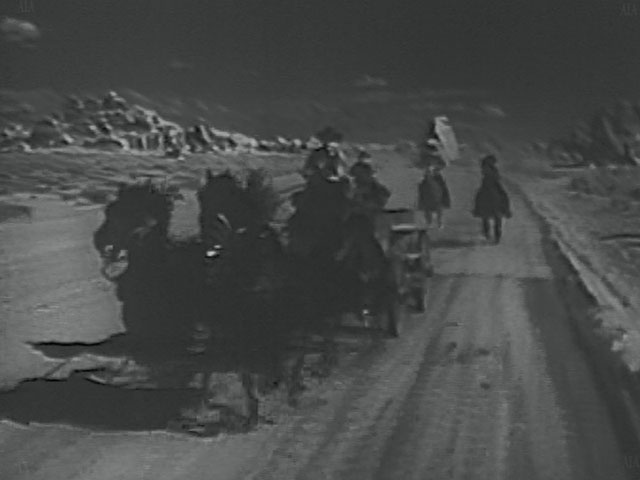 10. Helicopter
This is probably the first appearance of a helicopter in a Western film.
One outlaw forces Dorothy into the helicopter and flies away to Mexico.
Rex manages to grab the helicopter undercarriage and drops off at the Mexican hideout.
There, other outlaws are manufacturing the coins.
Rex enters, identifies himself as the counterfeiter Jordan, and offers to distribute the coins.
The outlaws at first believe his story.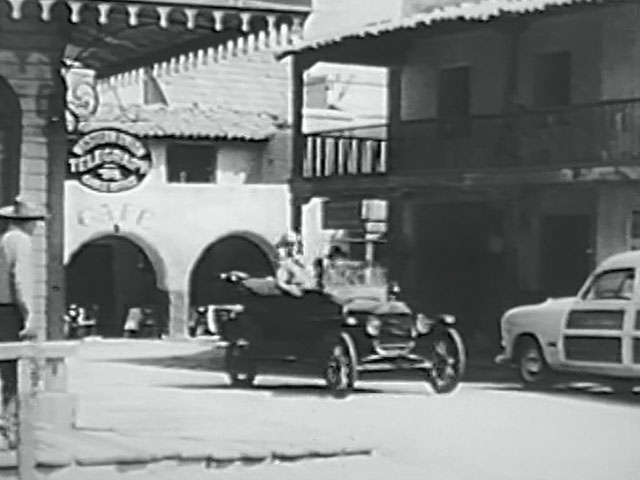 11. Outlaws hold girl
The outlaw discuss eliminating Dorothy as a witness.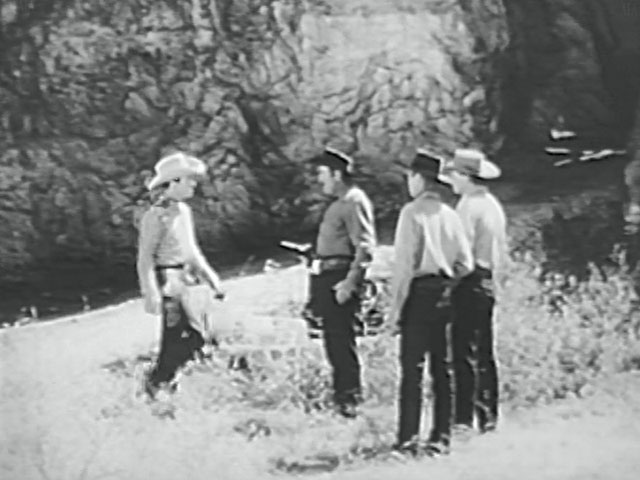 12. Rex sings to the girl
Dorothy tries to avoid Rex, then one of the outlaws tricks Rex into revealing his true identity.
A gunfight ensues with Rex and Dorothy riding off on horses.
Two outlaws use a novel method of pursuing the pair.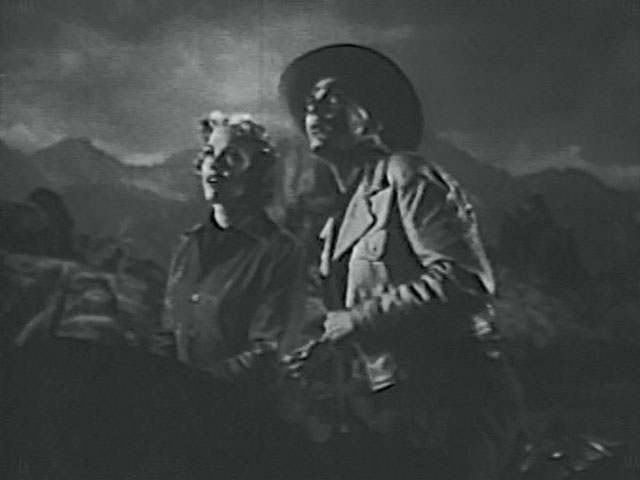 13. Helicopter pursues horses
Rex and Dorothy separate and the men follow Rex.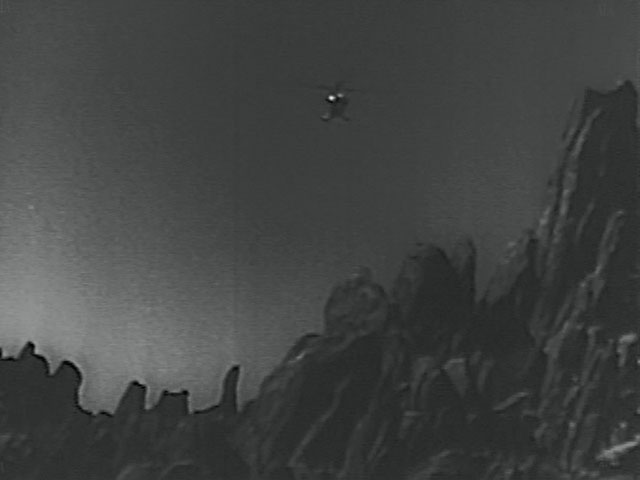 14. Helicopter attack
The outlaws land near Rex, and a fight ensues.
The sheriff and posse ride up and capture the bad guys and their strange machine.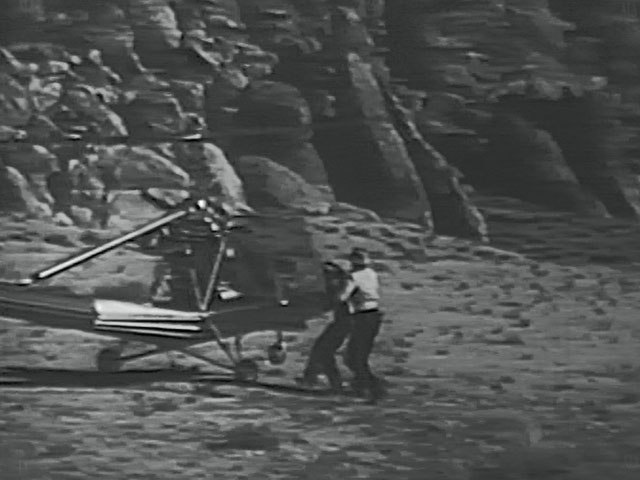 15. Posse captures helicopter and outlaws
Rex and Buddy hit the trail and ride into the sunset.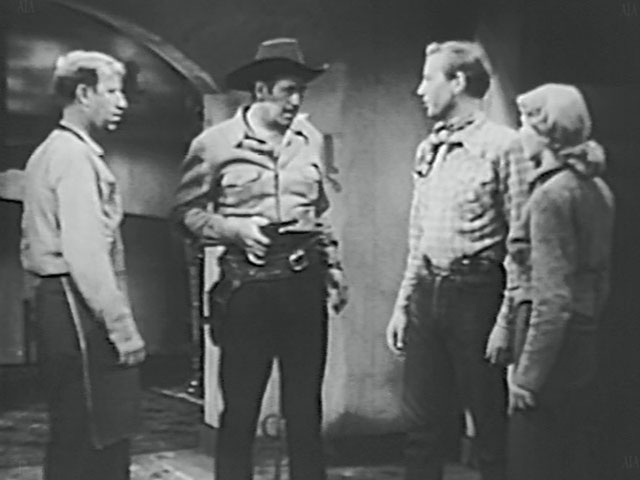 16. Goodbye, Rex