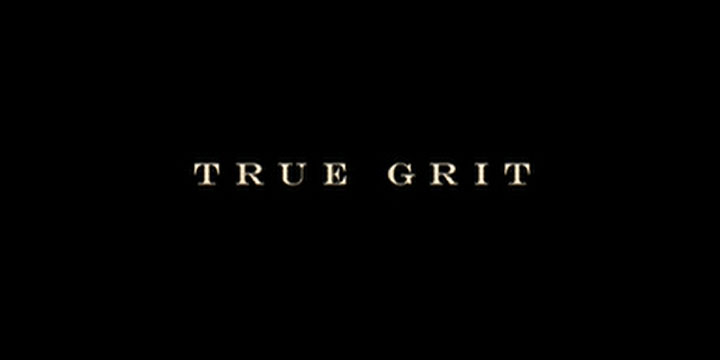 1. Title
Mattie Ross tells her story in 1903, which happened twenty-five years ago, thus 1878.
She arrives in the town of Fort Smith, Arkansas.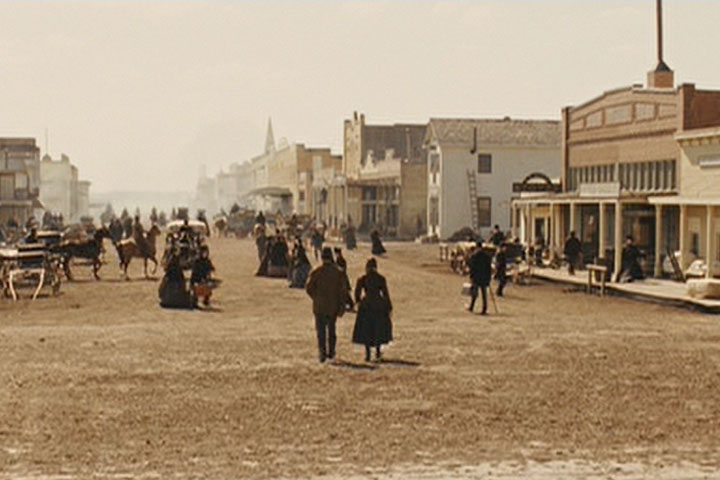 2. Fort Smith, Arkansas
Mattie visits Colonel Stonehill, a businessman who had some horse dealings with her father.
She refuses to accept the original amount of money offered by Stonehill.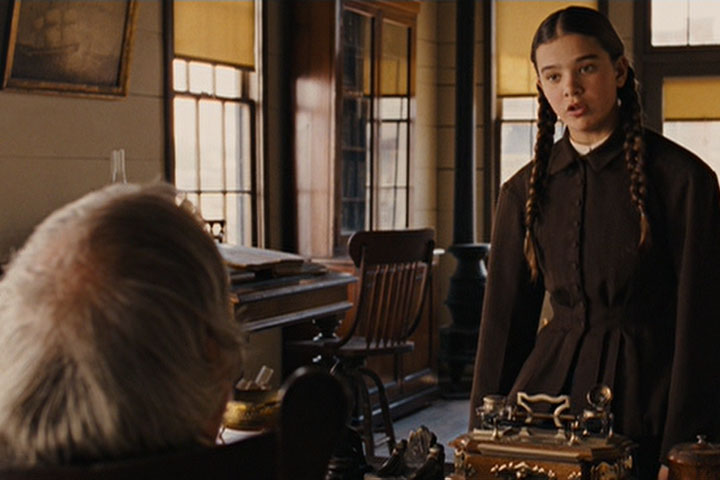 3. Mattie confronts Col. Stonehill
Mattie threatens Stonehill with a lawyer.
She later collects her father's goods from the undertaker.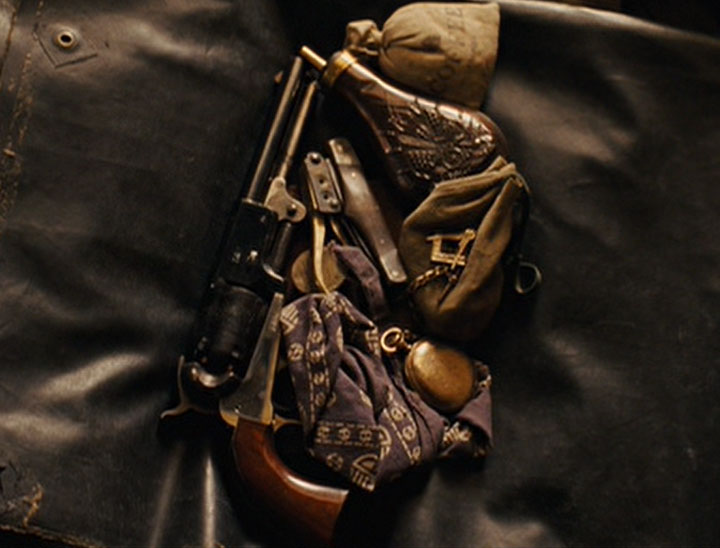 4. Father's goods
The items include Masonic emblems and a Colt pistol.
The local sheriff tells Mattie that Tom Chaney has fled to the Indian Territory and has possibly
joined an outlaw gang led by a Ned Pepper.
Mattie goes to see US Marshal Reuben "Rooster" Cogburn, who has been recommended to her as a
man with "true grit" or courage and toughness.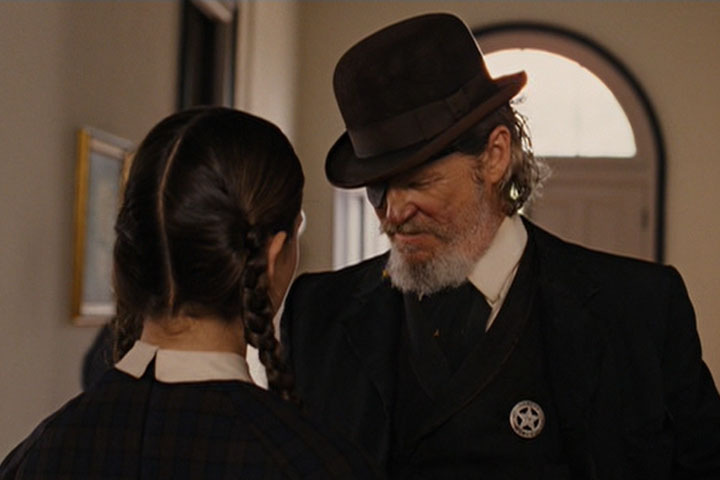 5. Mattie meets Rooster Cogburn
Mattie offers Rooster a $50 reward but he doesn't believe that she has the money.
Mattie is visited by a Texas Ranger named LaBoeuf.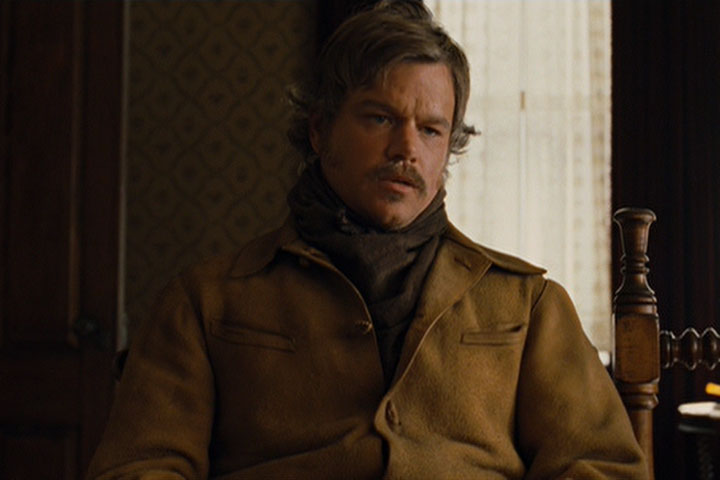 6. Texas Ranger LaBoeuf visits Mattie
LaBoeuf has been hunting the murderer Tom Chaney for some time.
He wants to take Chaney to Texas to collect a large reward.
Mattie want's Chaney brought to Fort Smith to hang for killing her father.
Mattie visits Stonehill to collect her money.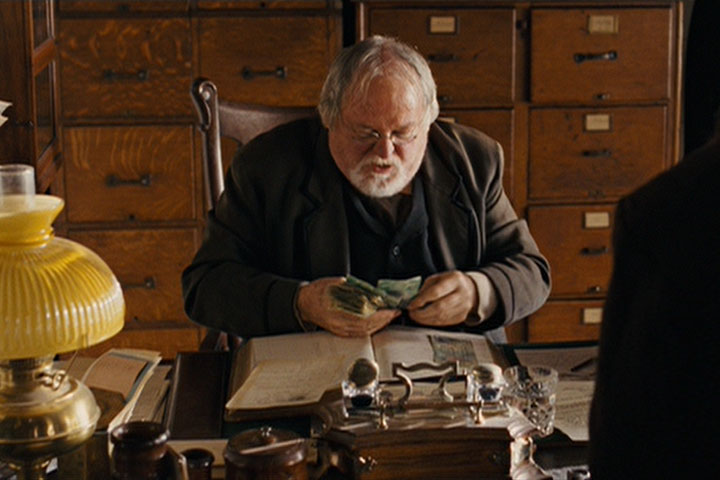 7. Col. Stonehill counts out money
A pile of US currency notes are on the table.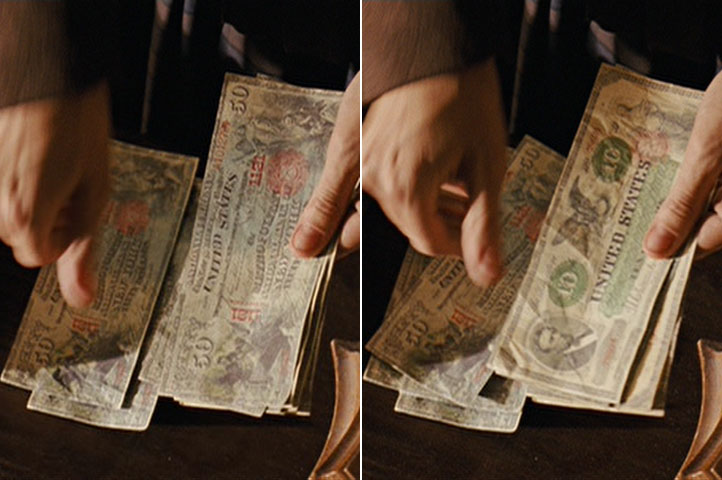 8. Us currency notes
The bills are copies of US currency, based on Demand Notes and Legal Tender Notes of the 1860's.
The three head west into the Oklahoma Indian Territory.
They argue along the way and LaBoeuf leaves the group.
Rooster stops at Bagby's, a way station and retrieves something.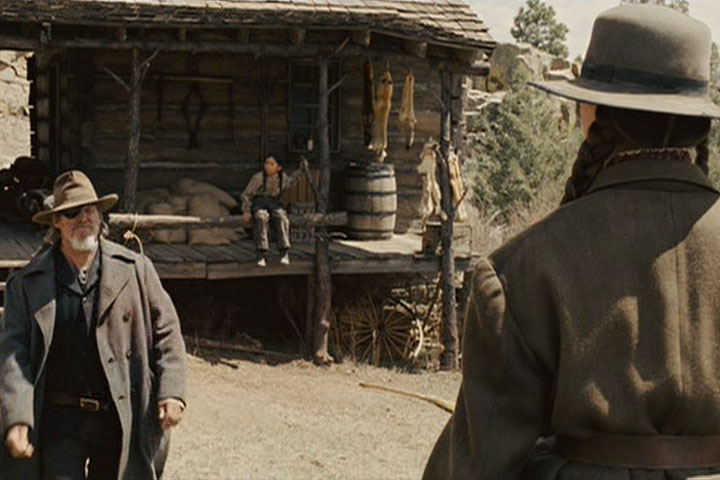 9. Rooster retrieves something
Rooster hands the item to Mattie and she holds it in her hand.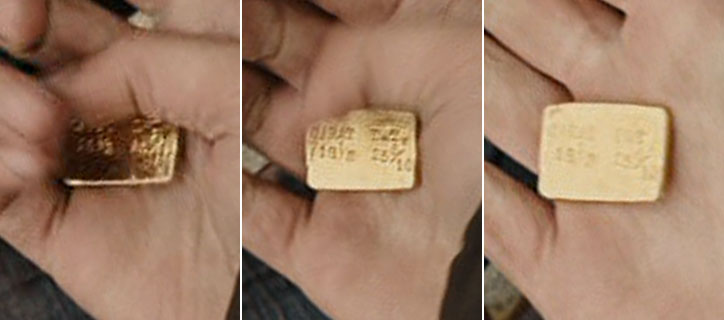 10. The gold piece
| | | |
| --- | --- | --- |
| Mattie: | | This is Papa's gold piece. |
| Rooster: | | It's not the world's only California gold piece. |
| Mattie: | | They are rare here. |
| Rooster: | | They are rare. |
The piece reads "CARAT 18 1/2 DWT 25 6/10"
The prop piece is a reproduction of a Colorado pioneer gold piece made in 1860 by
Dr. John D. Parsons, an assayer in that state.
The original unique piece is in the Eli Lilly collection housed at the Smithsonian Museum.
There are copies made of base metal and one of these is probably the source for the prop.
Some reproductions are advertised as being 1-1/4 x 7/8 in.
Only one side of the piece is shown in the film, the other side should read:
"Parsons & C. Assayers Col. 1860 Twenty Dols.".
The meaning of the inscription "CARAT 18 1/2" is 18.5/24 or 77 percent gold.
The meaning of "DWT 25 6/10" is 25.6 pennyweights or 1.28 troy ounce.
LaBoeuf has rejoined Rooster and Mattie.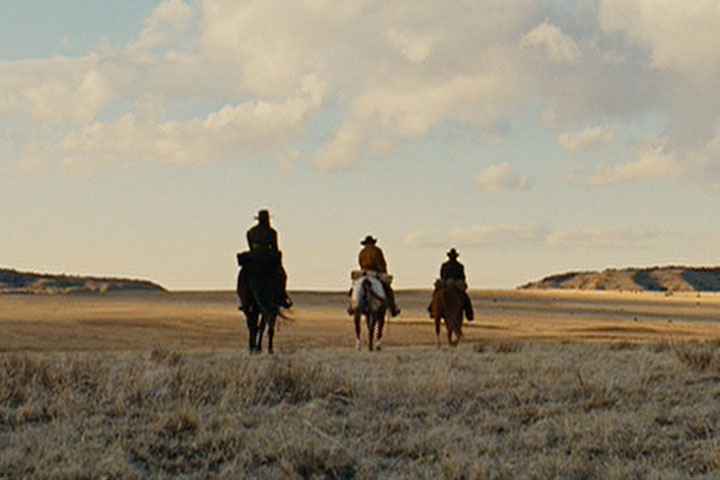 11. The three riding off
One morning at an overnight camp, Mattie spots a group of men including Tom Chaney.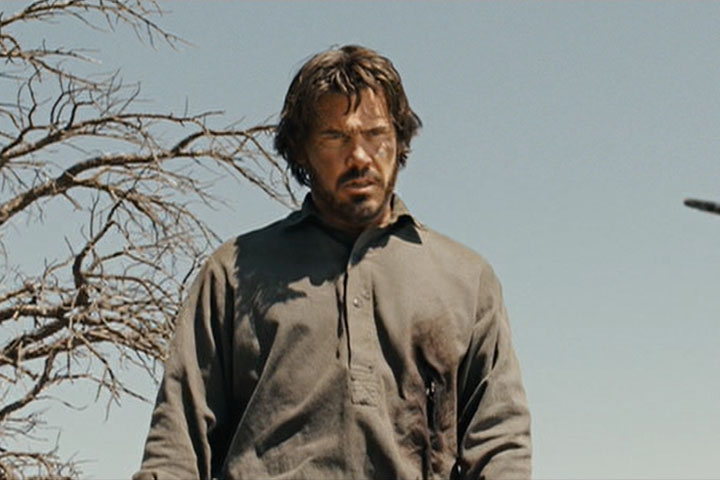 12. Tom Chaney meets Mattie
She pulls out her pistol and shoots him.
Tom is able to grab her and take her to Ned Pepper's outlaw gang.
The gang leaves the wounded Chaney with Mattie and the remaining four men ride away.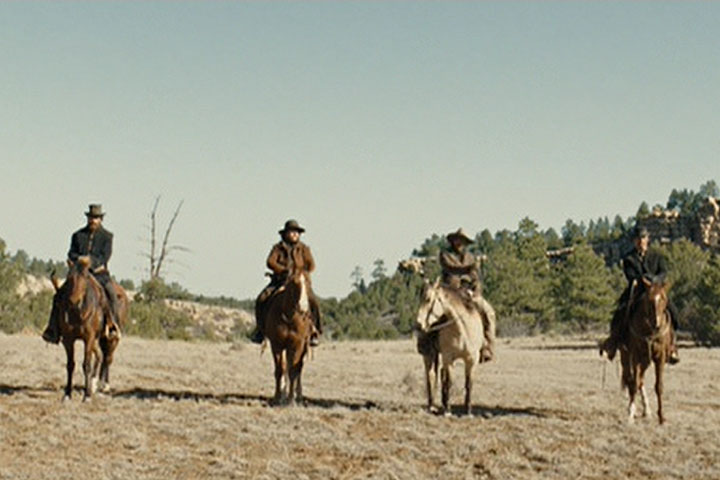 13. Four outlaws
Rooster arrives to confront the four outlaws in his way.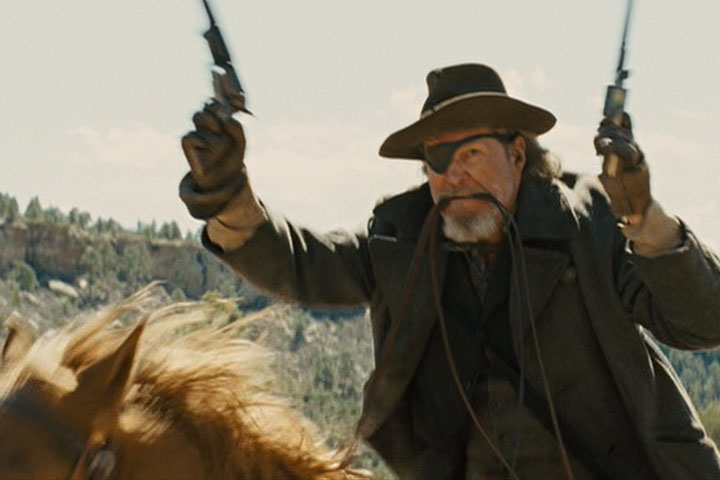 14. Rooster with two guns
Rooster manages to dispatch all four outlaws.
Chaney attacks Mattie but is killed by LaBoeuf, then Mattie falls into a snake-infested hole.
Rooster rescues Mattie, who has been bitten by snakes, and takes her to a doctor.
He leaves before she can recover from the bites.
Twenty-five years later, Mattie finds that Rooster has died while working at a Wild West show.
She has him interred at a family gravesite.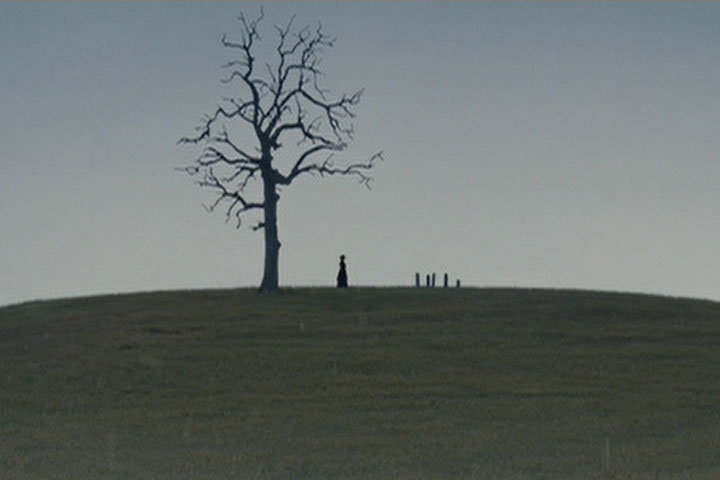 15. Mattie at the family gravesite
A final look at Rooster's grave marker.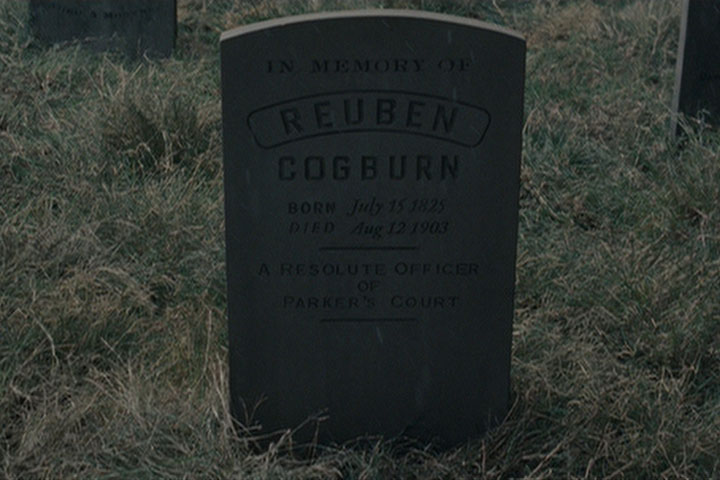 16. Rooster's marker
IN MEMORY OF
REUBEN COGBURN
BORN July 15 1825
DIED Aug 12 1903
A RESOLUTE OFFICER OF PARKER'S COURT
(Isaac Charles Parker was the federal judge in Arkansas)