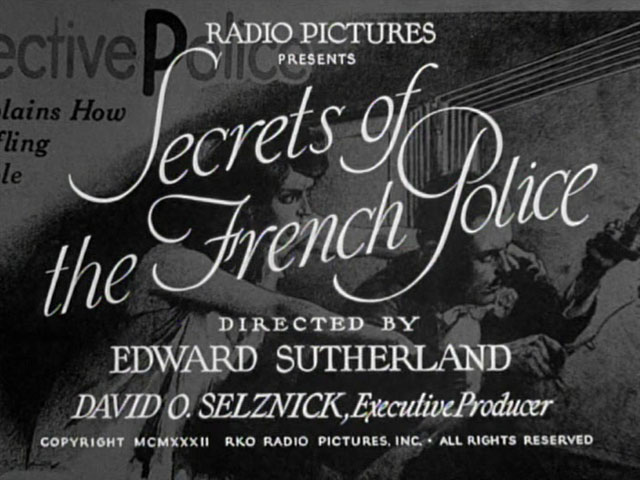 1. Title
The original stories appeared in the The American Weekly magazine and various covers are shown.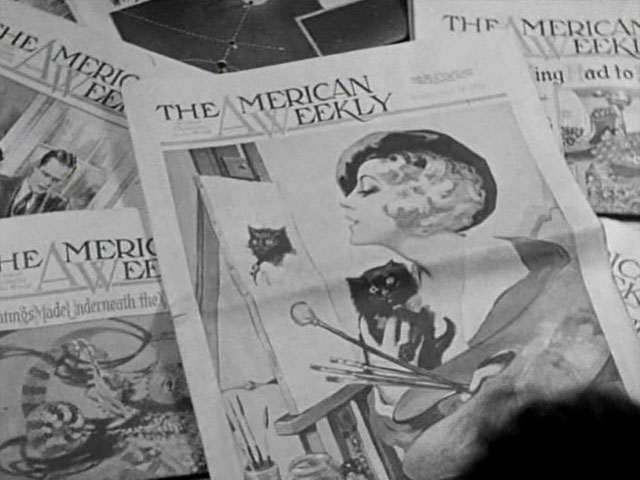 2. The American Weekly magazine covers
A memorial service is held for a murdered police inspector named Danton.
The chief of the Surete awards a medal to Danton's widow.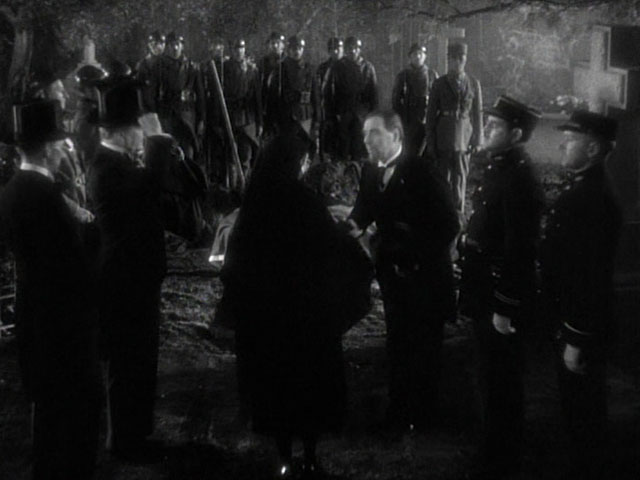 3. Surete chief awards medal
The medal is the French Legion of Honor, an award for civilian and military personnel.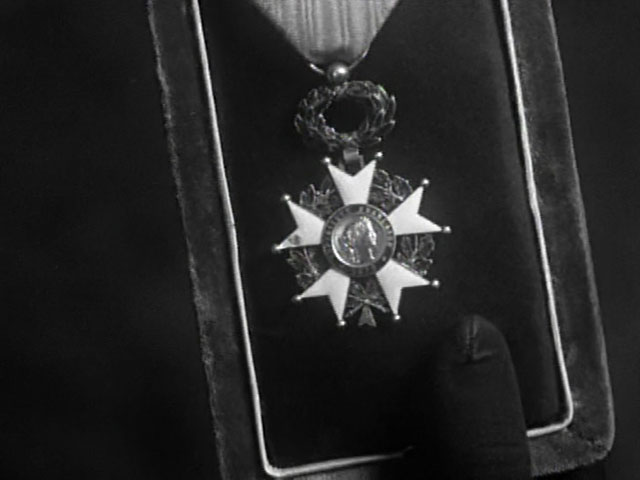 4. The Legion of Honor
The award was established by Napoleon Bonaparte.
Francois St. Syr is the Surete police inspector tasked with locating inspector Danton's murderers.
Ashes of an unusual type of smoking tobacco were found near the body and taken to the police laboratory.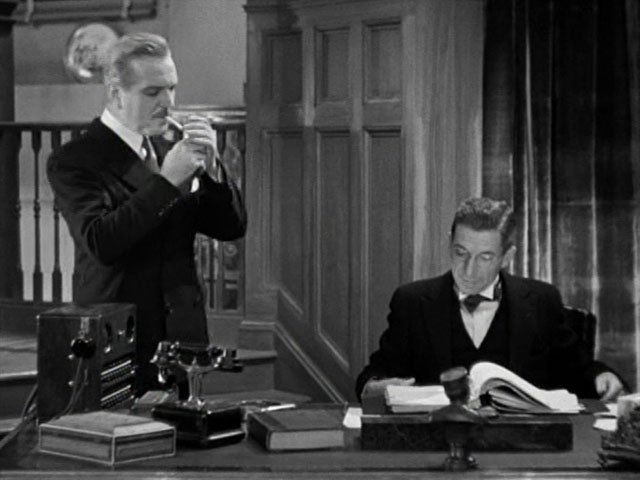 5. Francois St. Syr and laboratory scientist
The tobacco is an unusual brand smoked by Russians.
Many Russians fled the 1917 revolutions and moved to France.
Some have become "the usual suspects" for criminal activity.
A police official hands Francois a list of residences where Russians with criminal interests live.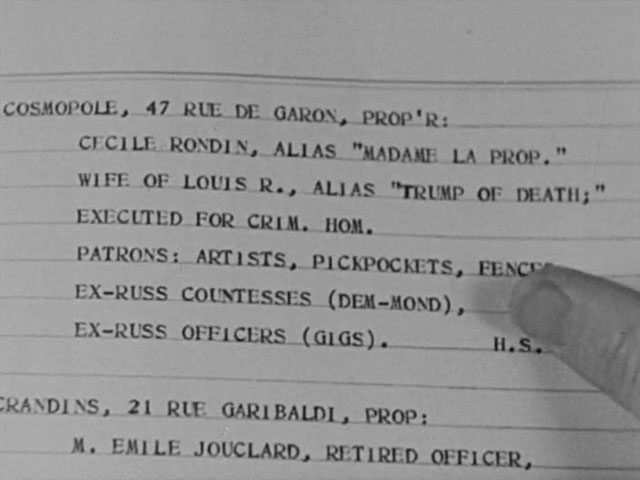 6. The list of residences
Cosmopole, 47 Rue de Garon, Prop'r: [Proprietor]
Cecile Rondin, alias "Madame La Prop."
Wife of Louis R., alias "Trump Of Death;"
Executed For Crim. Hom. [Criminal Homicide]
Patrons: Artists, Pickpockets, Fences
Ex-Russ Countesses (Dem-mond), [Demimonde or prostitution]
Ex-Russ Officers (Gigs). H.S. [Gigolos]
Grandins, 21 Rue Garibaldi, Prop: [Proprietor]
M. Emile Jouclard, Retired Officer,
Eugenie Dorain is a pretty girl who sells flowers.
Her fiancee is Leon Renault, a pickpocket and gentleman thief.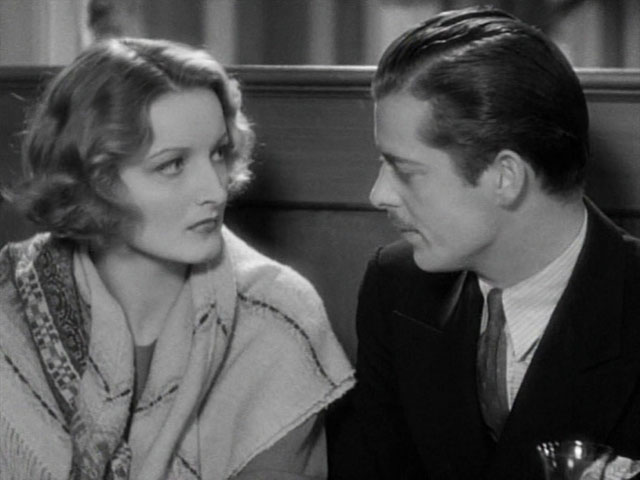 7. Eugenie Dorain and Leon Renault
Leon claims that he "nevers steals from the French".
One of the suspects in the murder is a Russian general named Moloff.
General Moloff and a female associate kidnap Eugenie and Moloff begins hypnotizing her
in order to controll her.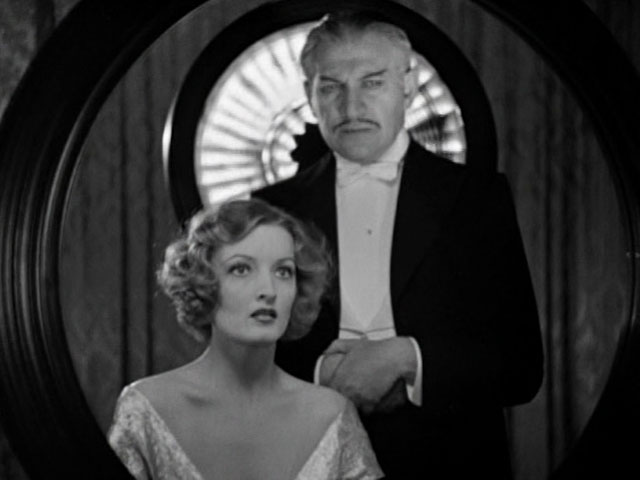 8. General Moloff hypnotizes Eugenie
Moloff knows that Eugenie is an adopted Russian girl, and he plans to pass her off to the Russian
community as the Princess Anastasia, the youngest daughter of Czar Nicholas II.
If the Russian community accept her as Anastasia, she would inherit a fortune.
General Maloff has been hypnotizing her and instructing her in the performance.
General Maloff attends a party for Russian royalty.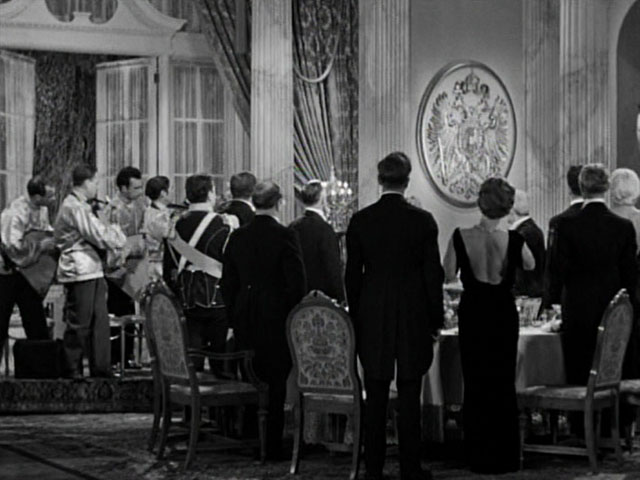 9. Russian royalty party
General Maloff announces his find and Grand Duke Maxim Romanov, the brother of Czar Nicholas,
is brought to Paris to confirm his Anastasia's identity.
The duke is accompanied by his aide, Count de Marsay.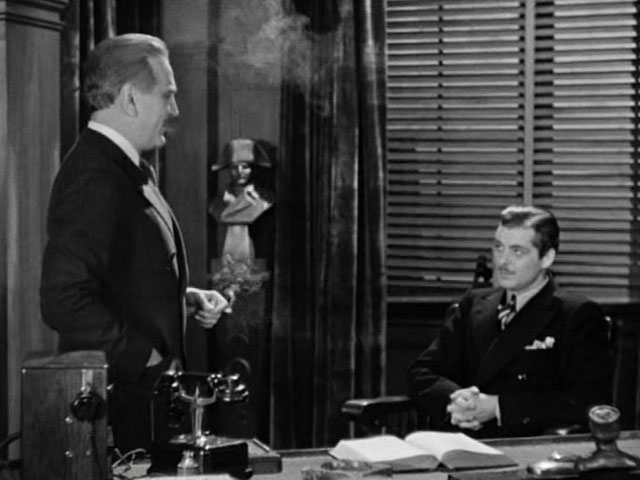 10. Francois asks Leon for help
Francois asks Leon to break into General Maloff's castle residence to look around and also see if
Eugenie is there.
General Maloff holds a party at his castle for the Grand Duke to introduce him to his Anastasia.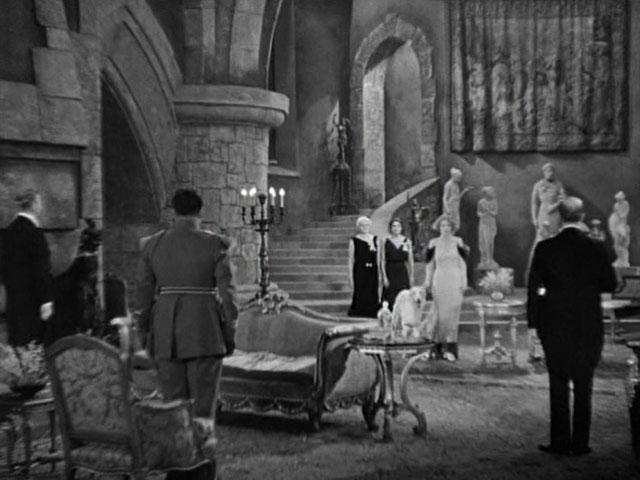 11. General Maloff's party
The Grand Duke refuses to confirm the identity and claims that the girl is an impostor.
General Maloff stages a fatal automobile accident for the Grand Duke and the Count.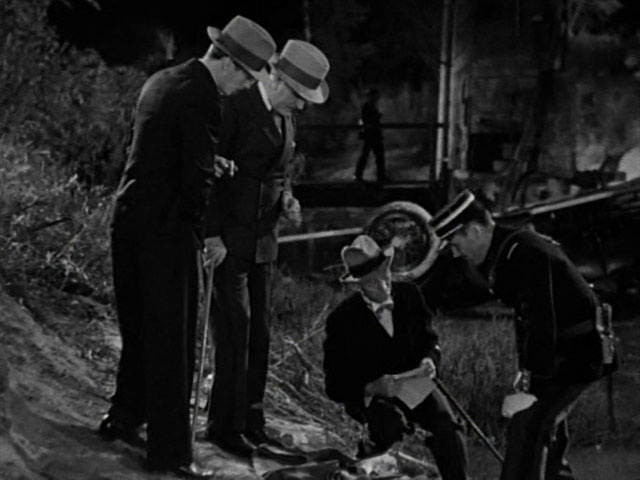 12. Accident scene
General Maloff plants a note on the Duke which identifies the girl.

... and I am satisfied beyond all doubt that you are the missing Princess and you should
be recognized by all Russians as their Empress.
Maxim Romanov

The police and Leon arrive at the accident scene and Leon finds some items next to the Count's body.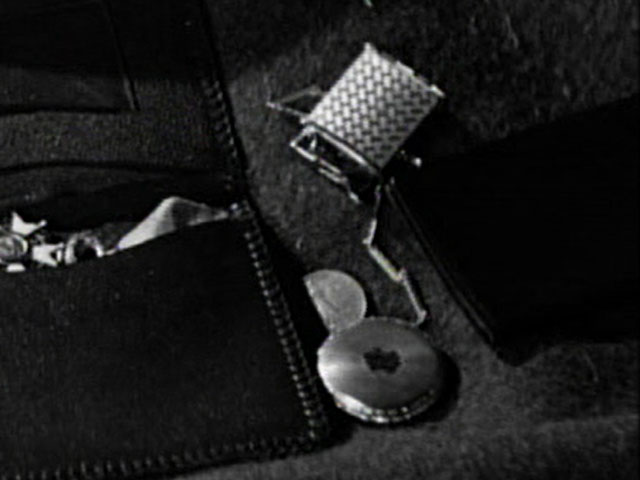 13. Count de Marsay's wallet
There is a wallet, a Legion of Honor medal, and a coin.
The coin is a French franc of the Louis Oscar-Roty "Sower" design made from 1898 to 1920.
A French franc coin from 1918: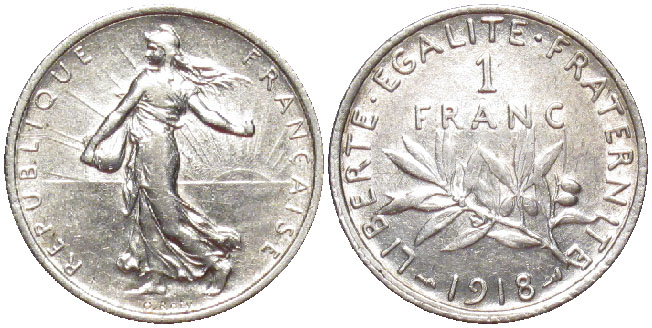 14. France silver franc 1918
Silver, 23mm, 5.0gm
Francois pays a visit to General Maloff's castle.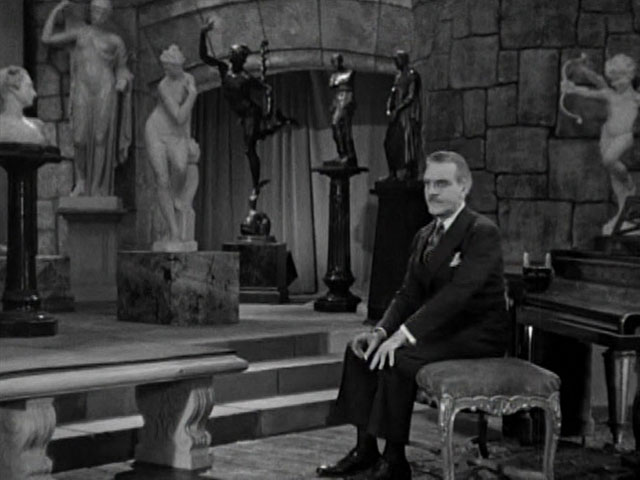 15. Francois contemplates the room
There are some very life-like statues in the room and Francois notices that one is attracting flies.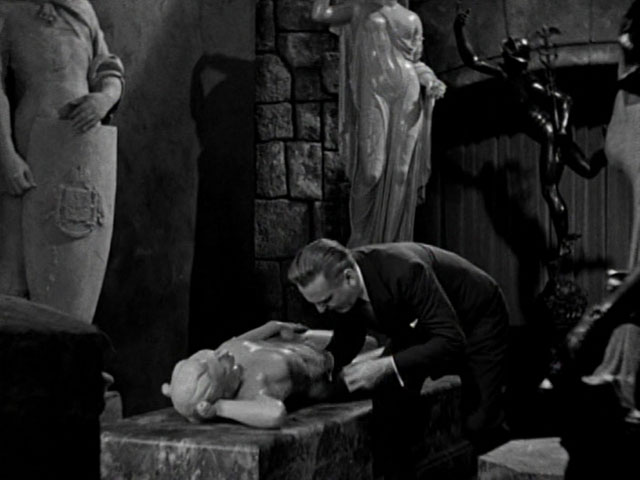 16. Francois inspects a statue
He discovers that the statue is a woman's body encased in material.
Leon breaks into the castle again and finds Eugenie who emerges from the hypnotic spell.
The try to leave but are captured by General Maloff's Asian henchmen and taken to the basement.
Leon is tied up and forced to watch while Maloff prepares Eugenie.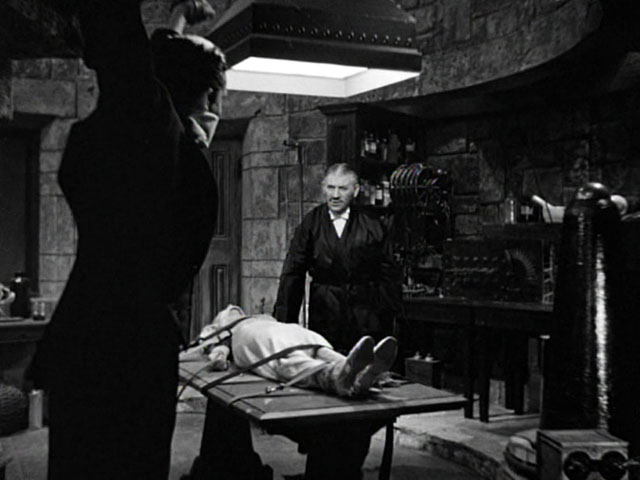 17. General Maloff prepares a new statue
Francois and the police arrive.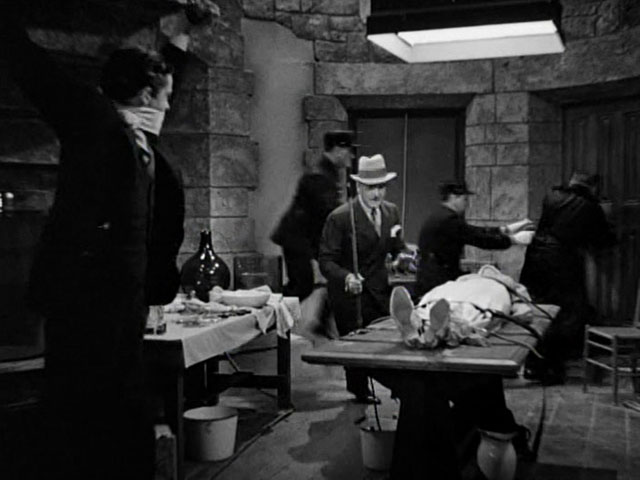 18. The police to the rescue
General Maloff throws himself on an electrical device and is electrocuted.
Later, Leon and Eugenie, possibly now married, get ready to drive off.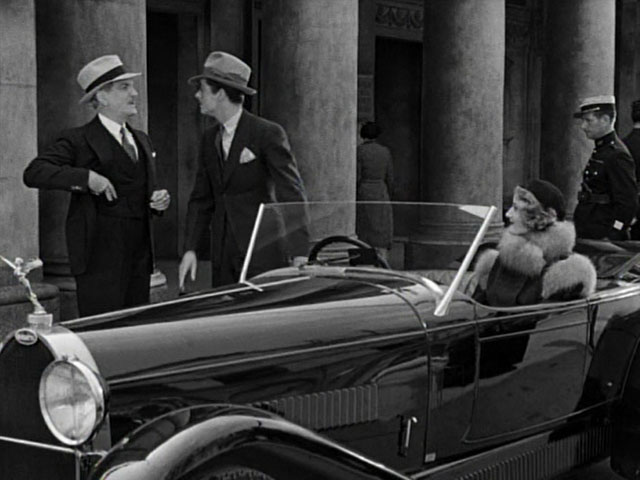 19. Francois sees Leon and Eugenie off
Francois askes Leon politely to leave the area.