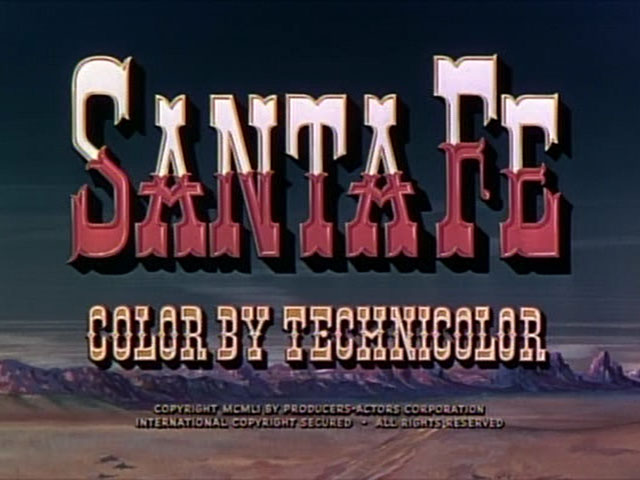 1. Title
Randy and his brothers get into a barfight with some ex-Union soldiers.
Guns are drawn and one of the soldiers is killed.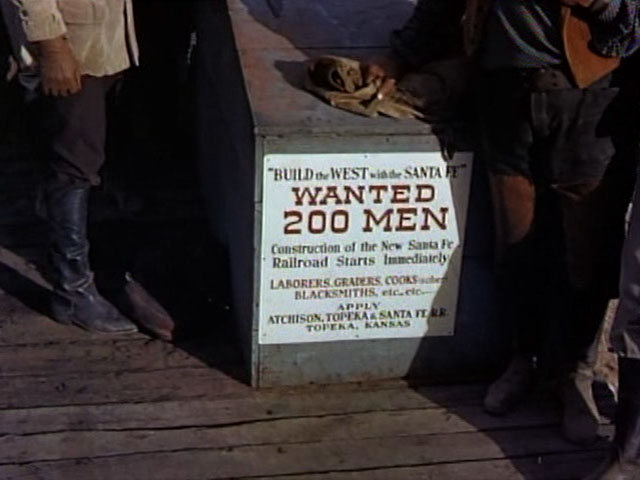 2. Wanted 200 Men
The brothers join the Santa Fe railroad construction crew.
The railroad requires a "loyalty oath" to the Union, Randy takes the oath but his three brothers refuse,
leave the crew, and become outlaws.
Randy, because he was an ex-officer, is hired as a manager.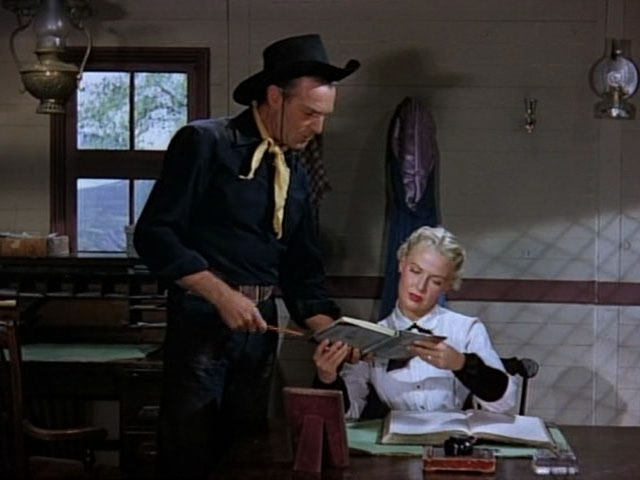 3. Randy meets Janis
Janis is the widow of a Union officer who was killed during the war.
She doesn't like working with ex-Confederates.
Gangsters have constructed a moving gambling house to exploit the railroad workers.
Randy visits the place and finds his brothers there playing cards.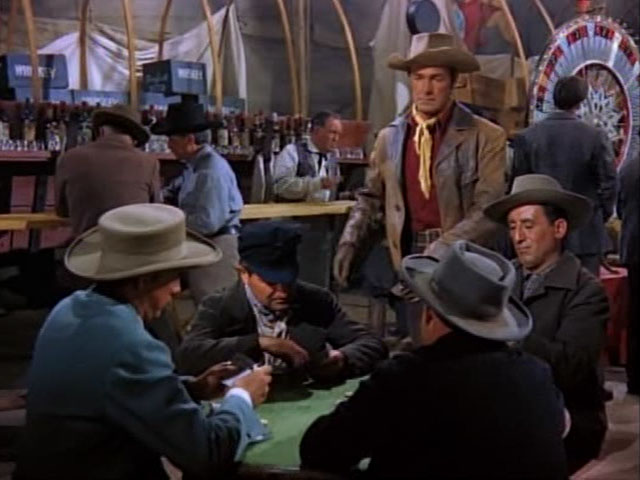 4. Randy sees his brothers at a card game
There is money on the table.

5. Money on the table
The coins appear to be prop coins.
The insert is from another scene showing a coin with an eagle on it.
The Los Angeles Rubber Stamp Company might have made these as they made similar prop coins.
At the railroad office two train engineers are playing cards for money.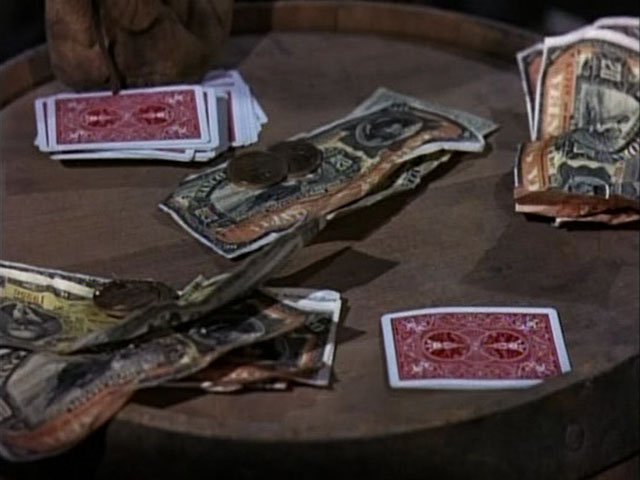 6. Money on the barrel
The colorful prop notes appear to be copied from Mexican Revolutionary notes.
The outlaw brothers hear about a railroad payroll being stored at an office and rob the place.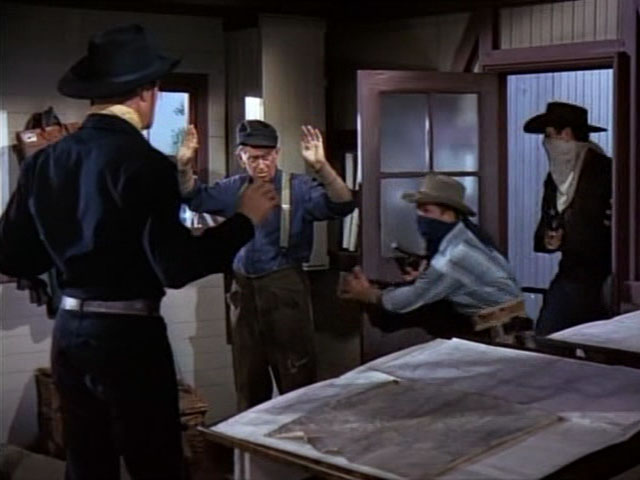 7. Holdup
Randy heads out to the house where his brothers (and one brother's wife) are stayng.
One brother has been shot during the holdup and dies.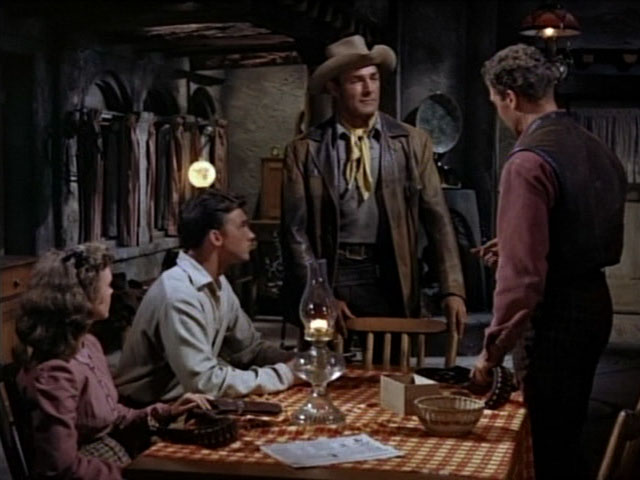 8. Randy confronts brothers
Randy tries to convince his brothers to turn themselves in to the law but fails.
The brothers are now part of a larger gang whose leader will not allow them to quit.
They pull another robbery and escape on a train, followed by Randy and railroad police.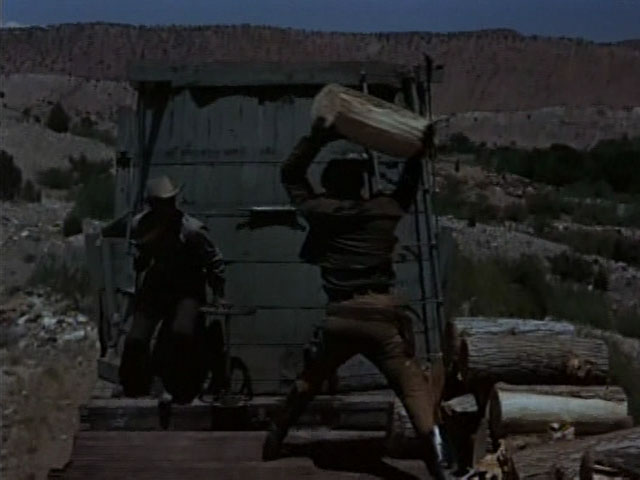 9. Randy fights the train robber
After gunfights and fights, the brothers and other outlaws are killed or arrested.
Later the railroad construction to Santa Fe is finished.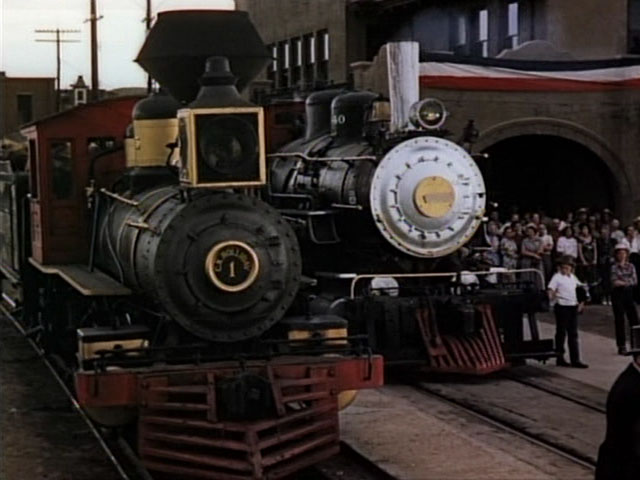 10. Railroad arrives in Santa Fe
Janis no longer hates Confederates and joins Randy.