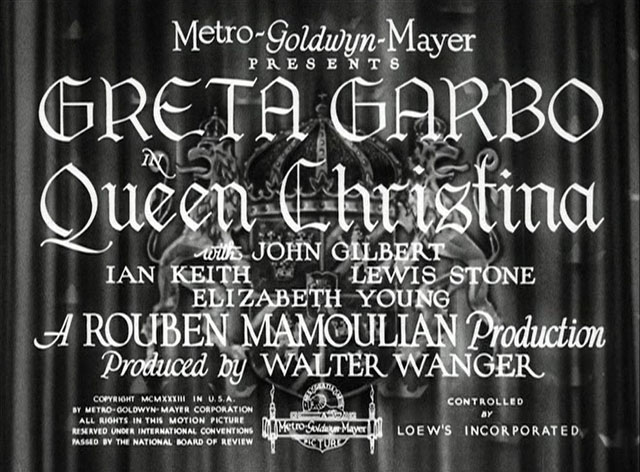 1. Title
Christina is crowned queen in 1632 at the age of six, then the film moves to 1648.
The negotiations to end the Thirty Years War (1608-1648) have resulted in a peace treaty
to be signed for Sweden, a major participant.
Christina was highly educated and competent ruler and she is a hard worker.
Prince Charles is a successful Swedish general and one of her suitors.
Another suitor is Magnus, who also plots against her.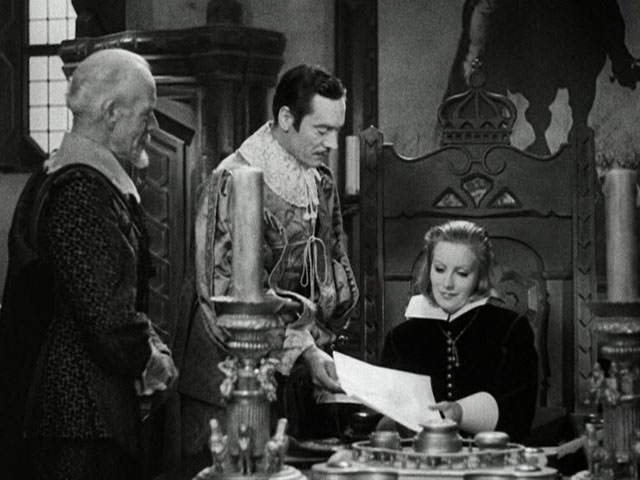 2. Christina goes over papers
The men are Oxenstierna, an advisor, and Magnus, who wants to marry her.
Dogs were almost always present at medieval courts.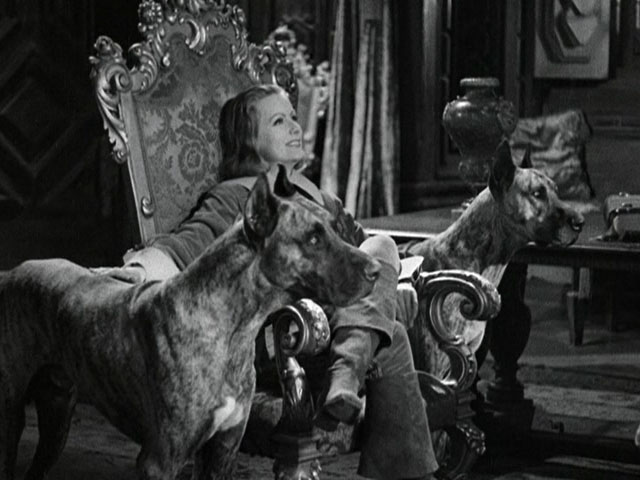 3. The queen likes dogs
Tired of work, Christina and her valet Aage go out horseback riding.
She wears men's riding clothes, and the two encounter a coach stuck in a snowdrift.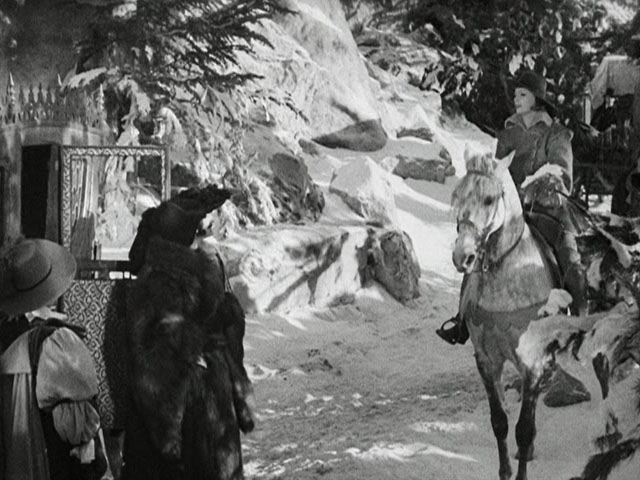 4. Riding to the rescue
Christina gives advice on getting the coach free of the snow.
The coach is carrying Don Antonio, a Spanish ambassador on his way to Stockholm to see the queen.
He thanks the "boy" who helped him and orders his assistent to give him a thaler.

5. Give her a thaler
The thaler was a Swedish silver coin, sometimes called a riksthaler.
A close-up of the coin appears.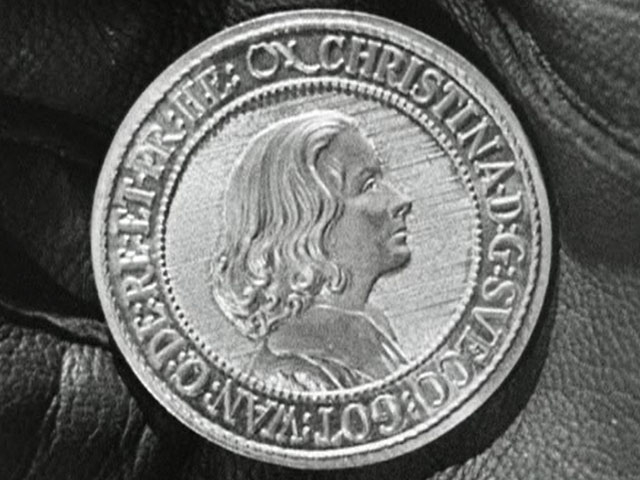 6. The coin
This prop coin has Greta Garbo facing right surrounded by a nearly authentic Christina legend.
The real Queen Cristina had a much different appearance on coins and she usually faced forward.
The coin's legend is:
CHRISTINA DG SVECO GOT WAN Q DE RE ET PR HAE
which expands to the queen's Latin title:
Christina Dei Gratia Sueciae Gothorum Vandalorum que Designata Regina et Principissa Haereditaria
or:
"Christina, by the Grace of God, Designated Queen of Sweden, Goths, Vandals, and Hereditary Prince"
A similar prop coin without the Swedish legend appears in the 1945 MGM film "Yolanda and the Thief".
Christina and Aage head for an inn where she secures the best and last room available.
Don Antonio and his group arrive, and the "boy" and Antonio have dinner and decide to share the room.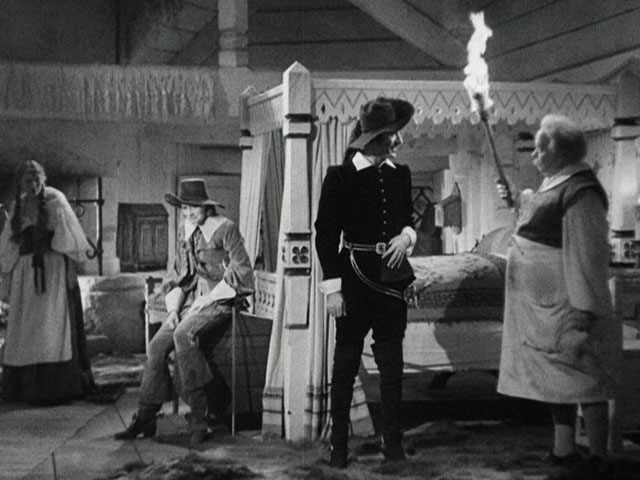 7. Sharing a room
They begin undressing and Antonio makes a pleasant discovery, that the boy is a very pretty girl.
They spend the night together, and are forced to stay several days due to a snow storm.
Antonio's assistant sometimes checks on him and wonders about the two in bed.
They soon fall in love, and Antonio explains about the warmth of Spain producing grapes.
Christina doesn't tell him who she is, but that she occasionally has to flee a controlling family.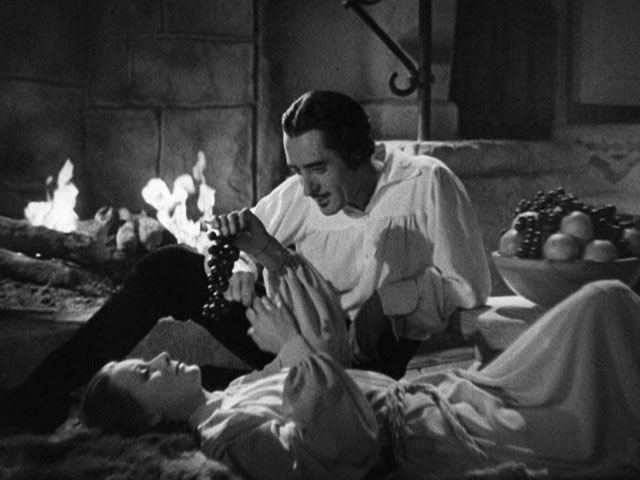 8. Love and grapes
Eventually travel is resumed and Christina and Antonio leave the inn separately.
In Stockholm, Christina resmues her position.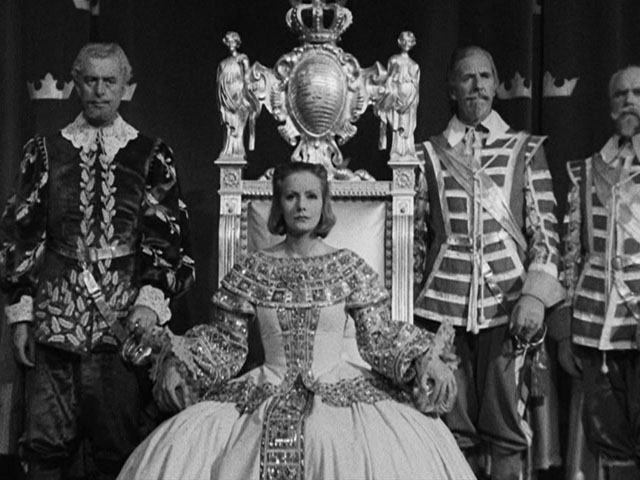 9. Queen Christina on the throne
The Spanish ambassador arrives with his entourage and sees the queen.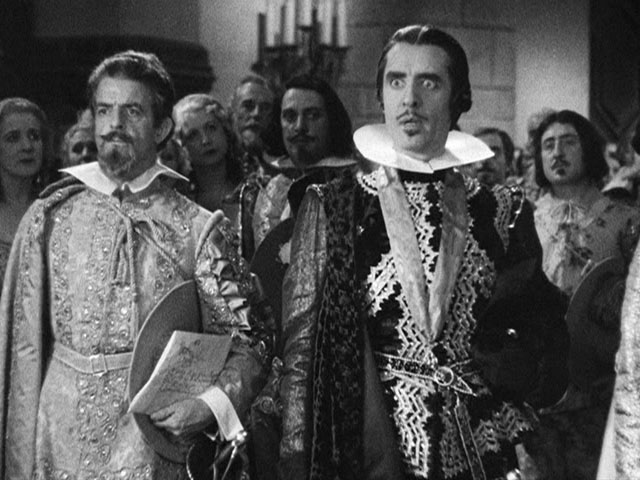 10. Don Antonio surprised
They meet privately and resume their affair.
Antonio's mission is to bring an official marriage proposal from Philip IV, the King of Spain,
whose painted picture he has also brought.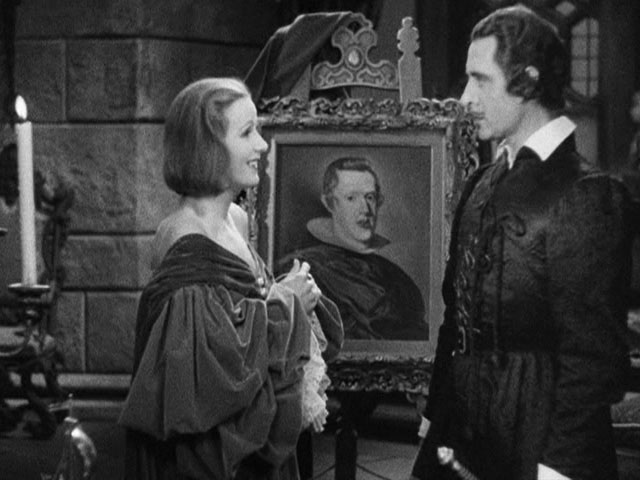 11. Don Antonio's mission
Christina jokes about the King's looks (he was a Hapsburg with the prominent jaw).
Antonio asks Christina if she played a "royal trick" on him at the inn.
She replies that she really loves him.
Look, the coin you gave me for helping you.
I've slept with it in my hand each night.

The affair becomes public, and some subjects believe that she is going to marry the King of Spain
and are very unhappy at that. An angry group approaches the castle.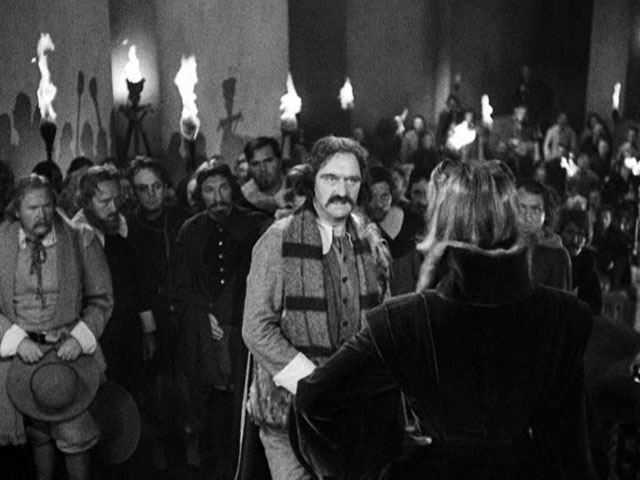 12. The queen confronts the mob
The queen is able to calm the group down without discussing her marriage plans.
Her advisors pressure her to discharge the ambassador and send him back to Spain.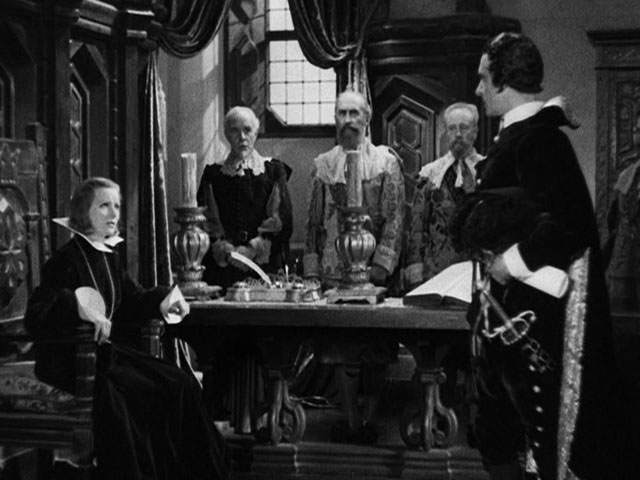 13. Discharging the ambassador
Christina privately lets him know that she will see him again.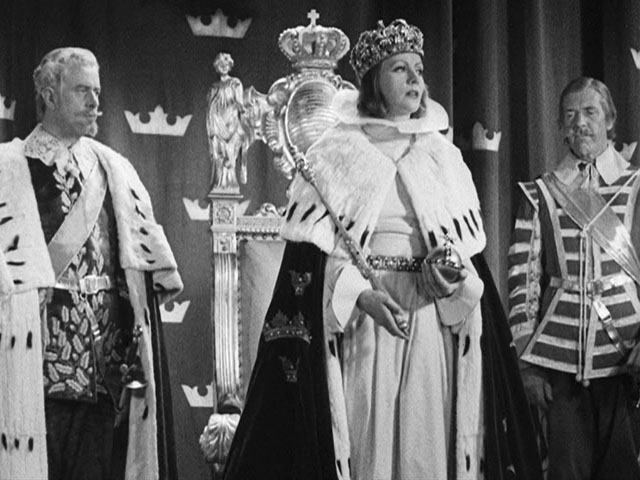 14. The queen abdicates
Christina abdicates the throne and plans to sail to Spain with Antonio.
She is beloved and her subjects unhappy with her leaving.
Magnus and Antonio meet to fight a duel with swords.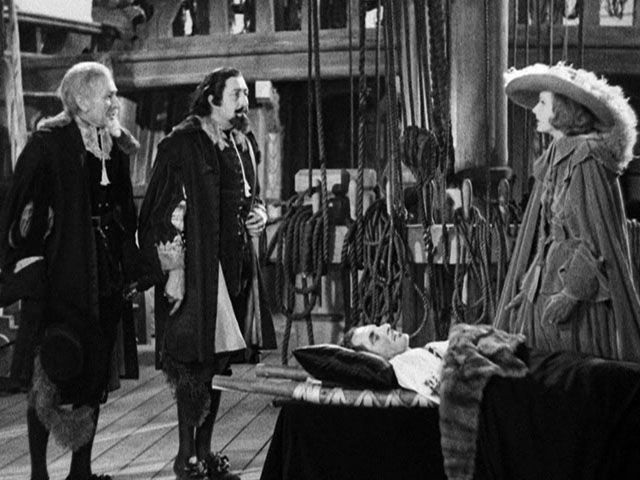 15. On the ship
Christina discovers that Antonio is dying of his injuries from the duel.
Alone, she sails away.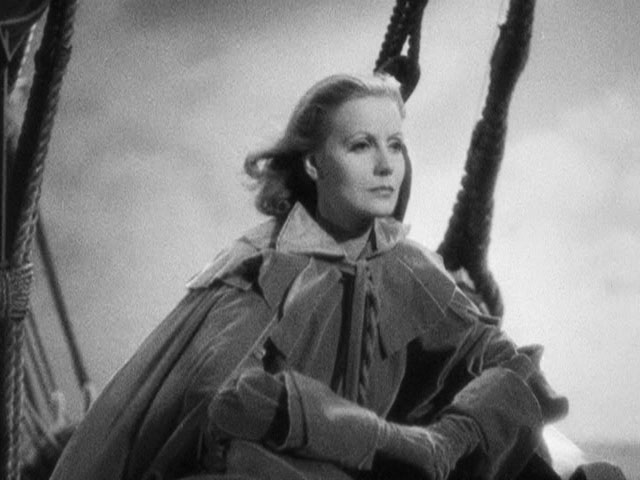 16. Christina on the ship's prow