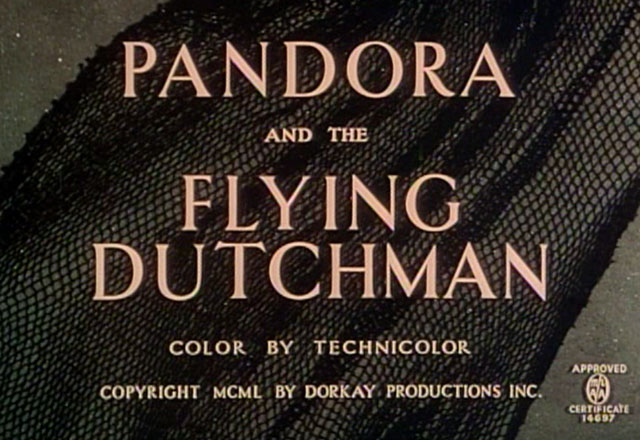 1. Title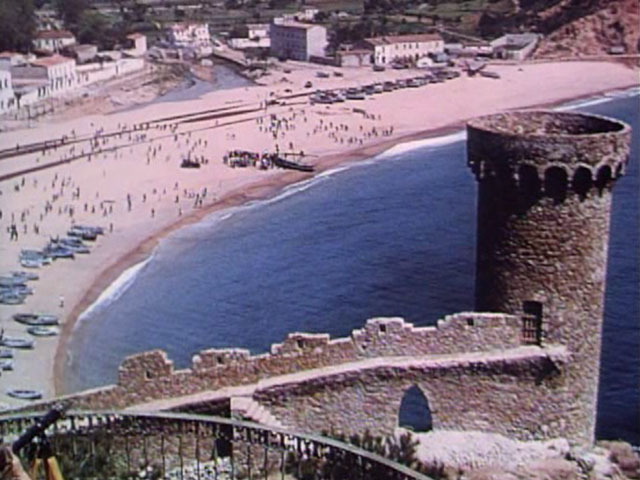 2. Esperanza town beach
The film starts in the Spanish coast town of Esperanza in 1930, before the Fascist takeover.
A number of British expatriates live there, along with the beautiful American woman,
Pandora Reynolds. Although many men have pursued Pandora, she has never found a man to love,
and enjoys making her boyfriends give up things for her.
Archaeologist Stephen Cameron is one of the group, he also narrates the film.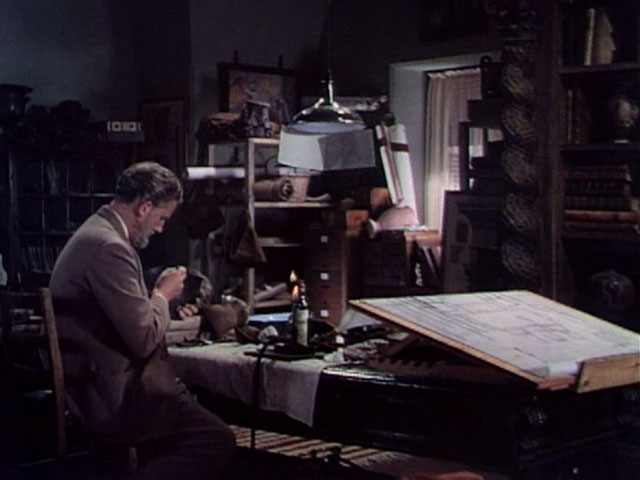 3. Stephen working in his study
Stephen is a man of many interests, including numismatics.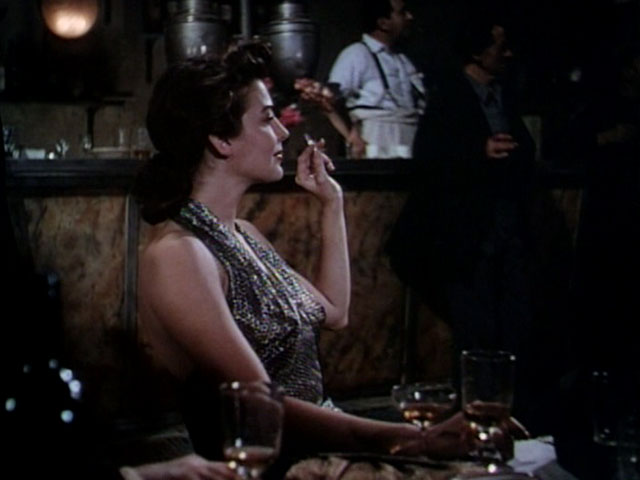 4. Pandora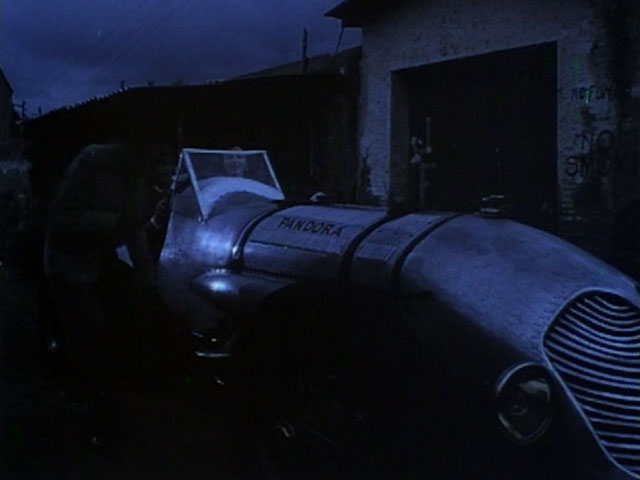 5. Pandora in Geoffrey's race car
Pandora tells British race car driver Stephen Cameron that she will marry him in six
months if he pushes his racecar off a cliff into the ocean.
A yacht arrives in the harbor, and Pandora, intrigued, swims out to the boat.
On board she meets the reserved Hendrik van der Zee, who does not respond to her charms.
He is civil to her, and she invites him to join her group.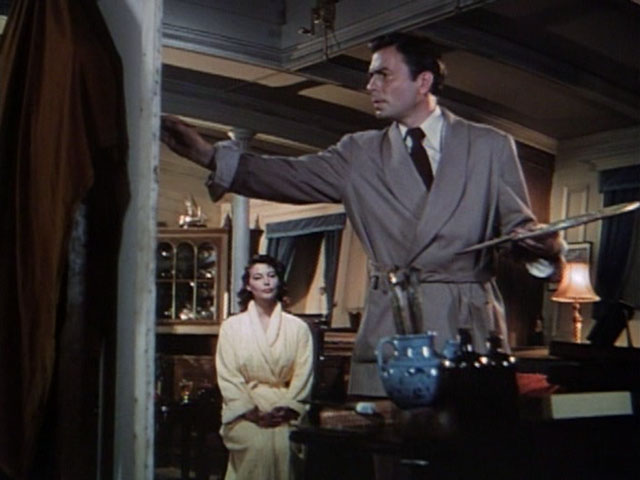 6. Pandora meets Hendrik
Geoffrey finds that Hendrik is more knowledgable about antiquities than he is,
and decides to ask Hendrik for help in identifying a coin.
He never gets the coin identified as he finds Hendrik and Pandora together.
7. Stephen holding coin to show Hendrik
Stephen leaves and his maid takes a coffee break at his table.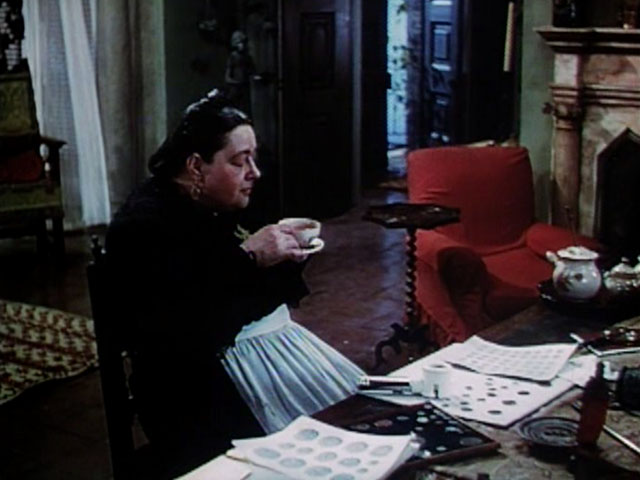 8. Stephen's maid sits at desk
The desk is covered with coin catalogs, and there is a tray of coins (ancient?).
Stephen takes to coin over to Hendrik's land residence but finds Pandora there.
He heads back home to work on another project.
Geoffrey has an old 17th century manuscript, supposedly an autobiography of the Flying Dutchman.
He asks Hendrik for help in translating it to English, and while translating the book,
Hendrik narrates the story of the Dutchman, without referring to the book, and Geoffrey
realizes that Hendrik is the Dutchman.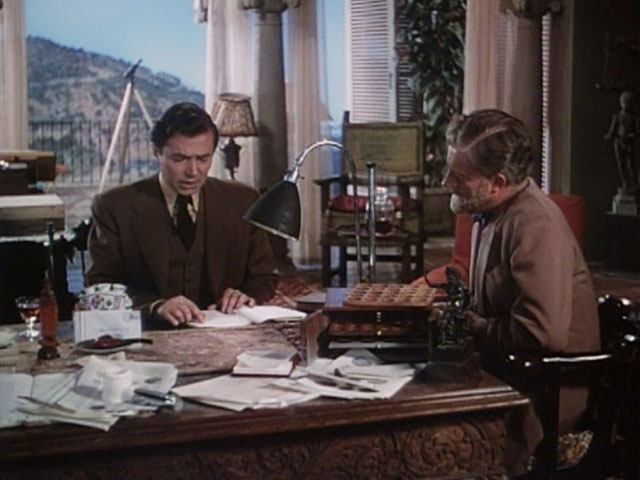 9. Hendrik translates the Dutchman's book
Coin catalogs and coin trays are on the table.
Hendrik was the captain of a Dutch sailing ship in the early 17th century.
He came back from a voyage and suspected that his young beautiful wife had been unfaithful.
In a rage, he stabbed her to death.
For this he is cursed to live forever and sail the seas until a woman is willing to die for him.
Every seven years he is allowed to come ashore for six months to search for the lady.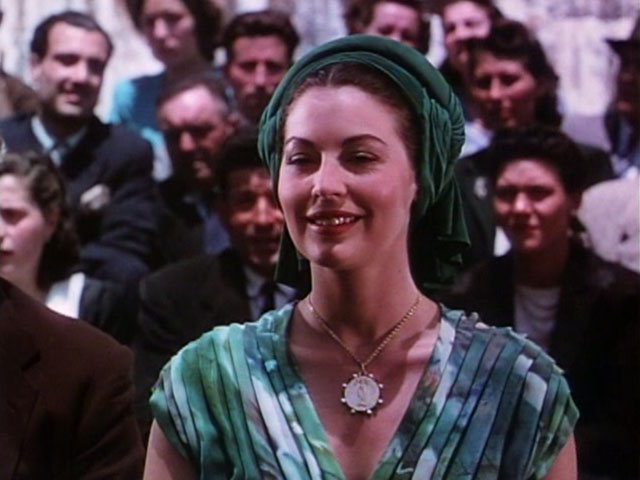 10. Pandora wears a coin medallion
Pandora is wearing a medallion which looks like an ancient coin with the amphora design.
The Dutchman's six months are up and he moves back onto his boat.
Geoffrey, thinking that Hendrik has sailed away, loans Pandora the translated manuscript.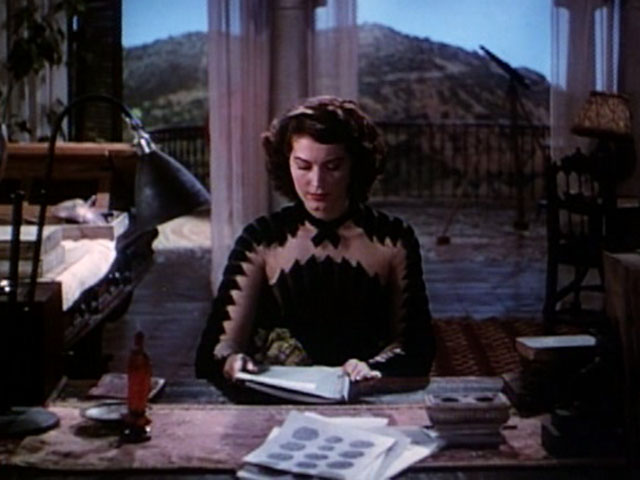 11. Pandora reads story of the Dutchman
Coin catalogs are still on the table but have been straightened up.
Hendrik's boat is still in the harbor and Pandora goes out to join him.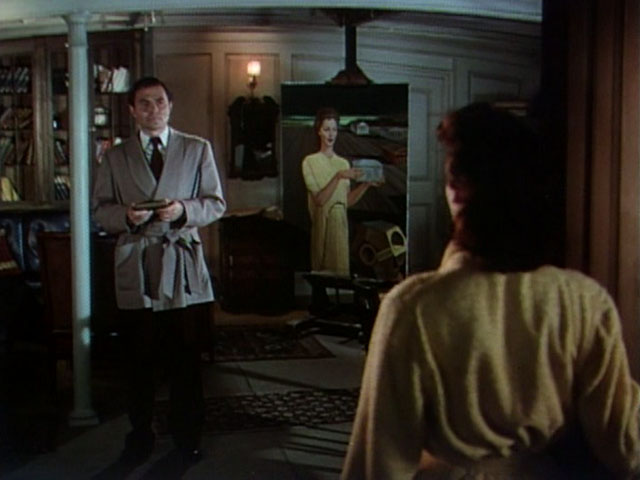 12. Pandora and Hendrik on board his boat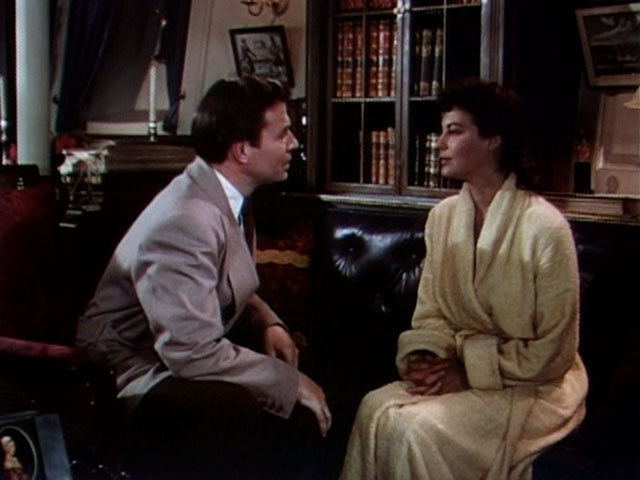 13. Pandora decides to give her life for love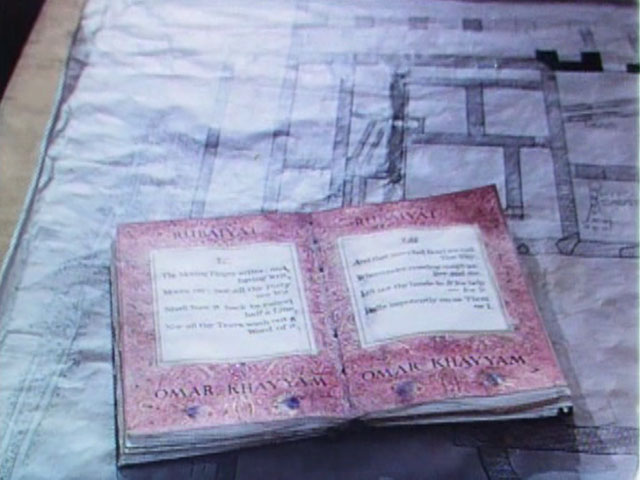 14. Omar Khayyám's Rubáiyát ends the story
The Moving Finger writes; and, having writ,
Moves on: nor all thy Piety nor Wit
Shall lure it back to cancel half a Line,
Nor all thy Tears wash out a Word of it.