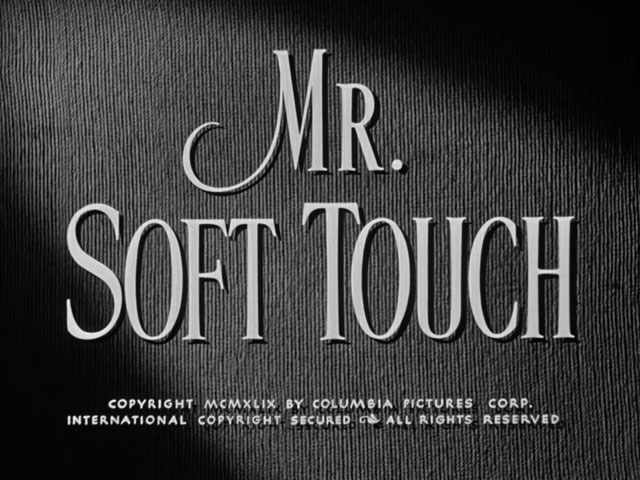 1. Title
Glenn Ford is driving a "1947 Lincoln" and is fleeing someone or something.
He has to stop to pay the bridge toll, then 25 cents, exact change requested.

2. Bridge toll plaza
Glenn has lots of cash including a fifty-dollar bill.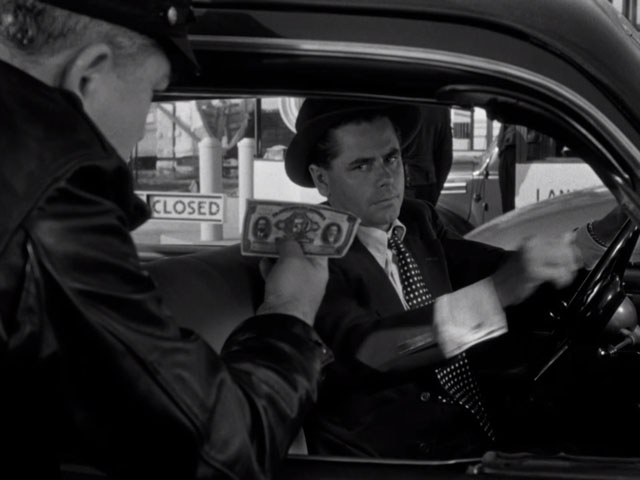 3. Glenn hands over $50 note
The bill appears to be the standard Mexican Revolution two-head film money bill.
Glenn then hides the car at a used car lot.

4. Glenn hides car
He visits a friend who has bought a ship ticket to Japan for him.
He has to hide somewhere until the ship sails, and through circumstances, finds himself at
Evelyn Keyes' refuge or homeless shelter.
A radio broadcast and a newspaper column indicate that Glenn is carrying a lot of cash which
he has stolen from a casino which he and partners owned before the war (World War II).
Glenn went into the army and upon his return found his partner murdered and the casino
taken over by gangsters.
He visited the casino and took a large sum of cash money with him, and is being followed by
the gangsters who want the money back.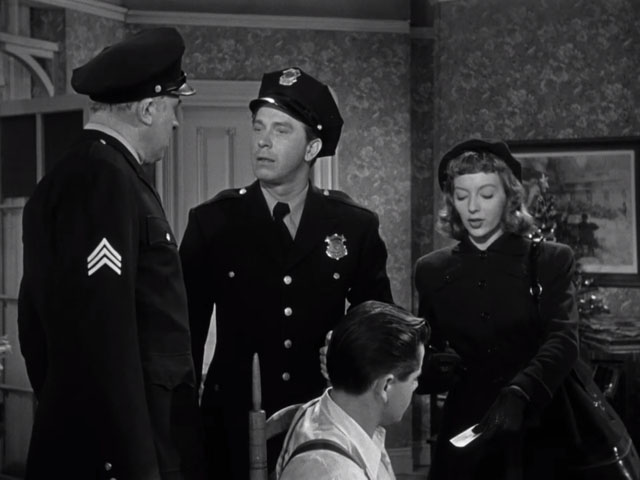 5. Glenn meets Evelyn
Glenn is in Evelyn's office and looks around.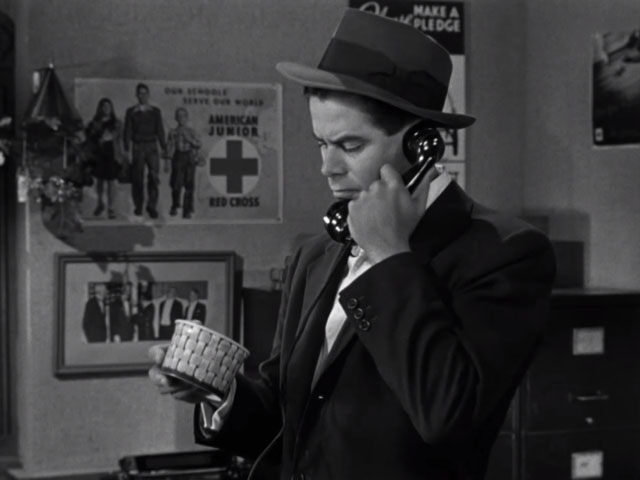 6. Glenn examines cup
The cup has writing indicating it was used for a charity fundraising drive.
Posters for various charity groups, including the Red Cross, are on the walls.
Glenn then looks at the desk and sees something.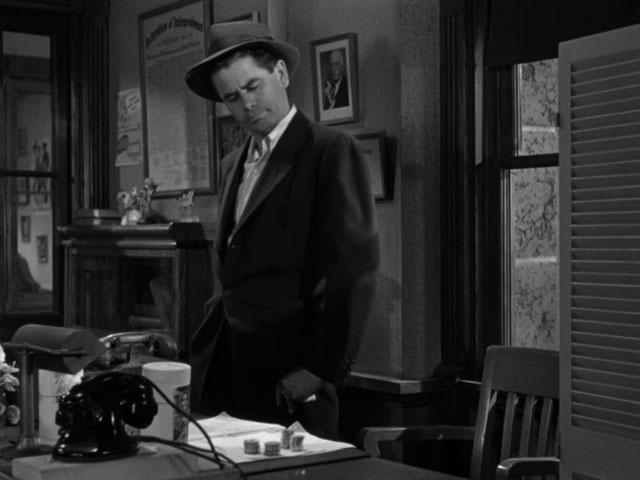 7. Glenn spots coins on table
On the desk is a pile of money in silver dollars and smaller coins.
A note with them indicates that they are for the "United Nations for Children".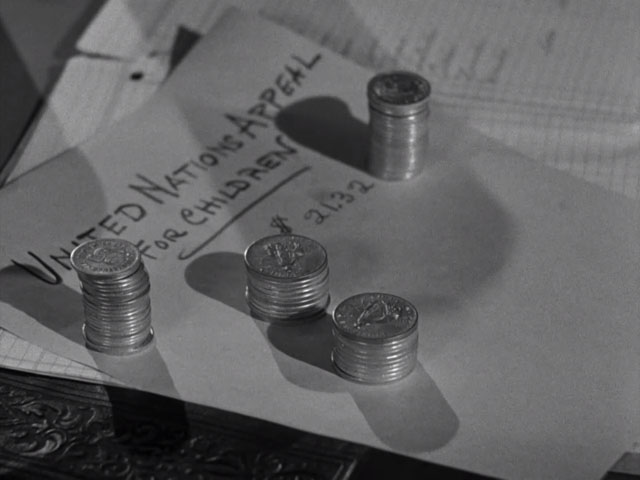 8. Table coins
The coins appear to be prop coins or large tokens.
The dollar sized prop coins have what looks like an angel and children on them.
The smaller prop coins which have "25" on them look similar to
movie prop tokens made by the Los Angeles Rubber Stamp Company.
Evelyn's place has a number of colorful characters hanging around, including a young boy.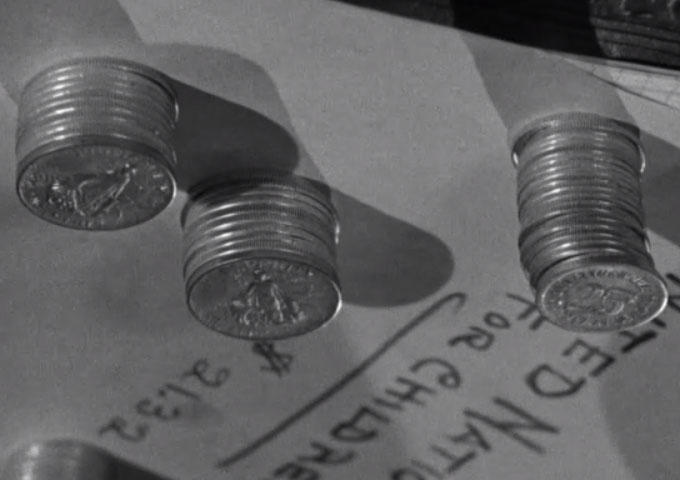 9. Clenn meets a bookie in training
The boy claims to have tips on winning horseraces from his brother, a jockey.
Glenn gives the boy some money, more Mexican stage money.
Glenn spots Evelyn and gazes at her legs.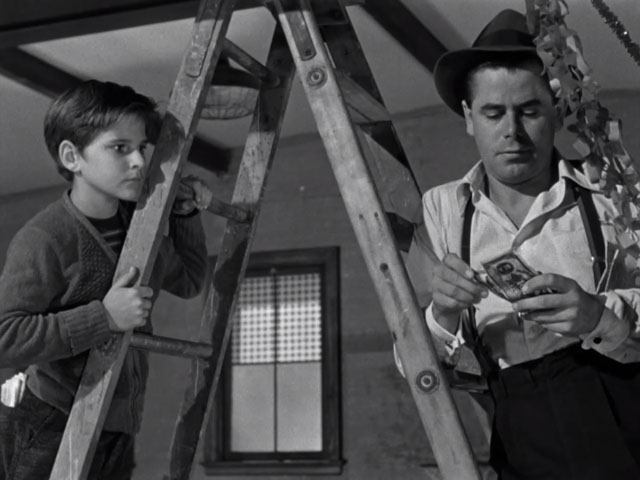 10. Glenn propositions Evelyn
Evelyn isn't impressed with Glenn's line "I'd like to see you in red silk".
The gangsters show up and set the place on fire.
A little girl leaves with a package.
Evelyn and Glenn fall in love but she wants to stay at her place and not flee with Glenn.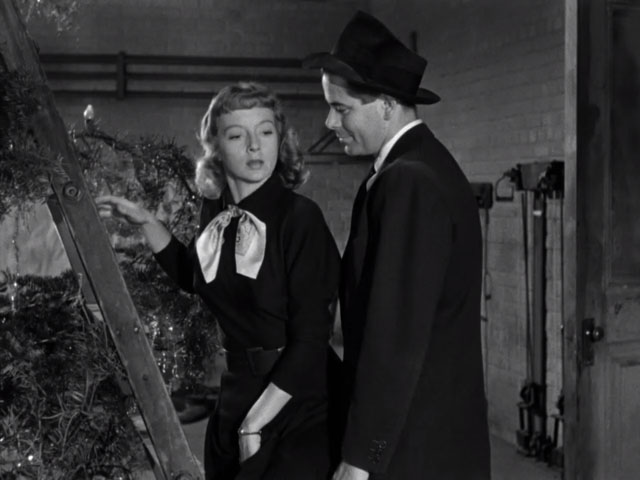 11. Little girl finds money
It's Glenn's money from the casino.
He heads over to the casino, enters using a secret tunnel, and confronts the gangster chief.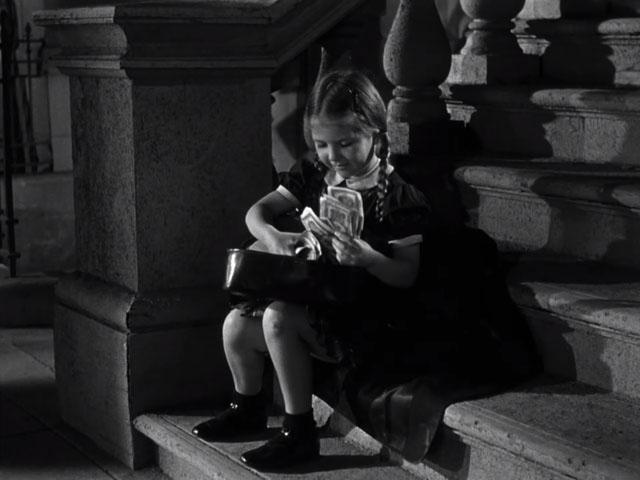 12. Glenn visits casino gangster boss
Glenn opens the safe (apparently the gangsters didn't change the combination) and takes more money.
He heads back to Evelyn's place dressed as Santa Claus and followed by gangsters.
As Santa Claus he hands out the money, is spotted by the gangsters and is shot.
He and Evelyn are together but whether he survives or not is ambigious.