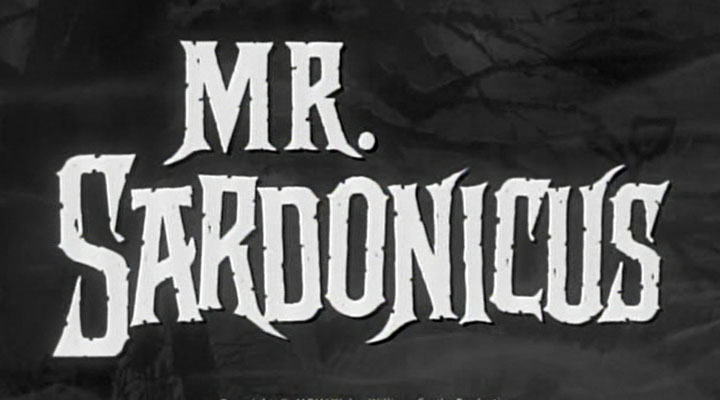 1. Title
William Castle had been a film director since the 1940's.
In the late 1950's he began producing horror and suspense films which featured various gimmicks,
such as telling theatre customers that a creature is loose in the theatre.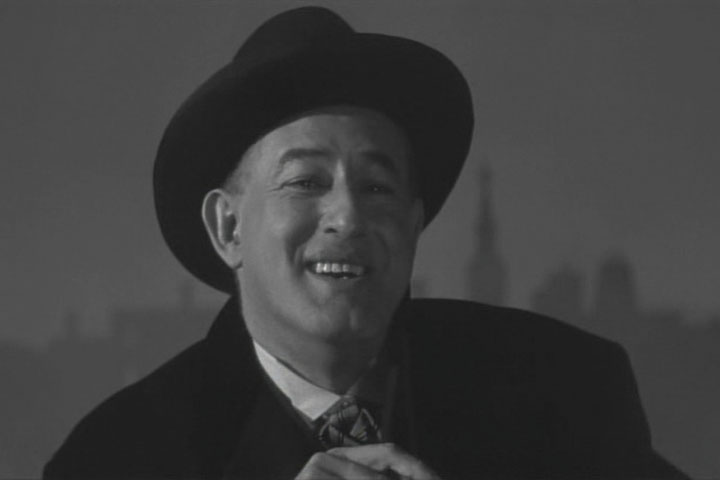 2. William Castle introduces film
He defines a "ghoul" which figures in the story.
Doctor Robert Cargrave is a prominent physician practicing in Victorian (1880) London.
He receives a note from a Baroness Sardonicus asking him to come to Gorslavia,
a place in Eastern Europe (Poland?).
Mrs. Maude Sardonicus had been the doctor's girlfriend at one time, but her father arranged her marriage
for the Baron's money.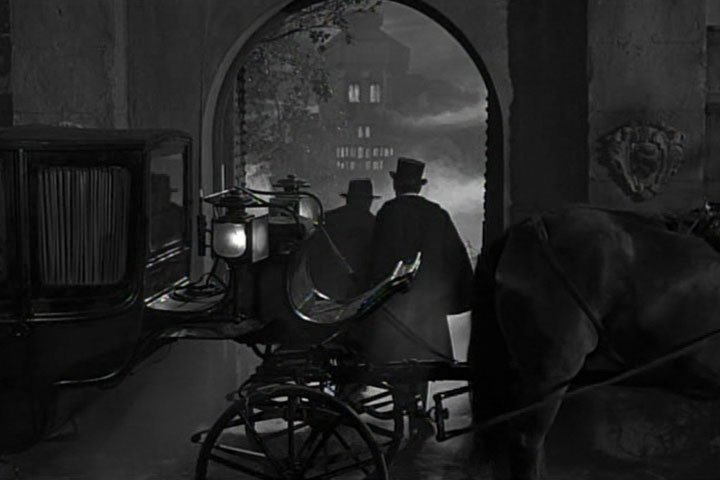 3. Robert arrives at the Baron's castle
A very creepy place reminiscent of Dracula's castle.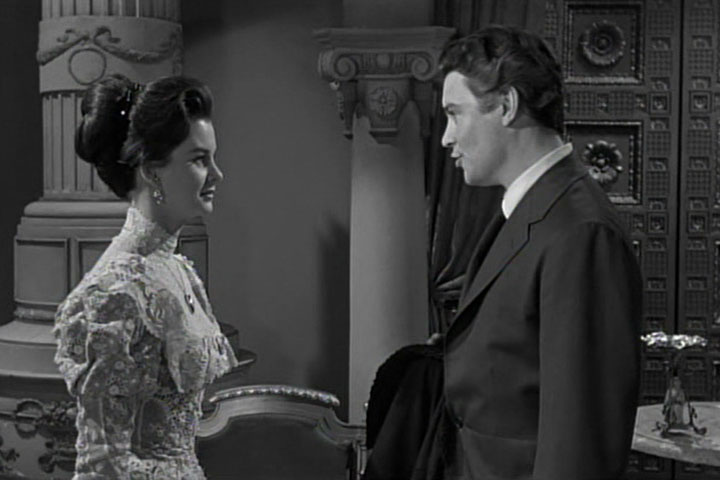 4. Maude and Robert
Maude thanks Robert for coming.
Robert also meets Krull, the Baron's main servant.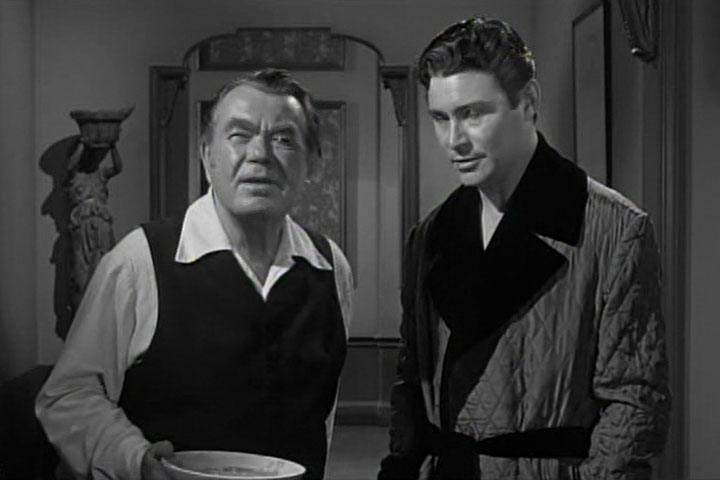 5. Krull and Robert
Robert finally gets to meet Mr. Sardonicus, a very tall man who wears a mask.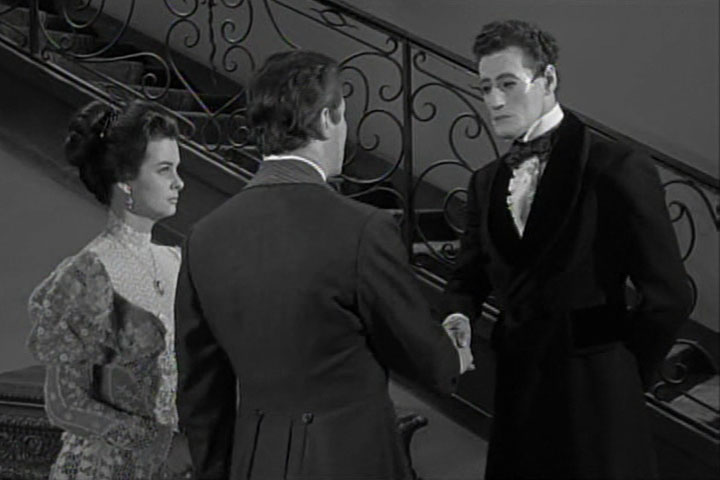 6. Mr. Sardonicus
Maude has told Robert that she has never had "relations" with the Baron.
The Baron is not lonely however, as Krull brings him village girls.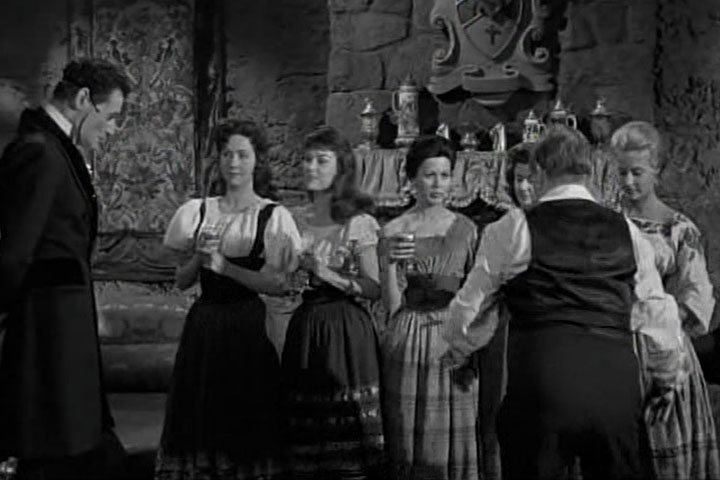 7. Mr. Sardonicus interviewing girls
Mr. Sardonicus tells Robert his story.
Some time ago, he was Marek Toleslawski, poor and married to a greedy woman.
His father lived with them, and after he died and was buried, it was discovered that
he was the owner of a winning lottery ticket.
Marek searches for the ticket and looks in a box.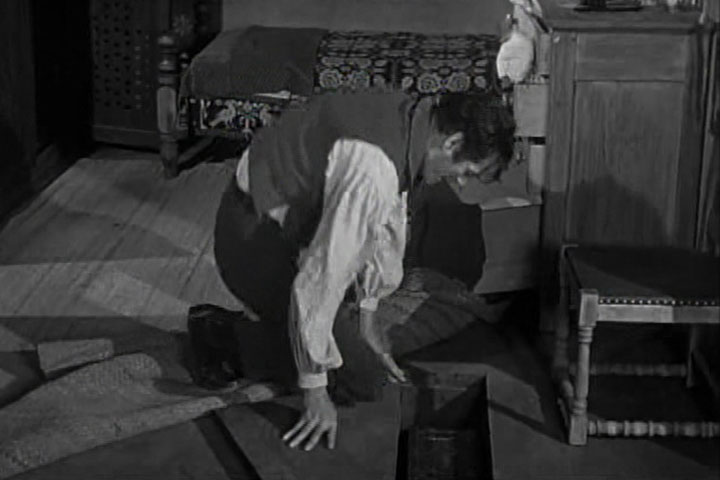 8. Marek finds box
The box contains a knife and some small coins but no ticket.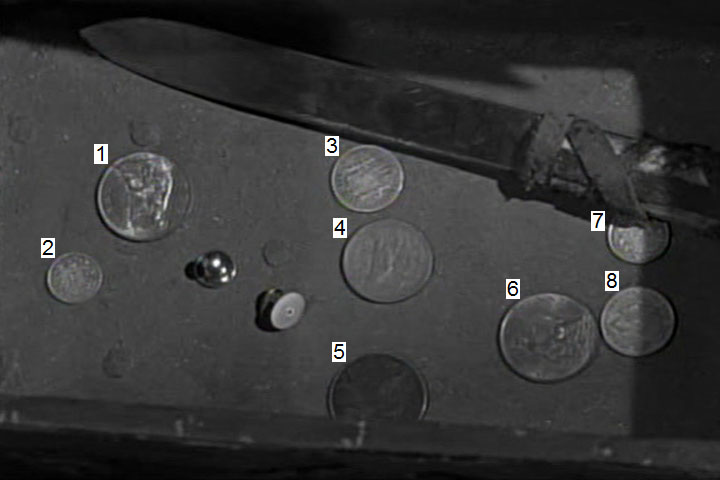 9. Box of coins
The coins appear to be:
1. British penny reverse
2. Switzerland 5 centimes/rappen reverse
3. Spain peseta reverse
4. Mexico 20 centavos obverse
5. British penny obverse Victoria
6. British penny reverse
7. Unknown
8. British farthing obverse George V
Marek realizes that the ticket is buried with his father; he digs up the body and retrieves the ticket.
The horror of being a grave robber or "ghoul" and seeing the body caused Marek's
face to freeze into a hideous "sardonic" grin.
The Baron's title and wealth came from the proceeds of the ticket.
Robert tries various methods to cure the Baron's affliction but they do not work.
Robert mentions an experimental treatment that is too dangerous to use on humans,
but the Baron threatens to disfugure Maude unless Robert uses it on him.
Robert uses a hypodermic needle, a new invention at the time.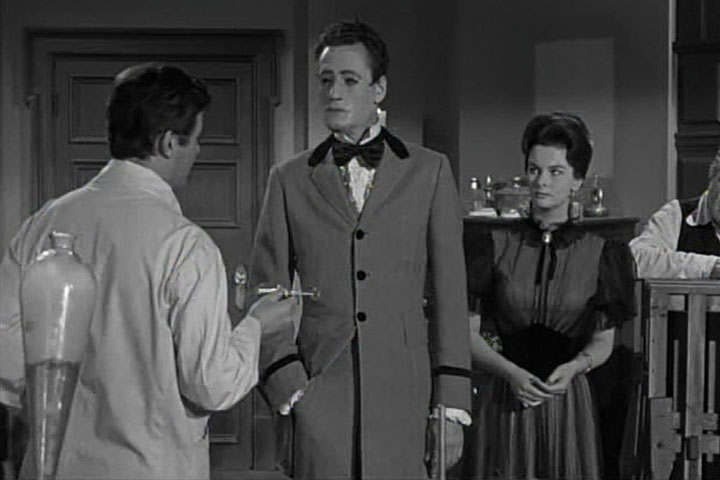 10. Robert and Mr. Sardonicus
Robert gets ready to do the injections, requiring the Baron to remove his mask.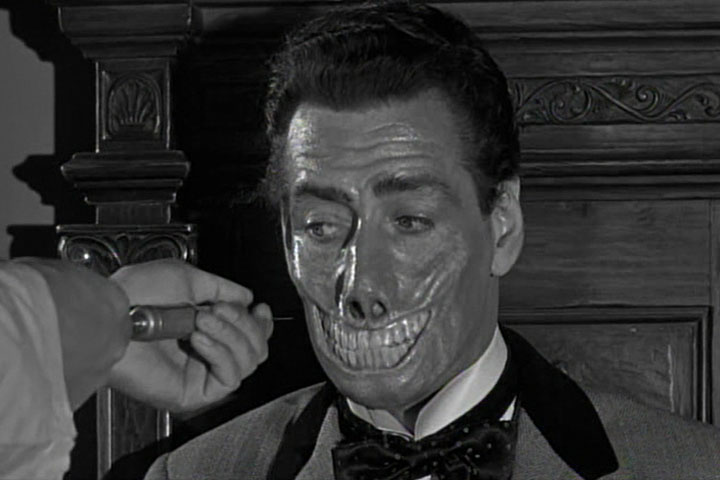 11. Mr. Sardonicus unmasked
The treatment works and the Baron signs some papers releasing Robert and Maude.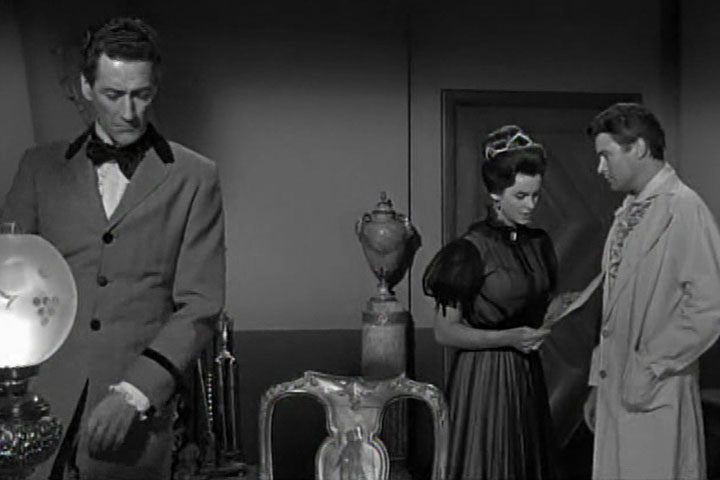 12. Mr. Sardonicus signs the papers
The papers includes a marriage annulment.
Robert explains to Maude that he believed that the Baron's problem was psycological not physical,
and his "treatment" was meaningless.
Robert and Maude leave the castle and the country.
The Baron discovers that his face is frozen, and he can not eat or drink.
At this point the film is stopped, William Castle appears, and asks the theatre audience
to fill out "Punishment Poll" cards to decide if the Baron receives "Mercy" or "No Mercy".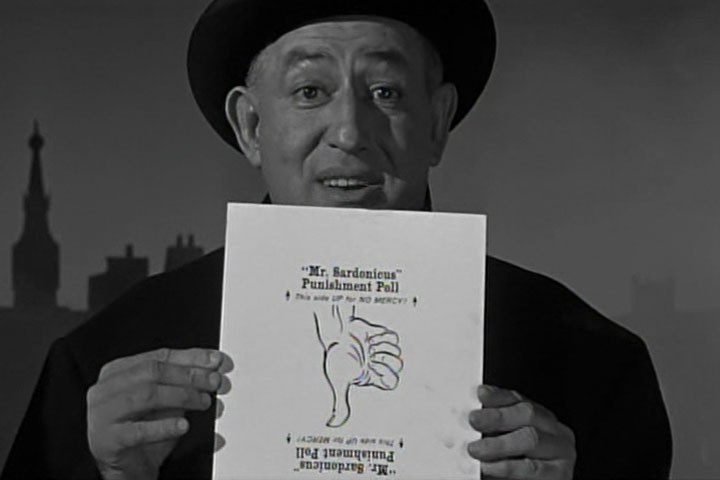 13. William Castle holds poll card "No Mercy"
He announces that the vote is for "No Mercy" and the film resumes.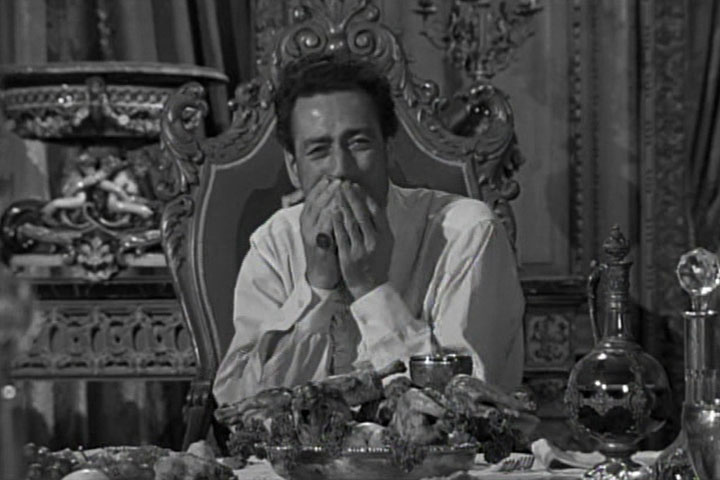 14. Mr. Sardonicus at the table
The film ends with the Baron trying to eat while Krull eats a large dinner.