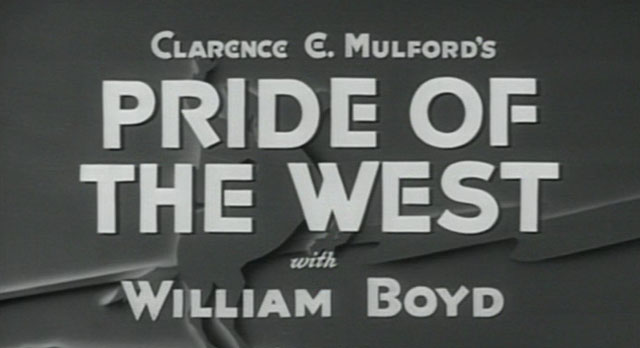 1. Title
Hoppy has two partners in this film, Windy Halliday is the romantic cowboy and
Lucky Jenkins is the comic cowboy.
The film was made mostly in the Alabama Hills, a rocky area east of the California Sierra Nevada
mountains, and the filming location for hundreds of movies, mostly Westerns.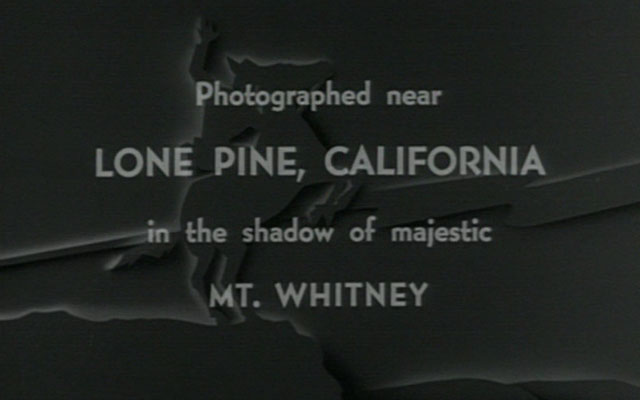 2. Filming location card
The card reads:
"Photographed near Lone Pine California in the shadow of majestic Mt. Whitney".
Mt. Whitney is located in the California Sierra Nevada mountains.
It is the state's highest mountain at 14,495' elevation.
Windy and Lucky are driving a stagecoach which is robbed.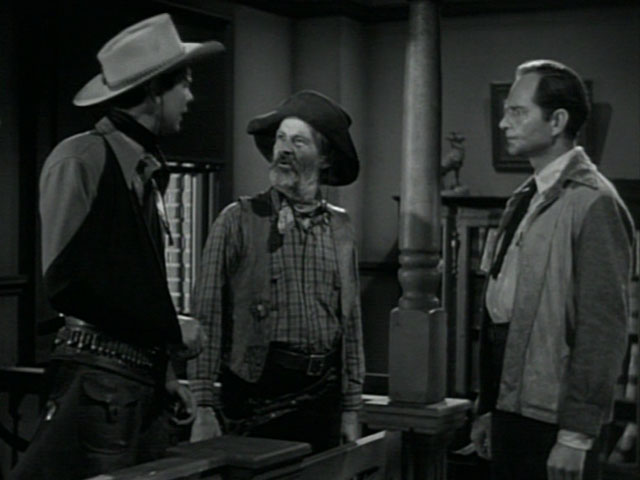 3. Lucky and Windy report the robbery
Windy and Lucky report the robbery to the sheriff, who has a daughter Mary and a small son.
Mary goes to find Hoppy on his ranch and ask him for help.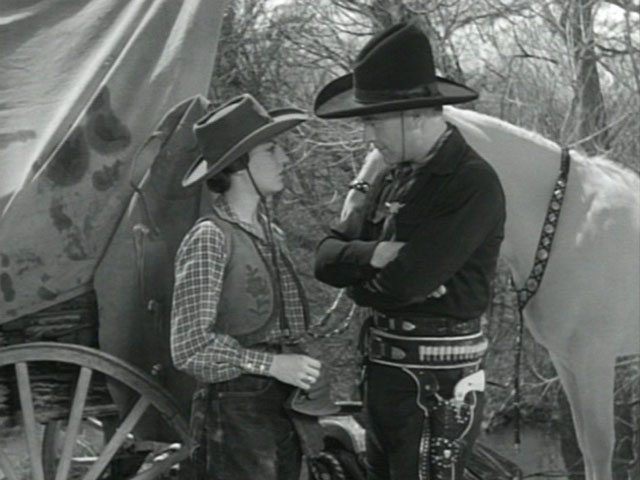 4. Mary explains the situation to Hoppy
A landowner named Nixon is trying to buy out the local ranchers, and he becomes a suspect
as the money was meant for a bank to loan to the ranchers.
Hoppy gets to meet Nixon, whose first name is never said.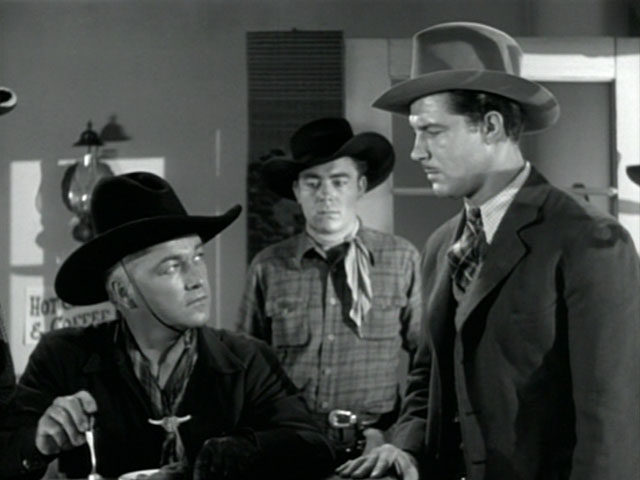 5. Hoppy meets Nixon
Hoppy's expression says it all.
There is some outdoor action to justify the filming near Lone Pine.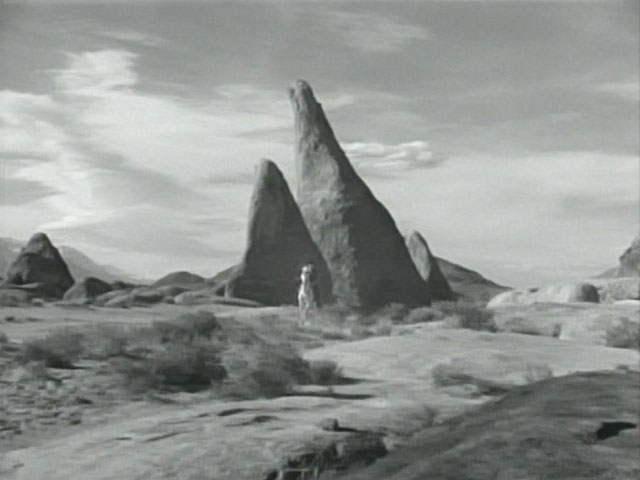 6. Hoppy riding through the rocks
Hoppy rides by a large rock in the Alabama Hills.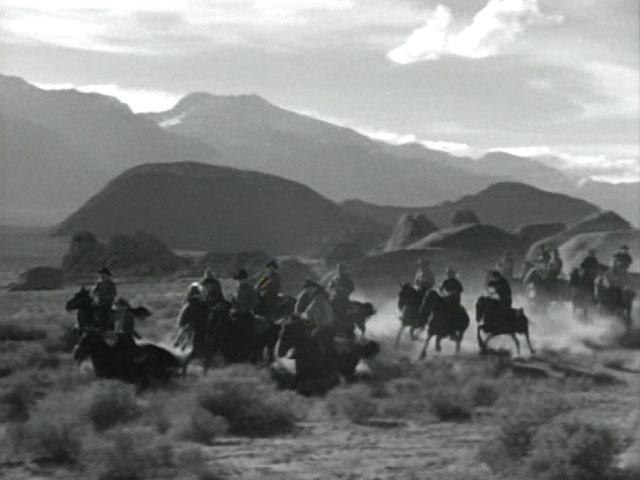 7. Posse riding
A posse rides in front of Mt. Williamson, California's second-highest mountain at 14,375' elevation.
Hoppy's two partners are mistakenly arrested and Nixon's gang shows up at the sheriff's office.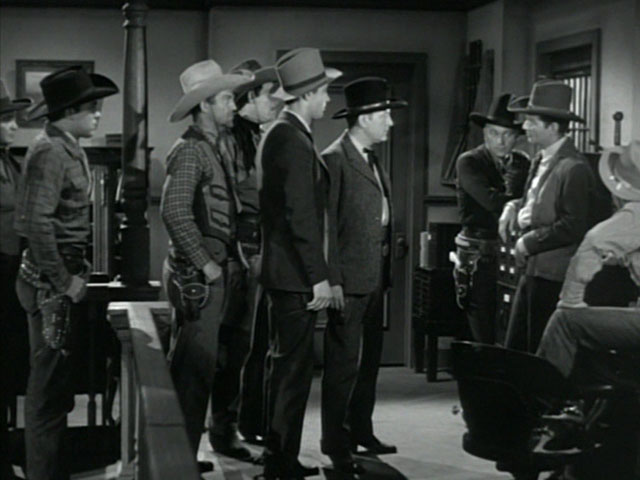 8. Nixon's gang at the sheriff's office
The money, $30,000 in gold, was found and brought to the sheriff's office.
Windy and Lucky are tasked with counting the money which is in bags or stacked in piles.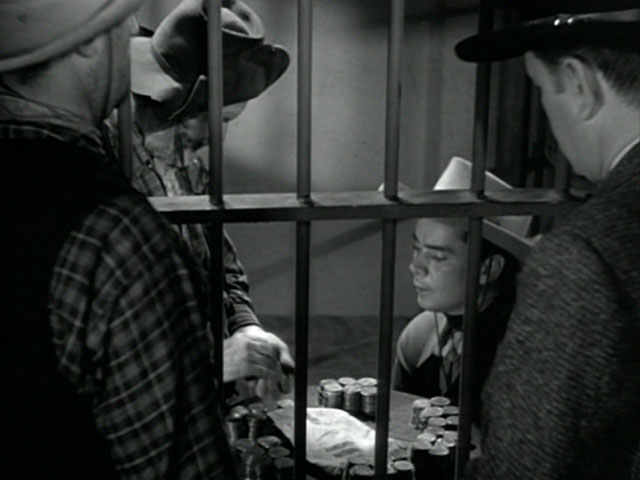 9. Windy and Lucky counting the money
These are obvious prop coins or possibly game or poker chips.
Mary knows that Hoppy is not a crook and she smuggles his guns to him.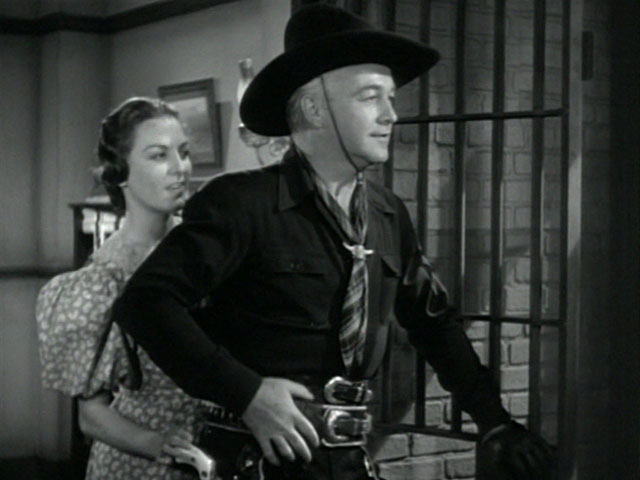 10. Mary puts Hoppy's guns into his holsters
Hoppy provides evidence against Nixon and his gang, and the sheriff tricks the gang into a cell.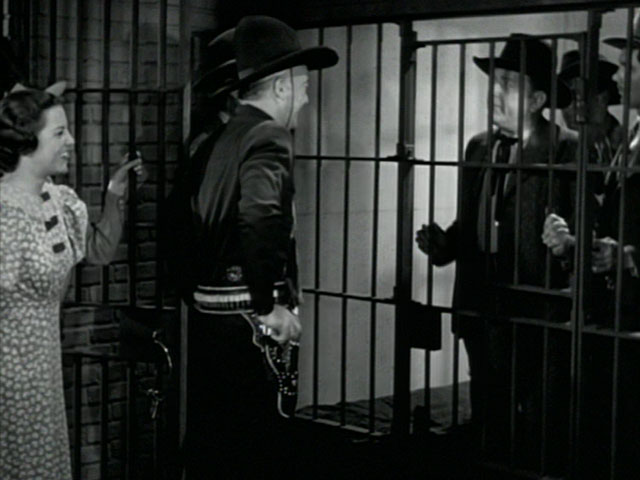 11. Nixon and his gang behind bars
Having solved the problems, Hoppy departs.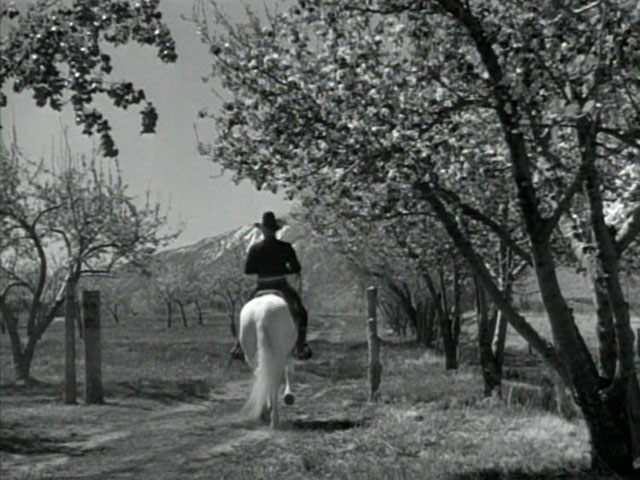 12. Hoppy rides off alone
Cast:
William Boyd as Hopalong Cassidy
George 'Gabby' Hayes as Windy Halliday
Russell Hayden as Lucky Jenkins
Charlotte Field as Mary Martin
James Craig as Nixon
Director: Lesley Selander
Writers: Clarence E. Mulford and Natt Watt