1. Title
Alex works for the US Department of Justisce in Washington DC as an analyst, a desk job utilizing
a computer hooked to a database of crimes and criminals.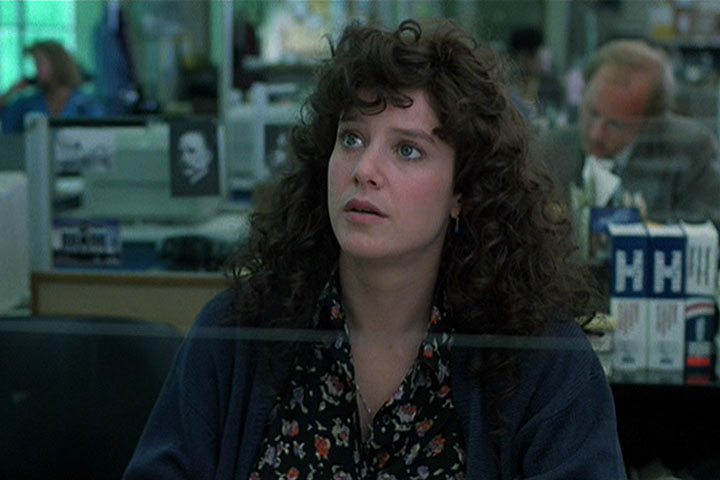 2. Alexandra
She notices that a gangster died in his sleep and argues with her co-workers whether it was a
natural death or a mob killing.
Meanwhile, Catharine has poisoned her wealthy husband Sam Peterson and liquidated his estate.
She already has her next target, Ben Duners, a wealthy toy manufacturer.
Catharine keeps her poison in a safe deposit box, and her method is to use a needle to inject it
through the cork of a wine bottle. The poison is not named but is hard to detect medically.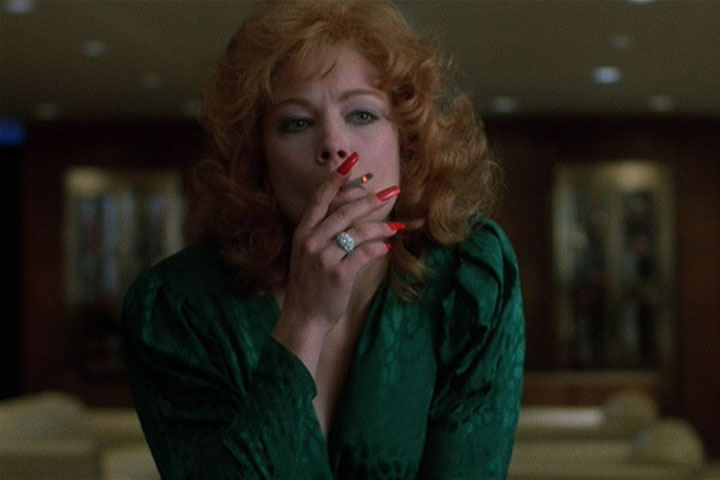 3. Catharine looking sexy
She marries Ben, then, once she is on his will, poisons him.
Alex, still working at her computer, finds two more men died mysteriously in their sleep, they were
both wealthy, in their 50's, and married recently to much younger women. She compares photographs of
the two wives and believes that they are the same person. She tells her manager but he brushes her off.
Catharine is working on her next target, William McCrory, a wealthy Seattle man who collects coins.
She has gotten some coin catalogs from libraries and book stores and is reading them.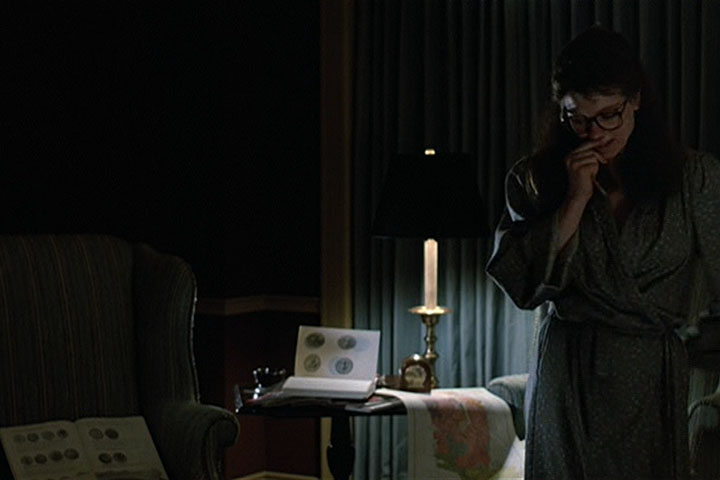 4. Catharine studying coins
She is in a hotel room with various numismatic coin books scattered around.
Her man is also interested in Northwest Indians and Totem Poles, and she is studying them also.

5. Coin catalog page showing ancient coins
The coin catalog page is Plate 28 of Carthaginian Gold and Electrum Coins
by G.K. Jenkins and R.B. Lewis, published in 1963 by the Royal Numismatic Society of Great Britain.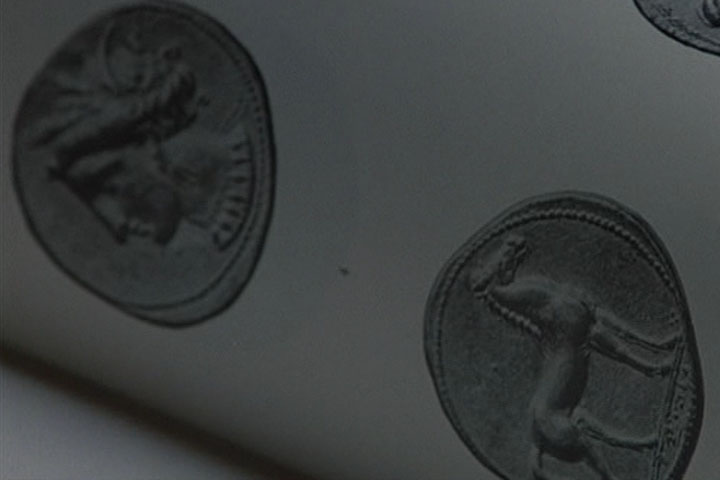 6. Coin catalog page
Another page from
Carthaginian Gold and Electrum Coins
.
Catharine finds a newspaper article about a sale of part of William's coin collection.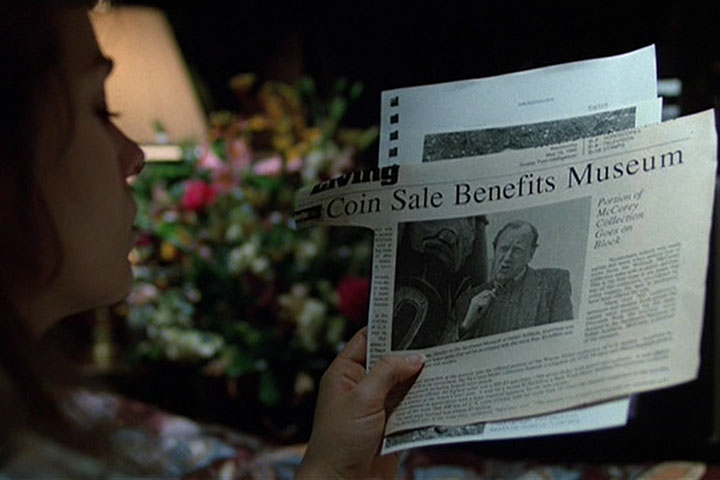 7. Newspaper article
The sale is to benefit the small museum where William is on the board of directors.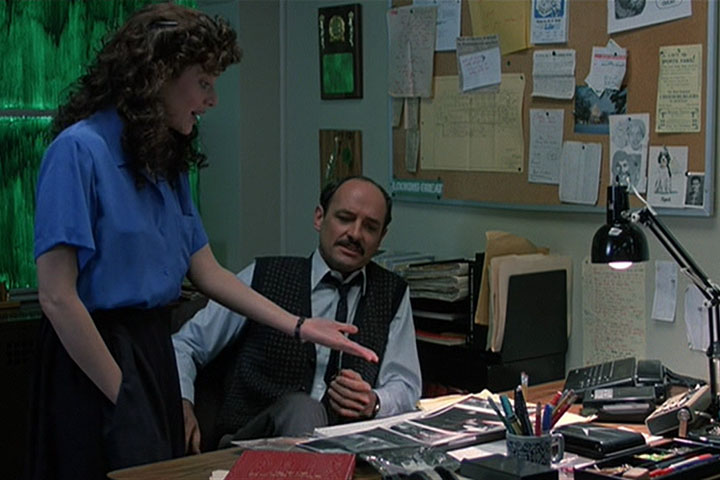 8. Alex explains to manager
Alex is still trying to convince her manager about the deaths of the two men.
Catharine has bought her way onto the museum board and has met William.
At his place she impresses him by identifying some old coins.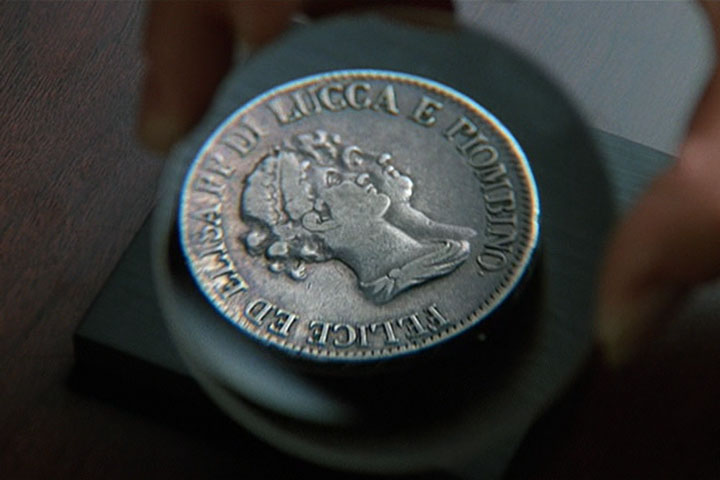 9. Italy Lucca coin magnified
She tells him that "That's Felice Baciocchi and his sister Elisia".
The coin is a silver 5 Franchi crown of the Italian Principality of Lucca and Piombino.
Napoleon Bonaparte gave the province to his sister Elisa and her husband Felix Baciocchi in 1805
and the couple held the province from 1805 to 1814.
Only the obverse of the coin is shown in the film, it displays Roman style busts of Elisa and Felix
and reads "FELICE ED ELISA PP DI LUCCA E PIOMBINO".
These coins were issued from 1805 to 1808.
Catharine identifies several other of William's coins.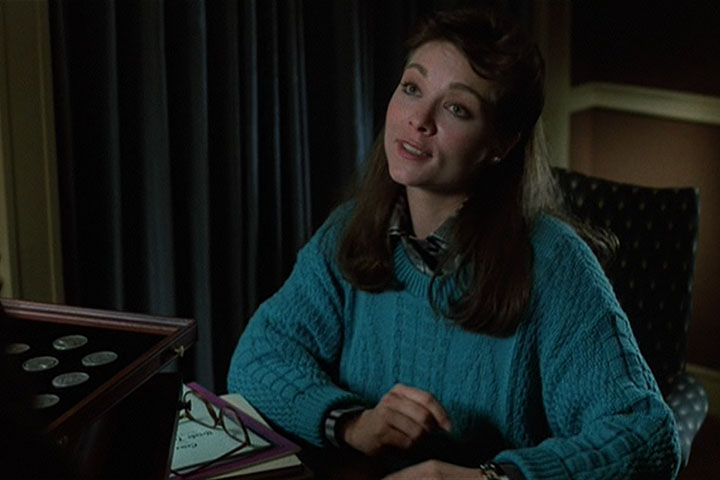 10. Catharine identifies coins
William asks her "You probably looked all this up just to impress me?".
She replies "Did it work?" and he tells her "You seem almost too good to be true".
He also notes that he has "had her investigated" and found a degree in anthropology from Mount Holyoke,
a prominent women's college in Massachusetts.
Catharine marries William shortly thereafter.
Alex has identified six men who are wealthy, in their 50's, and have married much younger women.
She asks her manager if she can visit the men and he tells her she will have to make the trips
at her own expense.
Alex visits Seattle, sees Catharine, and finds out about William.
She impersonates a newspaper reporter, interviews a museum worker and then visits William.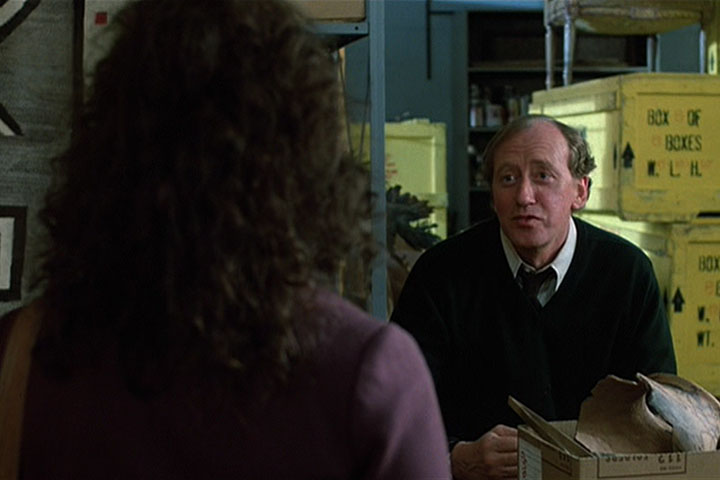 11. Alex visits William
Alex's story is that she is working on an article about women on museum boards and asks about his wife.
William dies like the other men and, back in Washington, Alex again tries to convince her manager
that this third death was a murder like the other two. She quits her job, but then a co-worker finds
some evidence, and she is allowed to go to Hawaii where a fourth target has been identified.
Catharine is now seeing Paul Nuytten, an international real estate and hotel developer.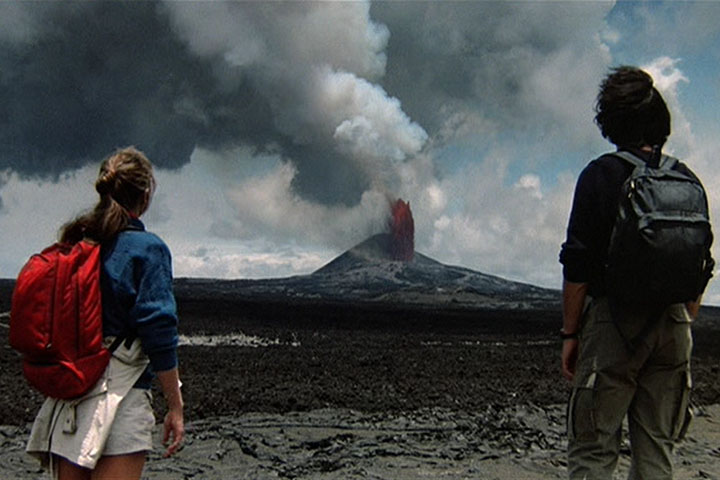 12. Catharine and Paul
Paul is a playboy and has been trying to get Catharine in bed without success.
Alex hires a detective to locate Catharine and then arranges to meet her at a hotel diving class.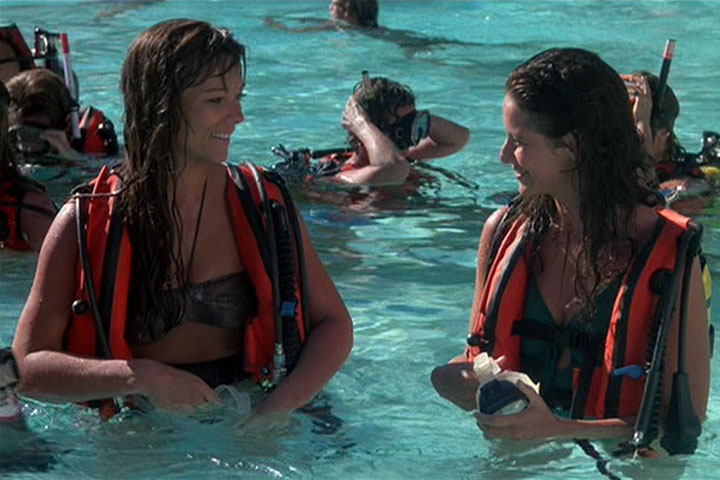 13. Catharine and Alex
Alex passes herself off as a tourist and becomes friends with Catharine.
Catharine invites her to a party given by Paul and loans her a fancy dress.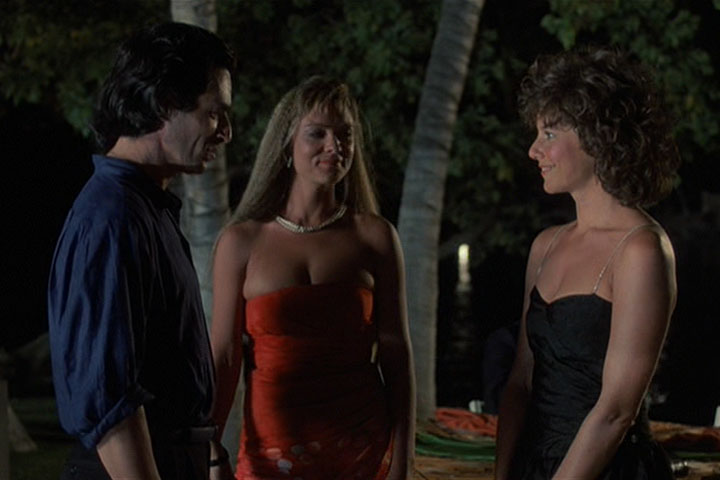 14. Paul, Catharine, Alex
Catharine sees that Paul is interested in Alex and suggests that Alex also see Paul.
Paul tries to seduce Alex but then loses interest.
Catharine finally succumbs to Paul's advances but achieves her goal, a wedding.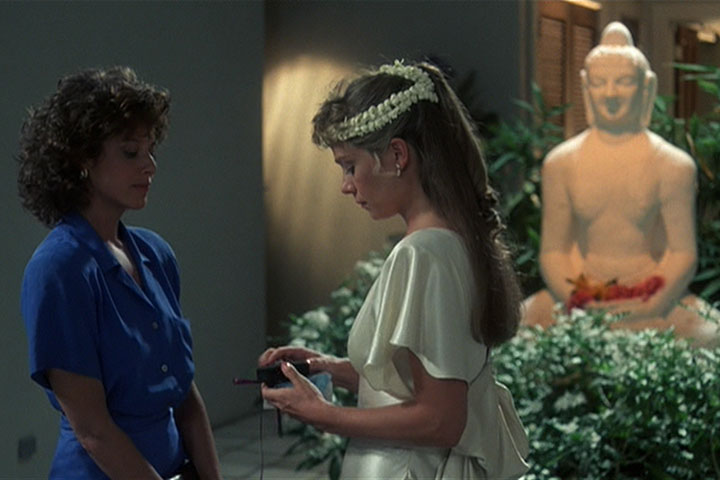 15. Alex gives Catharine a wedding present
Alex gives Catharine a small wedding present.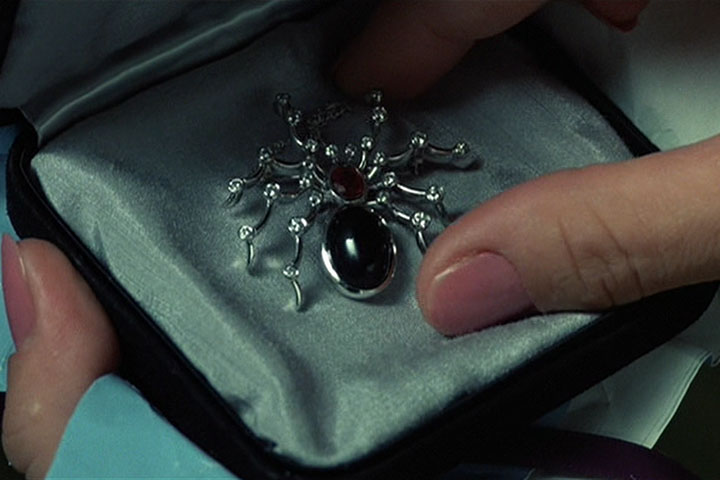 16. Wedding present
The jewelry is a figure of a Black Widow spider, Catharine recognizes it, and realizes that
Alex knows about her activities.
Alex visits Paul, identifies herself as a government worker, and tries to warn him.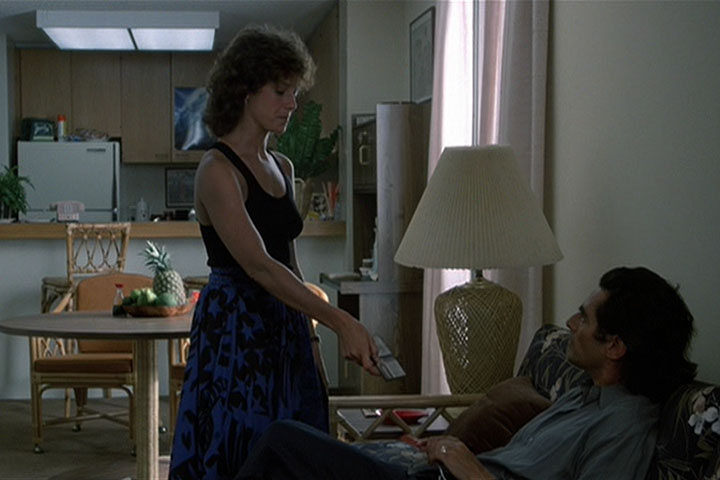 17. Alex warns Paul
Paul listens to her but remains with Catharine.
Catharine finds the detective and hires him to photograph Alex and Paul together.
The detective dies of a heroin overdose (supplied by Catharine) and the police find the pictures.
The police search Alex's place and find some evidence, then Alex is arrested for this killing and
for killing Paul, who has just been found dead.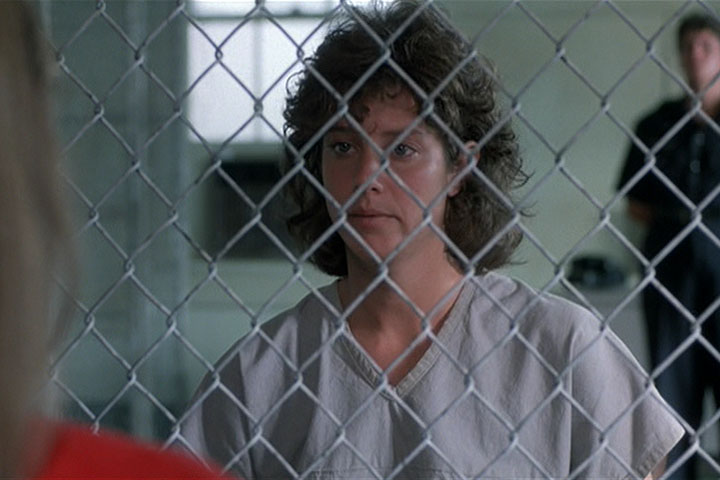 18. Alex in jail
Catharine visits Alex in jail and taunts her, unfortunately for Catharine, the arrest was a trick
and Paul is still alive.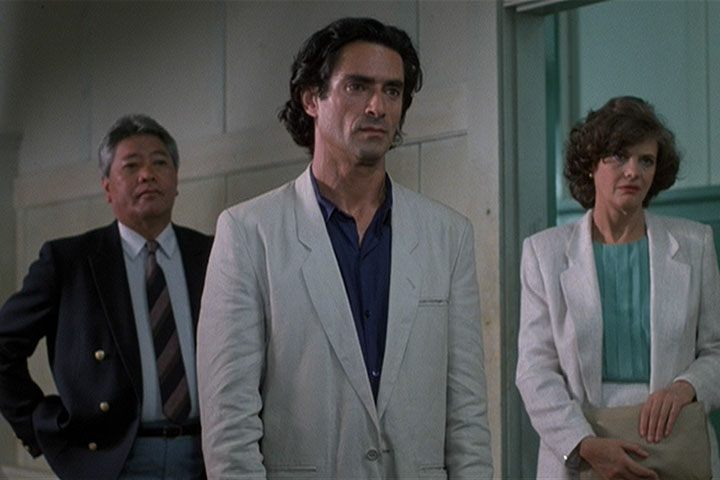 19. Paul alive
Alex tells Catharine that "they found the bottle" and the police arrest Catharine.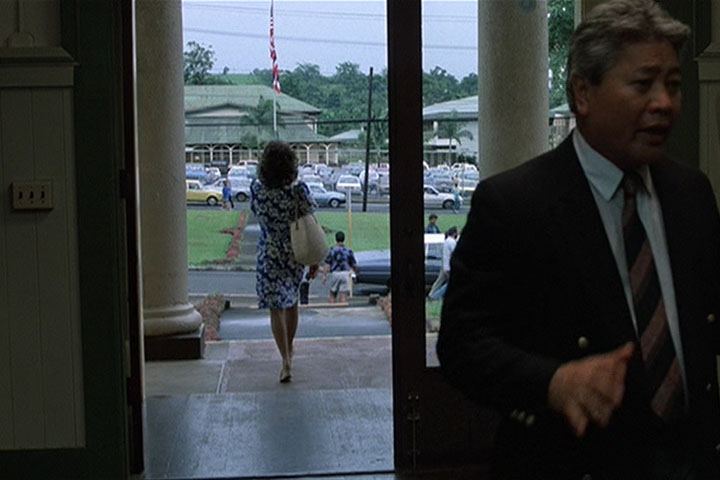 20. Alex leaves
Alex walks out of the courthouse as a police detective holds back reporters.