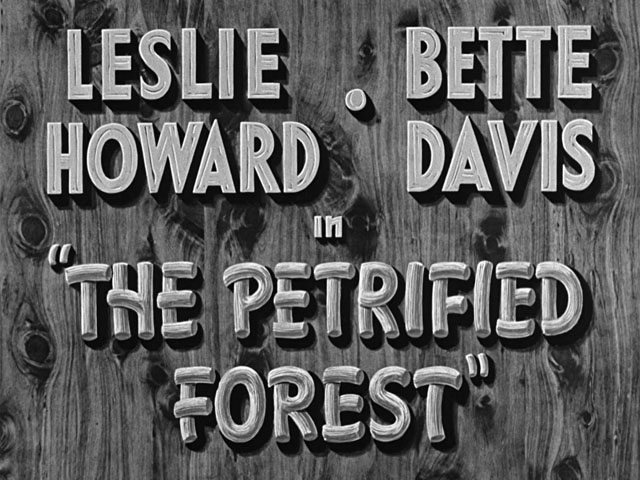 1. Title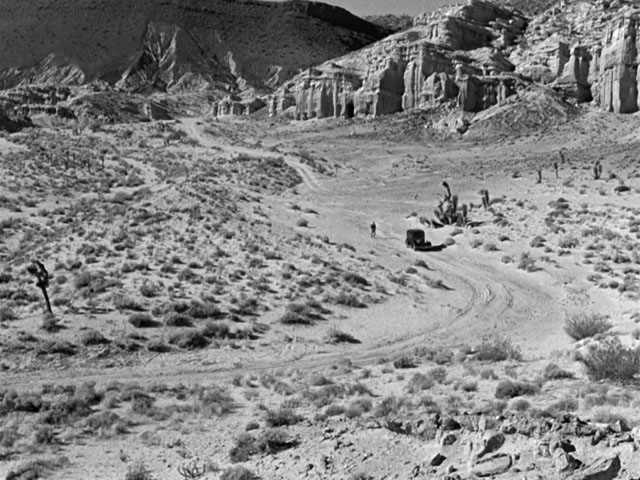 2. In the desert
Alan Squier is hitchhiking in the Arizona desert when he arrives at a small restaurant.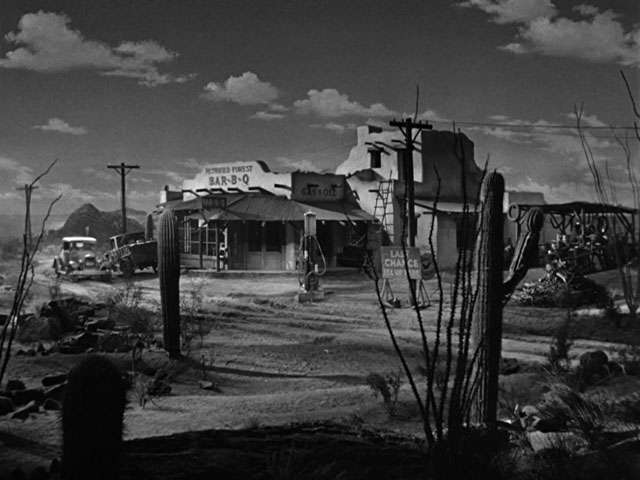 3. The Petrified Forest BAR-B-Q
The building design is based on the Southwestern Pueblo designs.
Alan has spent the past several years in Europe married to a wealthy woman.
She has let him go, and he has returned to America, broke.
Gabrielle Maple works at the restaurant which is owned by her father and grandfather.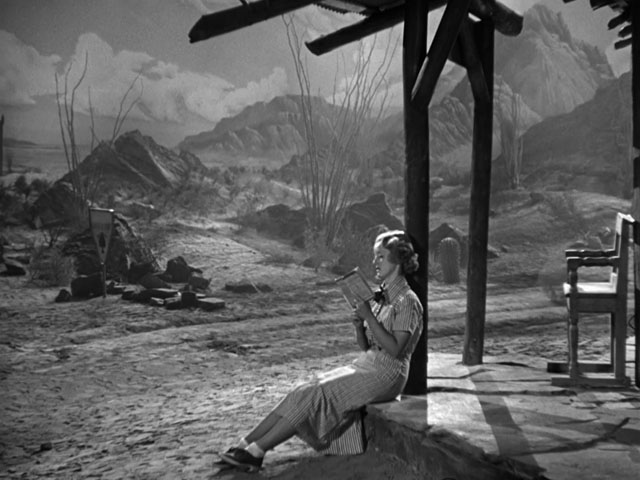 4. Gabrielle
Gabrielle's father was in the service during World War I and married a French woman who spent a
short time in America and then went back to France, leaving Gabrielle, who wants more than anything
to go to France and live there.
She is reading a book of poetry by Medieval French poet François Villon.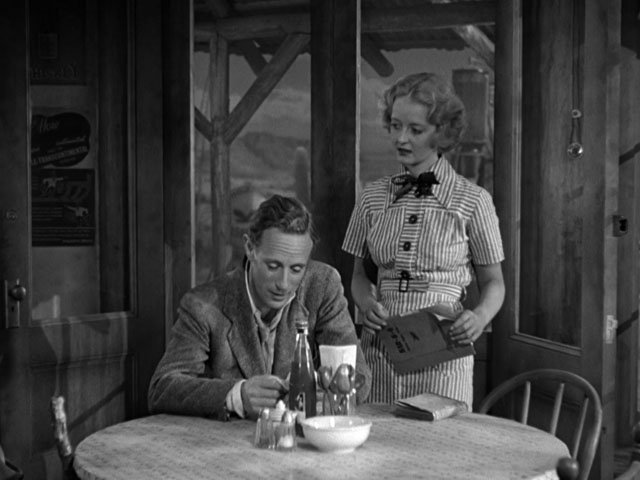 5. Alan and Gabrielle
Alan stops for a meal and meets Gabrielle.
Gramp is Gabrielle's grandfather who has lived in the area since the 1880's.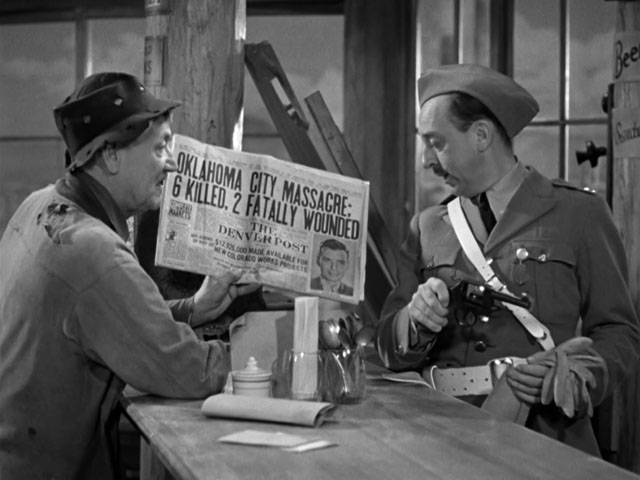 6. Gramp reading newspaper
The headline is about a gunfight between the police and a criminal gang led by Duke Mantee,
who is based on John Dillinger.
Gramp likes to tell stories of the "old west" and Billy the Kid.
Gramp states that the desperados of the 1930's are the modern version of the old western outlaws.
He reads out loud that Duke and his gang are in the area and hopes to witness a real gunfight.
Alan tells his life story to Gabrielle and his mention of living in France gets her attention
and admiration.
Alan is broke and Gabrielle hands him a silver dollar.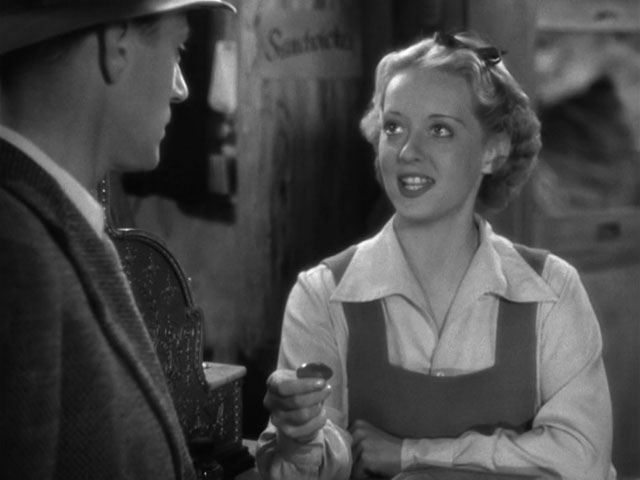 7. Gabrielle hands silver dollar to Alan
The coin is too small to identify the type of silver dollar, Morgan or Peace.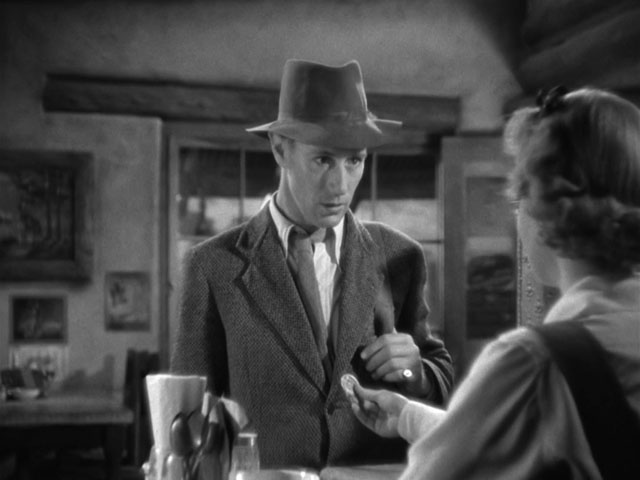 8. Alan wonders if it is for him
Another view of the silver dollar.


9. Closeups of the silver dollar
Closeups of the silver dollar which appears to be some kind of token or prop coin
with a man's face on it.
Alan and Gabrielle fall in love but their relationship is interrupted by the arrival of
Duke Mantee and his gang.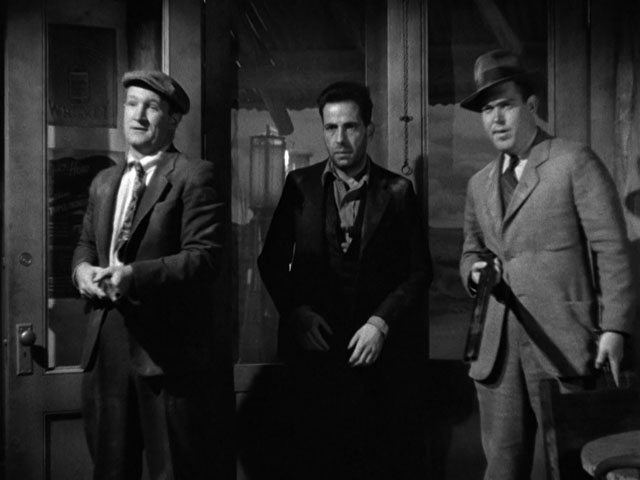 10. Duke and two members of his gang
Duke's group are waiting for another car carrying other members of his gang.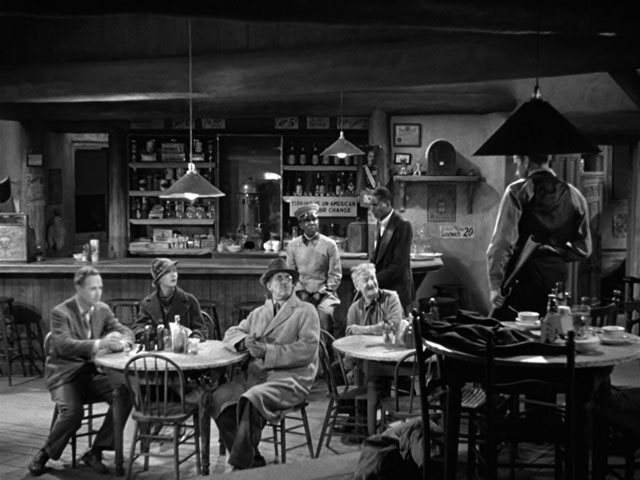 11. Hostages
The customer hostages include Alan, a wealthy couple, their uniformed chauffeur, and Gramp.
Behind Gramp is Slim, a member of Duke's gang.
Alan is carrying a $5000 life insurance policy, and while Gabrielle is out of the room,
he signs the policy over to her and then makes a strange request from Duke.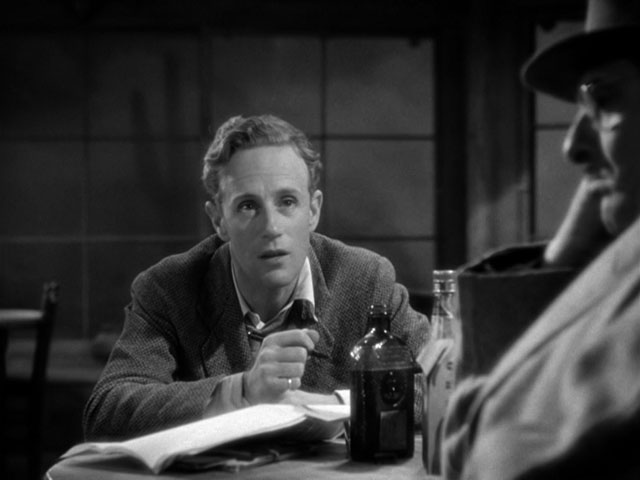 12. Alan signs the policy and makes his request
Deputies arrive and begin a gun battle with the gang.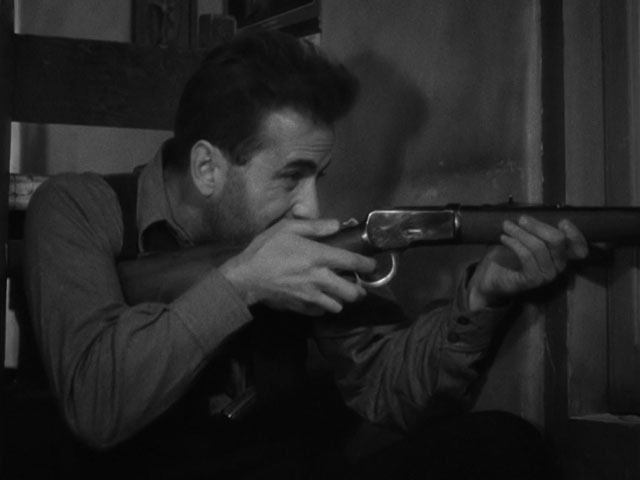 13. Duke in gun battle
Duke appears to be holding a Winchester rifle which is right out of the "old west".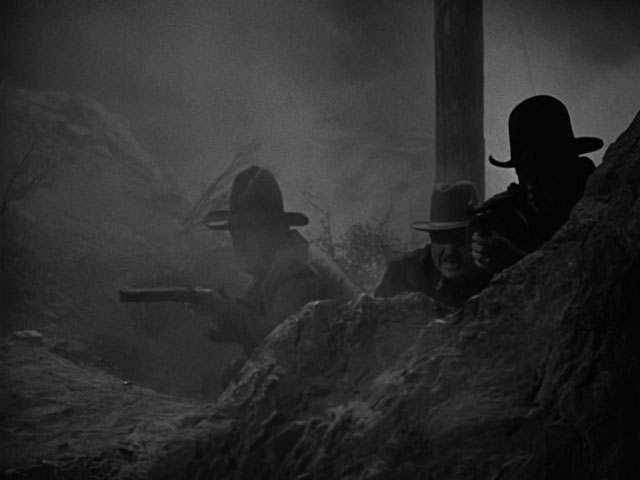 14. Deputies firing

The deputies are wearing cowboy hats and western outfits.

The deputy on the left resembles Hopalong Cassidy, a popular Western film star.

Alan is shot during the battle, tells Gabrielle about the insurance policy, and dies in her arms.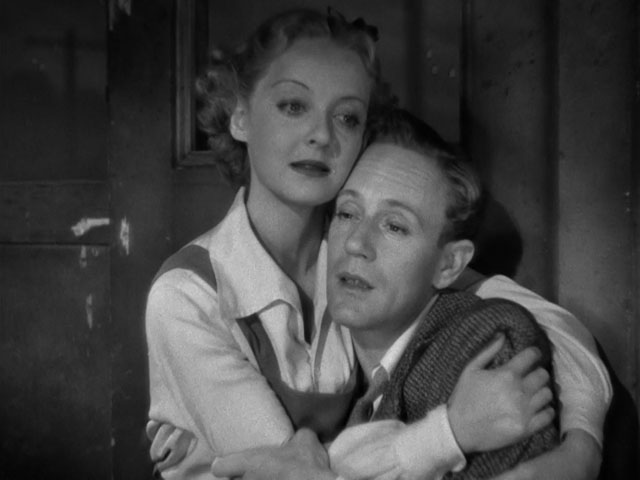 15. Finale