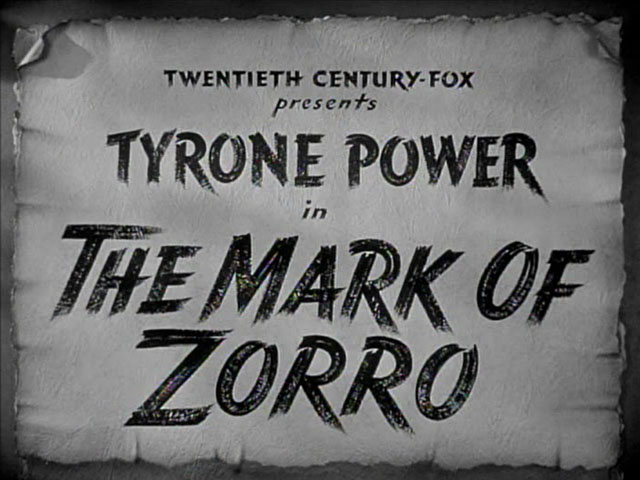 1. Title
Diego Vega returns from Spain to Los Angeles, California.
He hears about the dictatorial activities of the new mayor and then gets to meet him.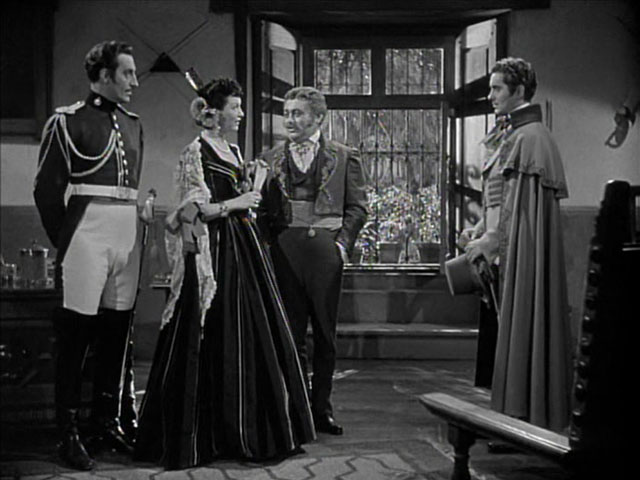 2. Captain Pasquale, Inez Quintero, Don Luis Quintero, Diego Vega
Don Luis Quintero is the Alcalde or Mayor, he is married to Inez who does not the rural life in California
and wants to go to fashionable Spain.
Captain Pasquale is the chief of the local military force and is Don Luis' partner.
Diego heads home to see his family along with Father Felipe, a monk or friar.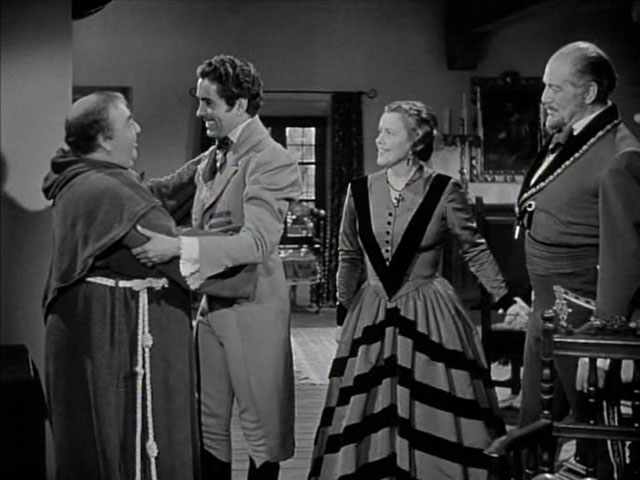 3. Fray Felipe, Diego, Alejandro and Isabella Vega
Don Alejandro, Diego's father, describes the oppression but refuses to condone a revolution.
Diego insists that he cares only about fashion and clothes, and appears to be a "fop" or dandy,
which makes his parents unhappy.
Zorro makes his first appearance in town.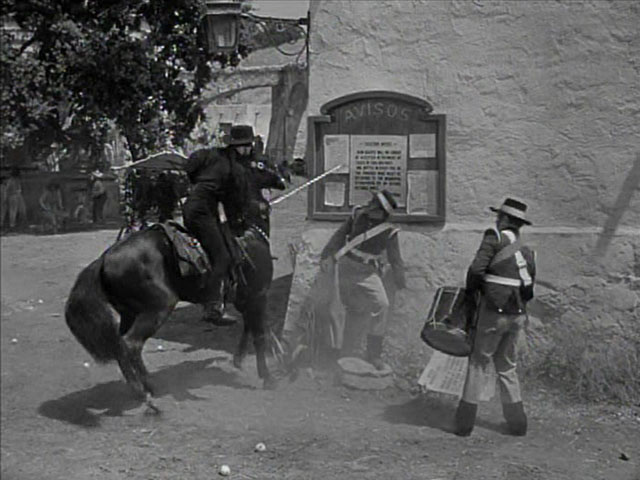 4. Zorro appears in town
Zorro replaces the mayor's latest tax increase proclamation with one of his own.

SPECIAL NOTICE
To all men in the district of Los Angeles be it known that Luis Quintero is a thief and an
enemy of the people and cannot long escape my vengeance - Zorro

Zorro also leaves his mark, hence the title of the film.

5. The Mark of Zorro
The mark is a letter 'Z' made with his sword.
The Quinteros are out for a ride when they have to stop.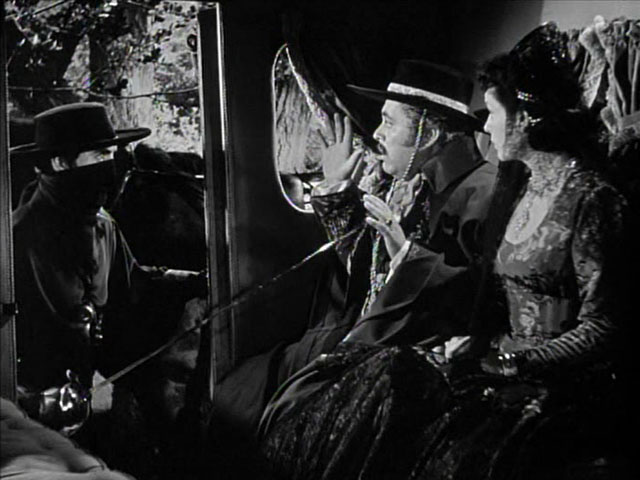 6. Zorro catches the Quinteros
Zorro relieves Don Luis of his money bag and Inez of a necklace.
In town the tax collector assembles the peasants for a new round of taxes.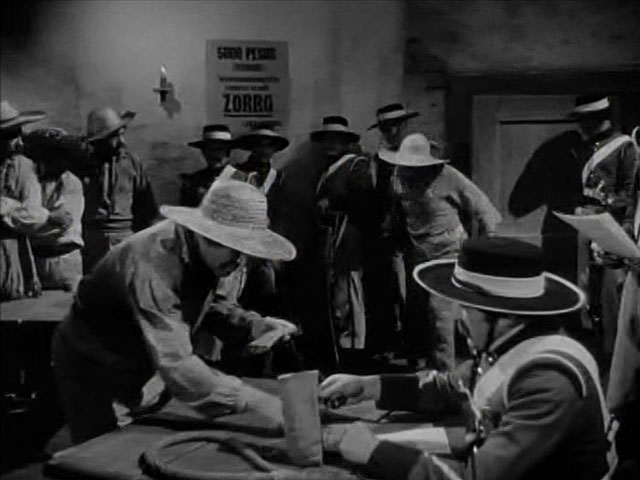 7. Paying taxes
A peasant pleads for relief but is refused, and then puts his money on the table.

8. Money on the table
These appear to be standard motion picture prop coins.
Diego meets Lolita Quintero, Inez' niece.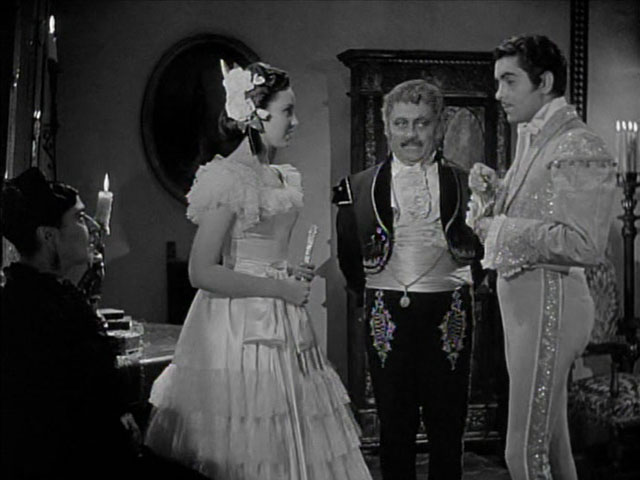 9. Diego meets Lolita Quintero
Zorro posts another notice.

SPECIAL NOTICE
Good people of Los Angeles
Do not give up hope Luis Quintero will soon resign and leave for Spain
or his blood shall drip from my sword - Zorro

The mayor offers rewards for Zorro of 5,000 pesos and then 20,000 pesos.
Captain Pasquale finds out that Father Felipe has been assisting Zorro and confronts him.
The captain finds a chest of money, too much for a church man to have, he doesn't need to be
Sherlock Holmes to figure that the Father is keeping the proceeds of Zorro's robberies.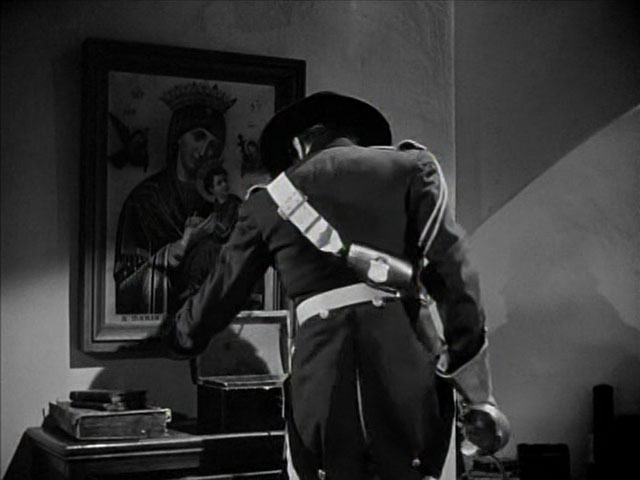 10. Captain Pasquale finds the money
The captain opens the chest.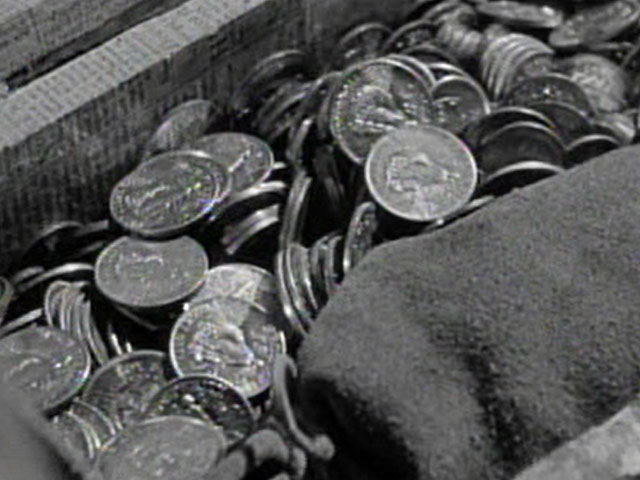 11. The money chest
These are unusual prop coins.
The captain takes the Father to the local jail and then sees the Mayor.
The pair have finally discovered that Diego is Zorro.
Diego appears and argues with the captain leading to a climactic swordfight.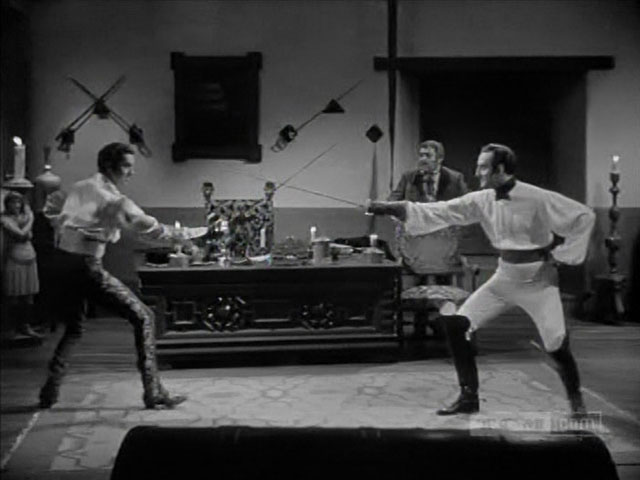 12. Diego and the Captain square off
Diego bests the captain but is then arrested by the soldiers.
Diego tells the jail guard that he can change copper centavos into gold coins, and lures him into the cell,
allowing Diego and Father Felipe to escape.
The pair appear in town where the soldiers are trying to break up a demonstration.
Their appearance causes a revolution.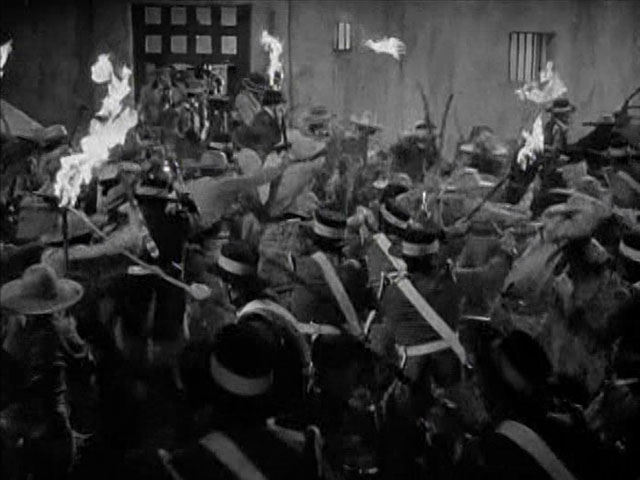 13. The revolution
The mayor announces that he has decided to resign and move to Spain.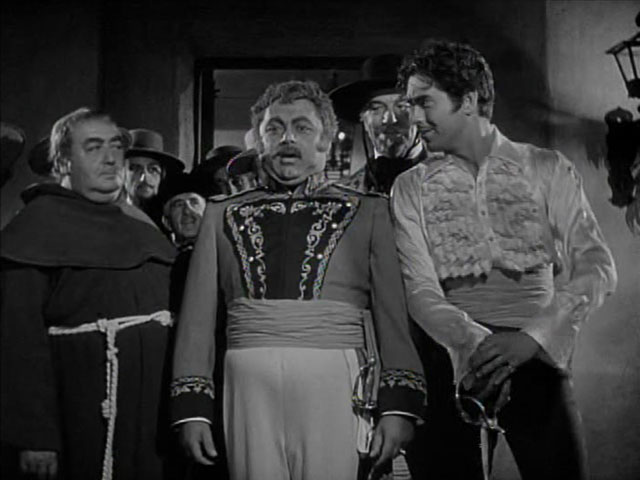 14. Alcalde Quintero resigns
Diego and Lolita are together with Inez who is happy about leaving dull California and moving to Spain.
Originally Diego was to return to Spain but he decides not to.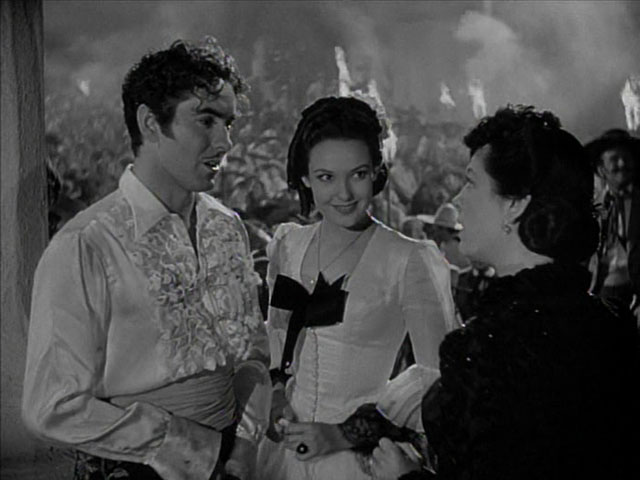 15. Diego and Lolita
They announce that they are going to raise "fat babies" in California.