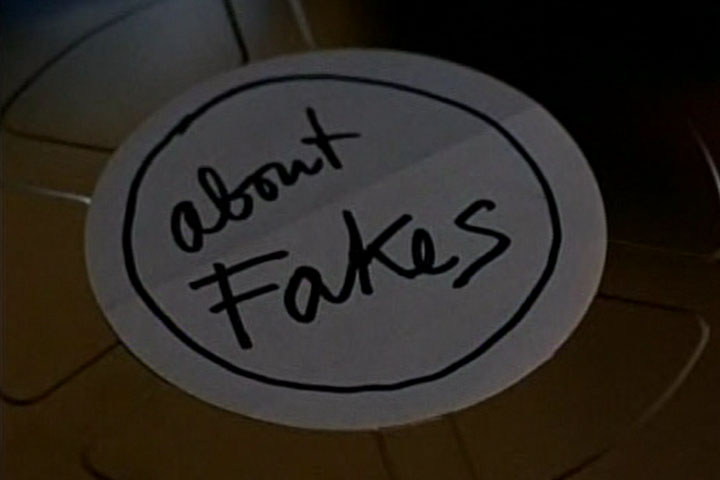 1. Title "About Fakes" (provisional title)
The film had several titles before being released as "F for Fake".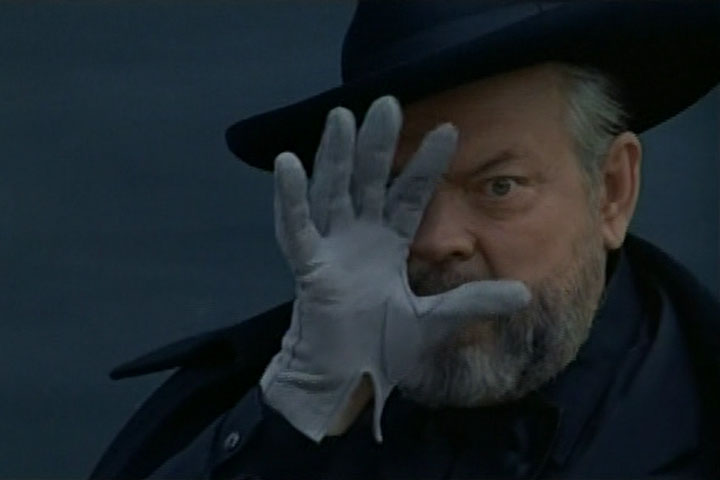 2. Orson Welles as magician
In a French railroad station, Orson performs magic tricks for a little boy.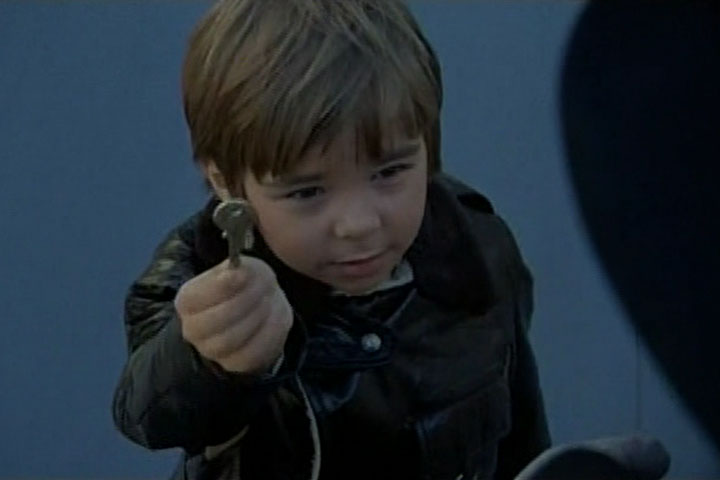 3. Boy with key
The key becomes a coin.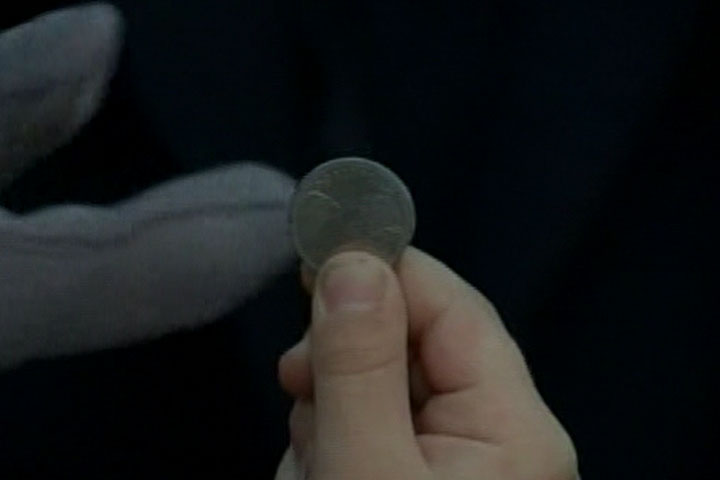 4. Orson holding coin
This coin appears to be a Great Britain halfpenny of Queen Victoria, made 1860 to 1894.
He tells the boy to open his mouth.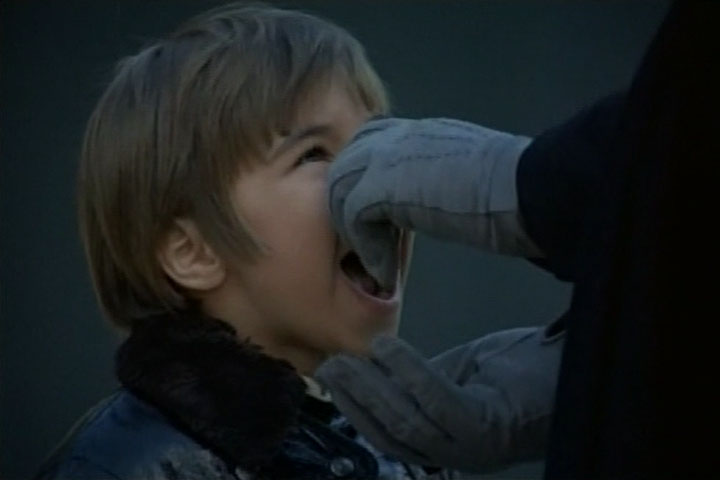 5. Orson pulls coins from boy
Orson shows the coins.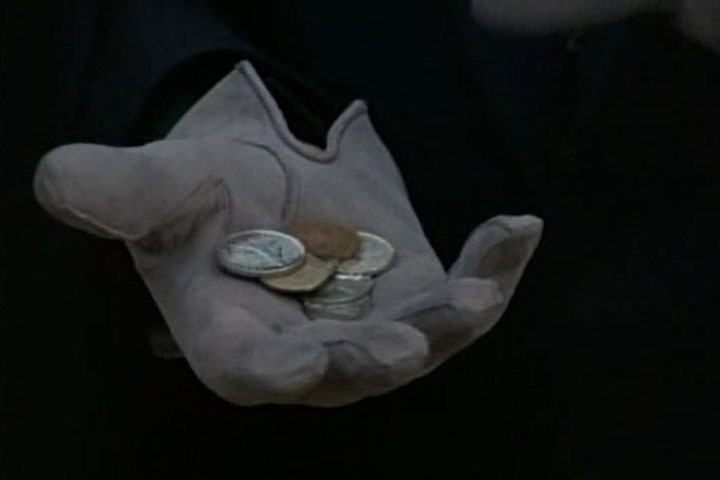 6. Orson holds coins
One is a French new franc coin with the "Sower" obverse.
These coins were made of nickel from 1959 to 2001.
The boy receives the traditional gift from a magician.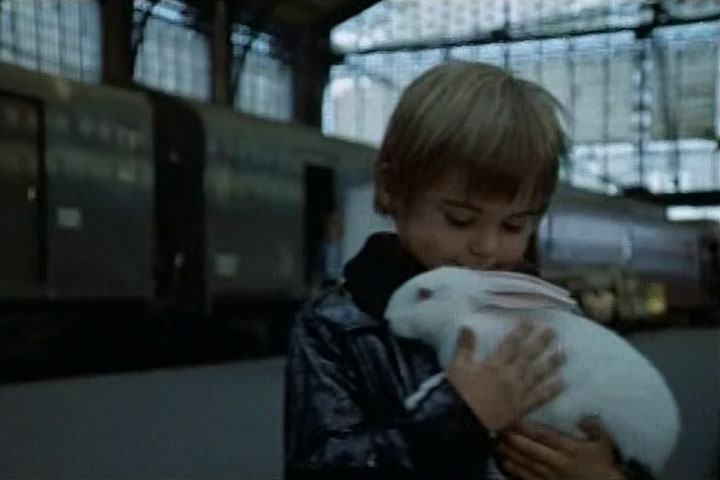 7. Boy holds rabbit
Orson's friend model Oja Kodar is watching from a train.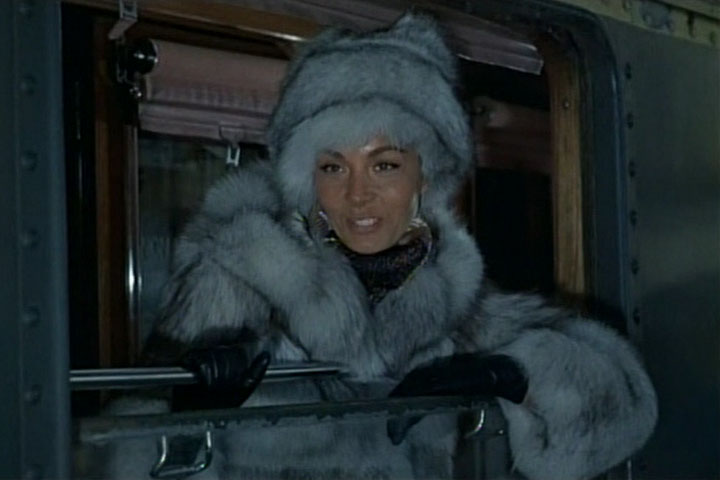 8. Oja Kodar
Oja Kodar has a short scene where she walks around the area while men watch her.
Orson Welles then introduces the main film about fakes.
He promises that the first hour of the film is based on verified facts.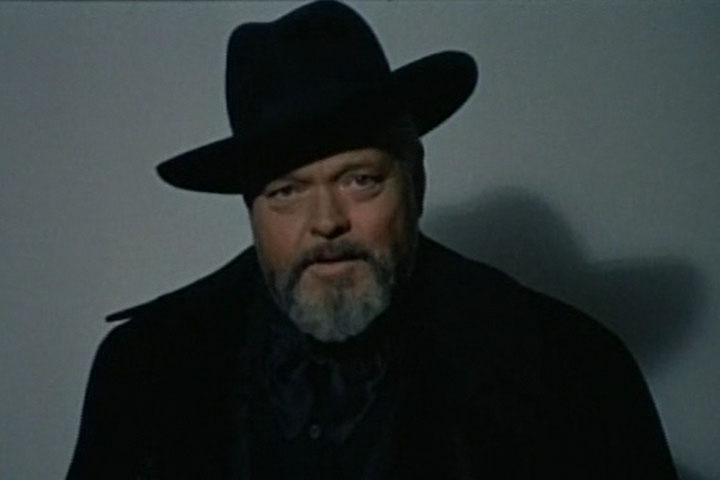 9. Orson Welles introduces the film
Elmyr de Hory and Clifford Irving are the main subjects of the film.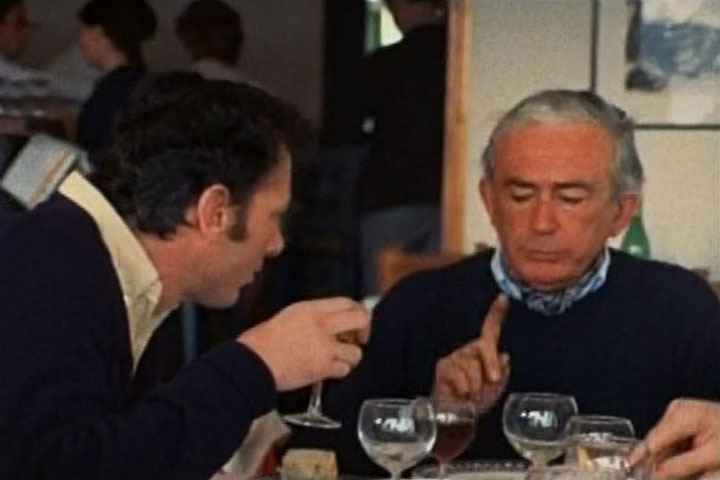 10. Clifford Irving and Elmyr de Hory
Elmyr de Hory is an art forger of modern artists, including Amedeo Modigliani,
Henri de Toulouse-Lautrec, and Pablo Picasso.
He claims to have sold several thousand forgeries through art galleries and dealers.
Clifford Irving is a writer who first wrote fiction, then a biography of de Hory.
Later he wrote a fictional "autobiography" of billionaire Howard Hughes and collected $500,000
from a publisher for it.
When the real Hughes denounced the book as a fraud, Irving and his accomplice wife went to jail.
These scenes were filmed near de Hory's residence on the island of Ibiza in Spain.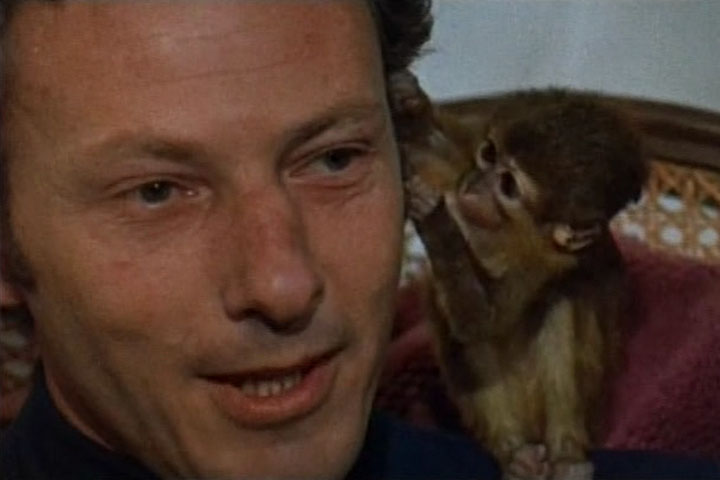 11. Clifford Irving with monkey
What signficance the money has is unknown but it appears throughout the film.
Clifford shows a book with one of de Hory's fake Modigliani paintings which made it's way to a museum.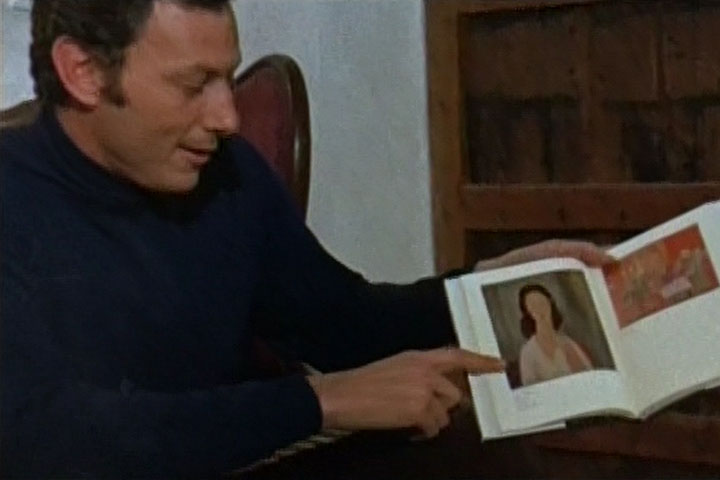 12. Clifford Irving and book with fake Modigliani
Elmyr de Hory is shown working in his studio.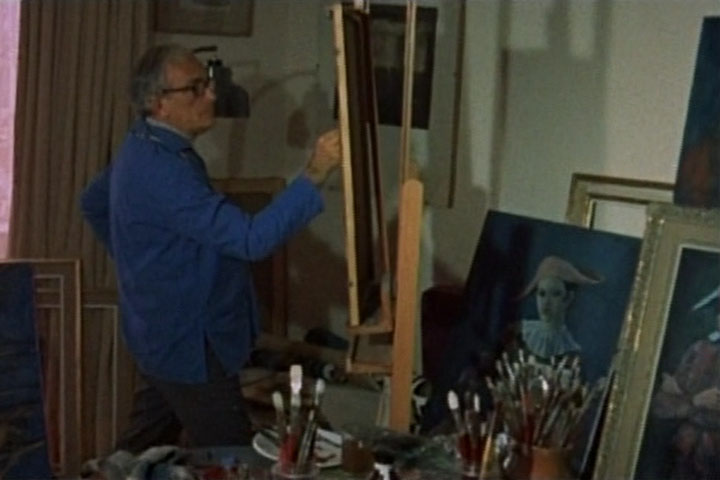 13. Elmyr de Hory in studio
The film leaves Clifford Irving and Elmyr de Hory for a while to discuss another fake.
Orson Welles describes his background as an actor in Ireland and then as an American radio performer.
He leads to his infamous October 30, 1938 Mercury Theatre radio program "War of the Worlds".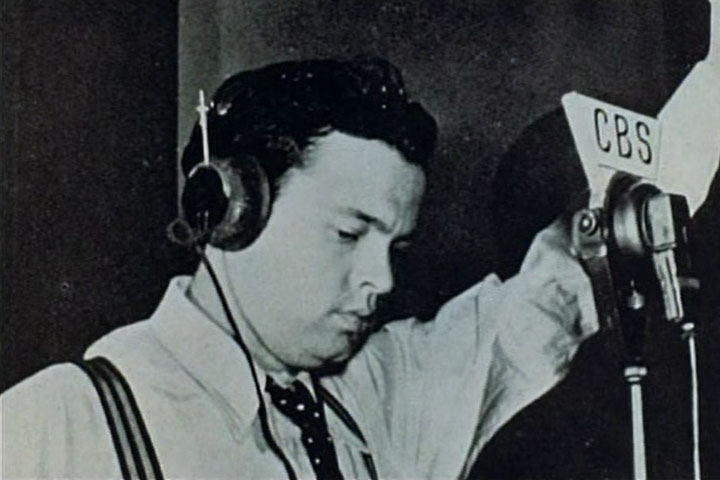 14. Orson Welles in CBS radio studio
Some scenes of antique radios are shown, including this one.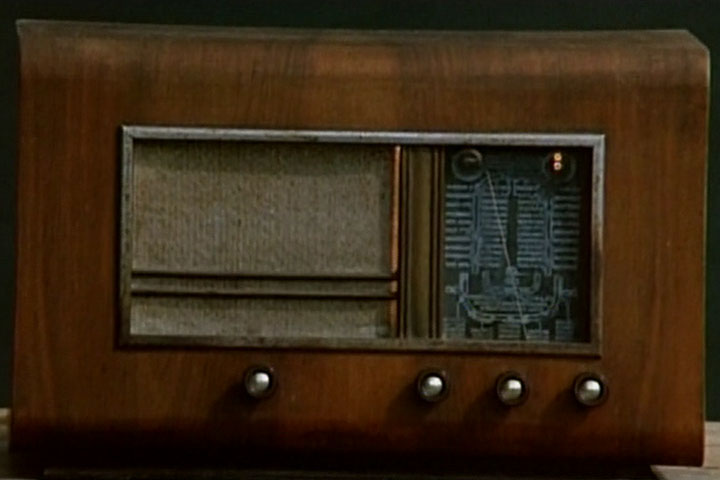 15. Antique radio
The radio broadcast did not mention flying saucers which began appearing in the 1940's.
Scenes from the 1956 Columbia Pictures film "Earth vs. the Flying Saucers" are shown while
simulated segments of the radio program are read.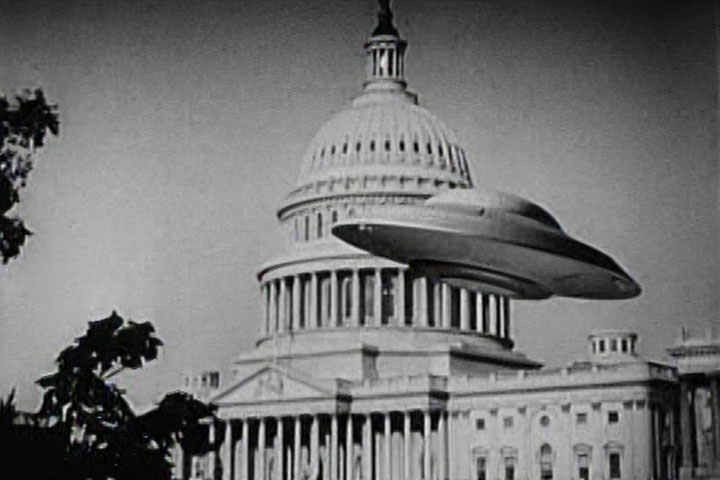 16. Flying saucer over the US capitol building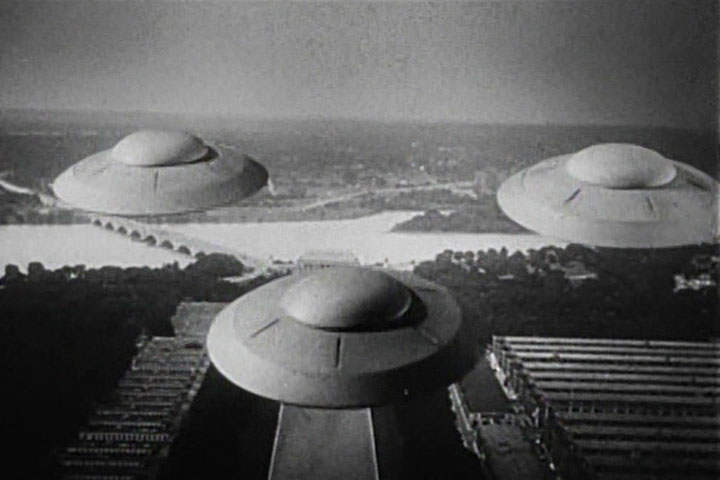 17. Flying saucers over the Potomac river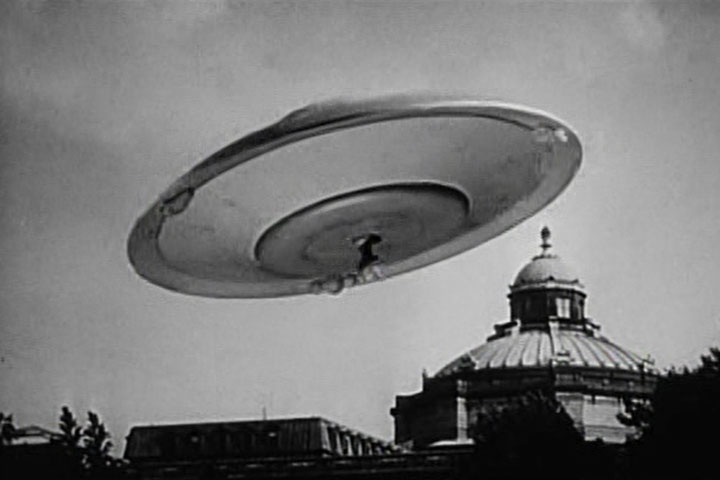 18. Flying saucer over Smithsonian museum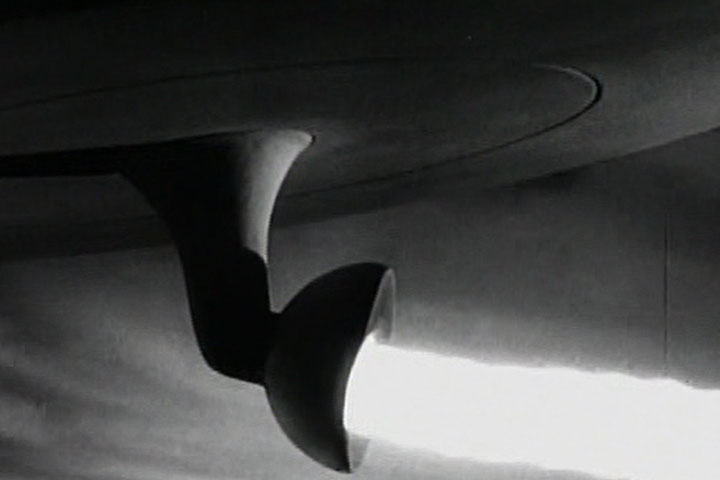 19. Flying saucer firing ray
A saucer fires a ray gun at the Los Angeles city hall.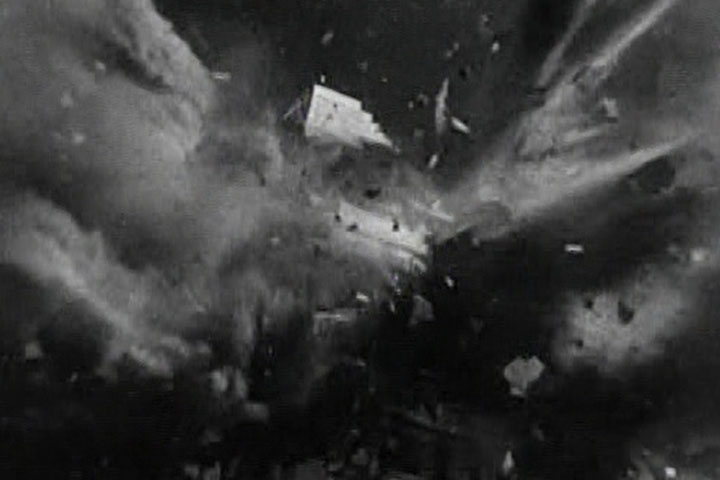 20. Los Angeles city hall explodes
This scene from "Earth vs. the Flying Saucers" was taken from the 1953 Paramount film "War of the Worlds".
Welles now returns to the Clifford Irving Howard Hughes story.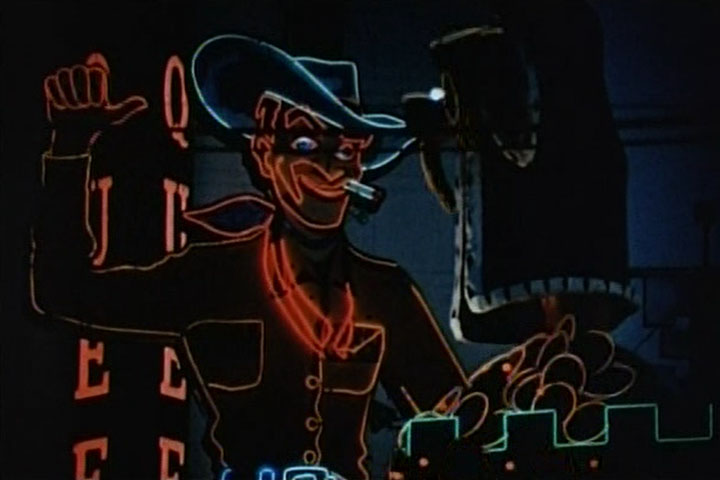 21. Las Vegas Cowboy Bob
Howard Hughes supposedly lived in Las Vegas on the top floor of the Desert Inn hotel casino.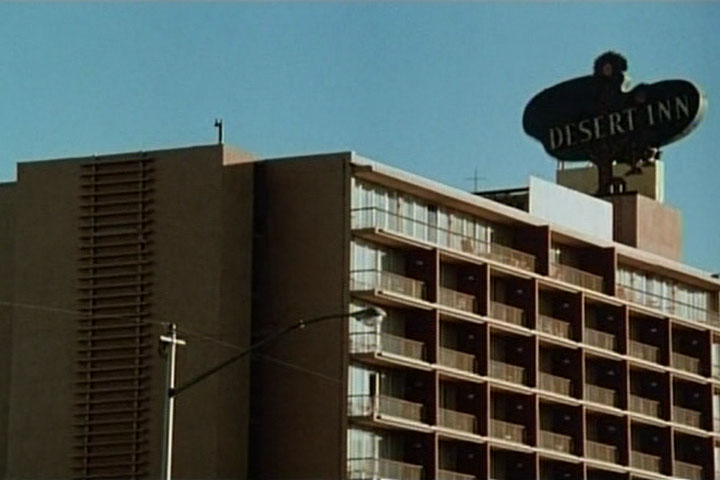 22. Desert Inn
Hughes was a recluse tended by a group of men.
He hadn't been seen in public for years.
Clifford Irving's book became a major news story of the early 1970's.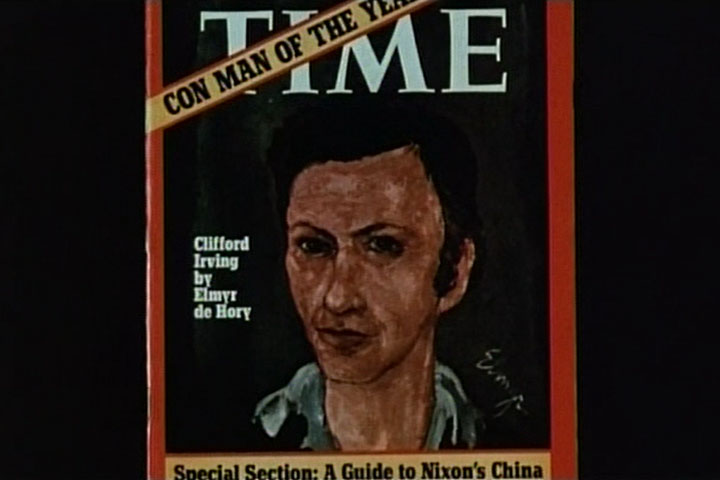 23. Time Magazine cover story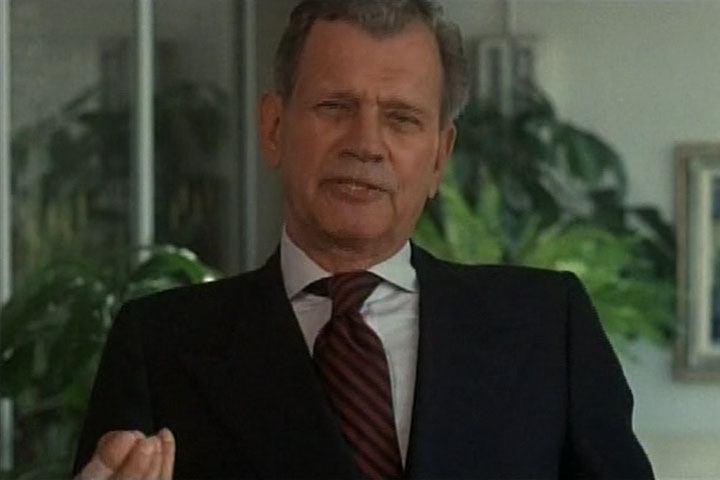 24. Joseph Cotten
Actor Joseph Cotten, a long-time associate of Welles, claims that the film "Citizen Kane" was to
have been about Howard Hughes before the main character was changed to a newspaper publisher.
Welles ends the film with a short segment involving the creation of fake Pablo Picasso paintings
and the destruction of real Picasso paintings.
This scene, he then admits, is fake.