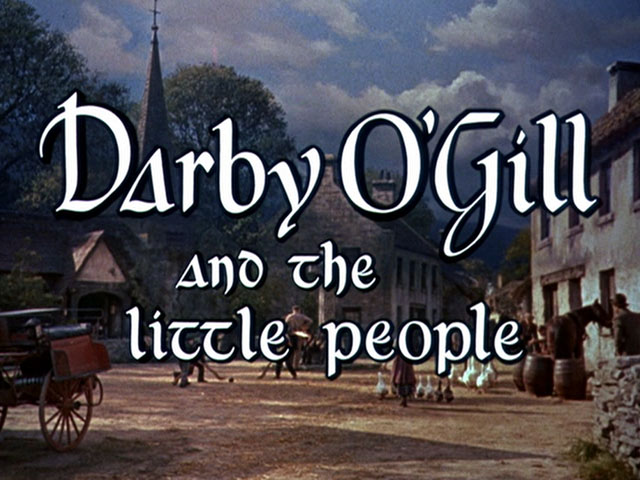 1. Title
In the small town of Rathcullen, County Kerry, Ireland, Darby O'Gill is the aging caretaker of
Lord Fitzpatrick's estate, where he lives in the nearby house with his daughter Katie.
Darby spends most of his time in the town pub, telling tales of his attempts to catch King Brian,
the king of the Leprechauns.
At Darby's house Katie is working when a coach arrives with the lord and another man.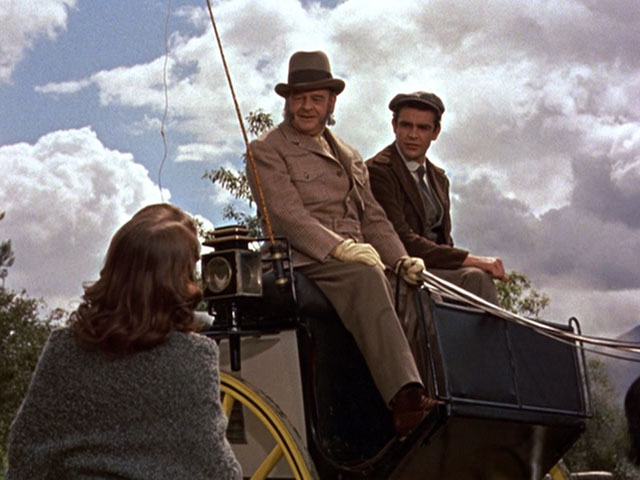 2. Lord Fitzpatrick and Michael McBride arrive
Lord Fitzpatrick and Michael McBride arrive at the house to be greeted by Katie.
Michael likes what he sees.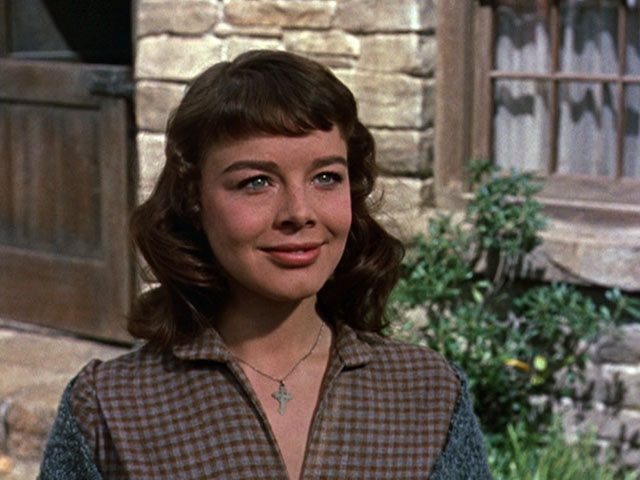 3. Katie O'Gill
Unknown to Katie, the lord has told Darby that he has hired Michael as the new caretaker to replace him,
and that he and Katie will have to move to a smaller house.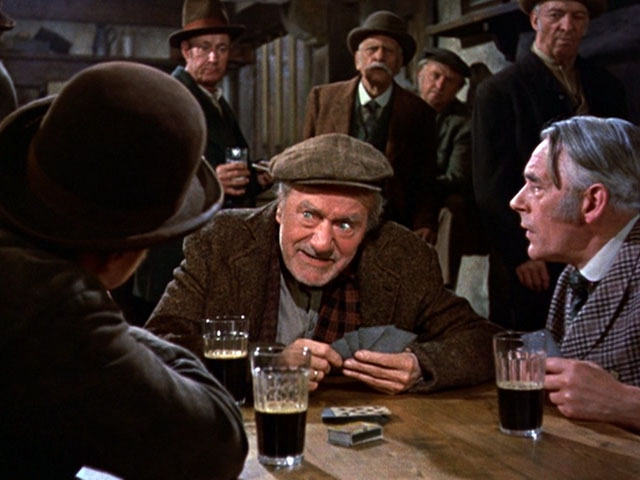 4. Darby O'Gill
Darby is at the pub telling another of his stories about the Leprechauns, and the local bully, Pony Sugrue,
is listening.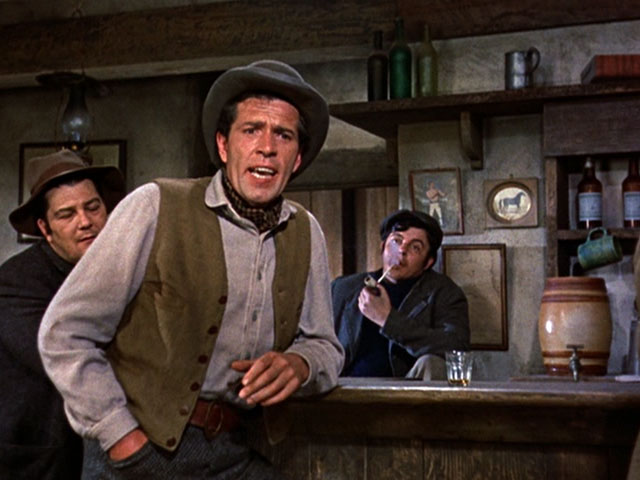 5. Pony Sugrue
Pony wants the caretaker job and Katie, and likes to make fun of Darby.
Darby continues with his story about catching King Brian and forcing him to produce his pot.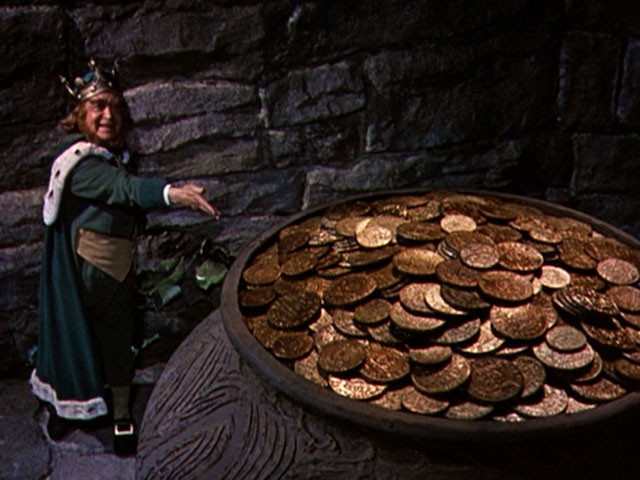 6. King Brian shows the pot
King Brian is about a foot (30cm) tall, which means that the pot is huge.
It appears to be filled with various types of coins.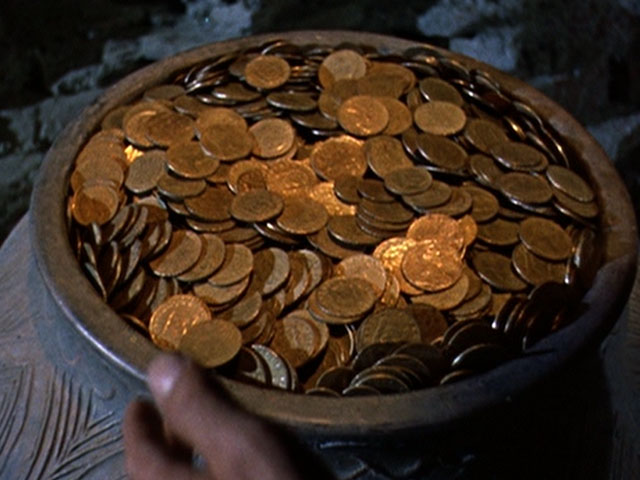 7. Handling the goods
Darby gets in to handle the goods producing more views of the coins.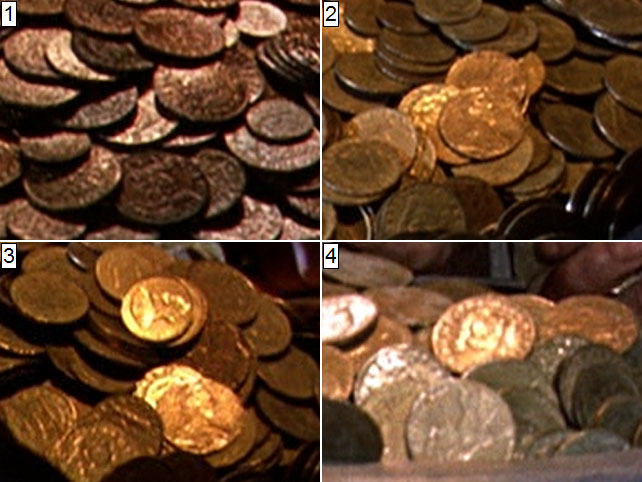 8. Four individual pictures of the coins
Number 1. - A copy of a Spanish pillar dollar.
Number 2. - Coin with a right-facing bust similar to Britain's King George III.
Number 3. - Coin with a left-facing bust similar to a Panama Columbus coin.
Number 4. - Another copy of a Spanish pillar dollar
Darby heads up a hill to some ancient ruins.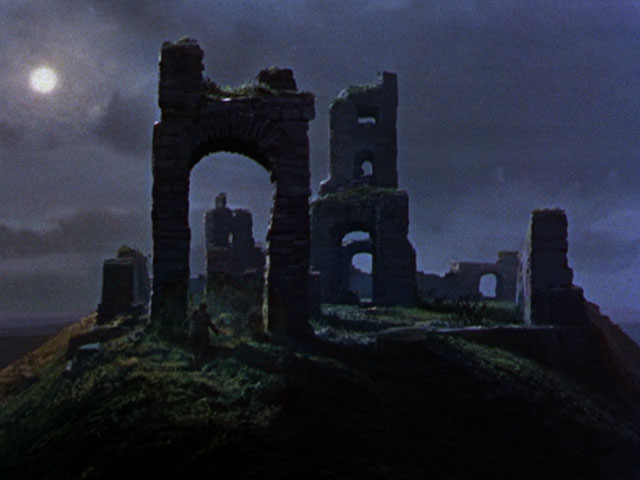 9. Ancient ruins
Darby falls into a hole which leads to King Brian's underground kingdom.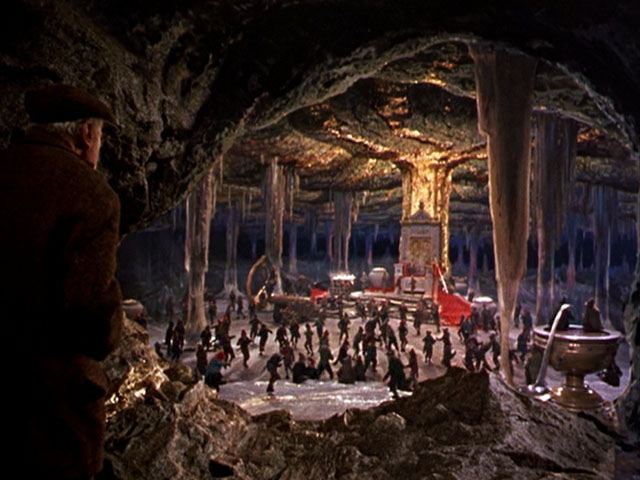 10. Darby meets the little people
Darby enters the land of the little people where a continuous party is going on.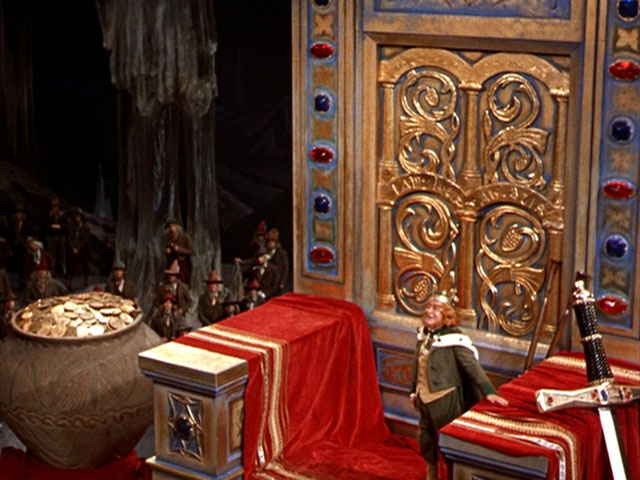 11. King Brian on his throne
The king shows Darby some of his possessions.
The Throne of Fergus mac Leda, ancient High King of all Ireland.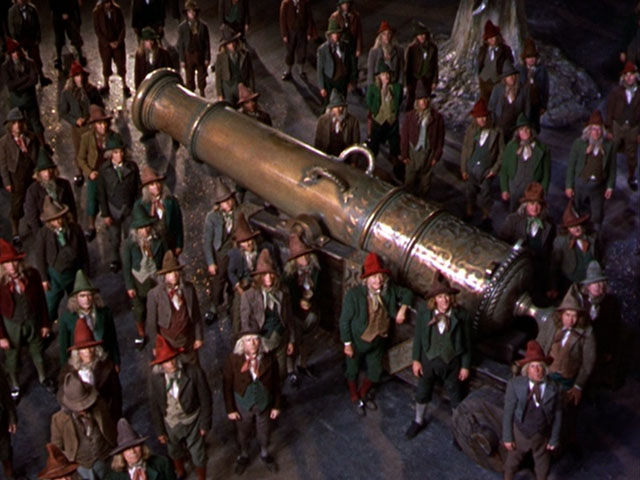 12. Spanish cannon
The king identifies it as coming from the Spanish Armada (of 1588).

13. Sword of Brian Boru
The Sword of Brian Boru, an ancient king of Ireland.
Darby is given a violin and asked to play music for the party.
He plays so well that all of the little people saddle up on little horses and ride away, leaving Darby
alone to go home.
It is still night and the king arrives at Darby's place.
Darby has hatched another scheme which requires keeping the king there until morning.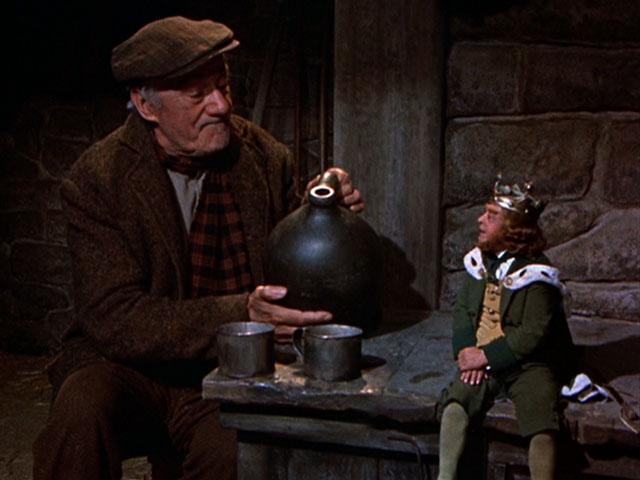 14. Drinking with the king
Darby and the king exchange drinks, the king discovers that it is past sunup, and has to give
Darby three wishes.
In the meantime, Michael and Katie have been seeing each other.
Pony attacks Michael with a club, giving Michael another reason not to like him.
Michael starts seeing Katie.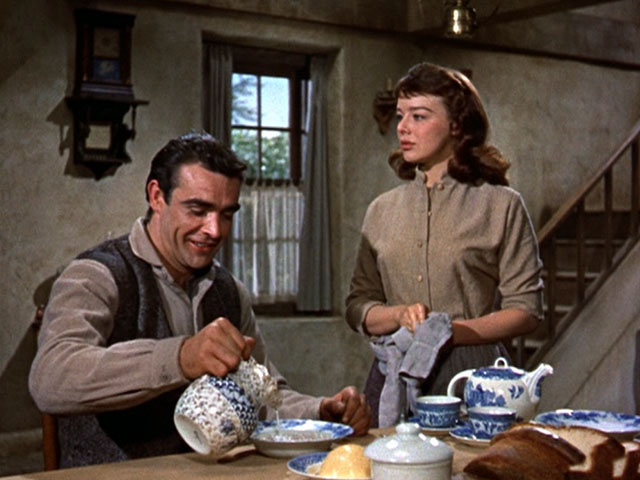 15. Michael and Katie
Darby hasn't told Katie of the impending move but she finds out and cools her relationship with Michael.
Katie heads up a hill to catch the family horse.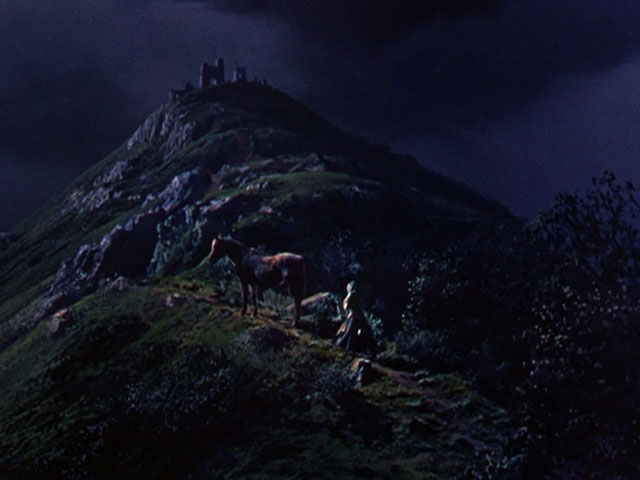 16. Katie on the hill
Katie takes a fall and is seriously injured, bringing the Banshee or the messenger of death to call.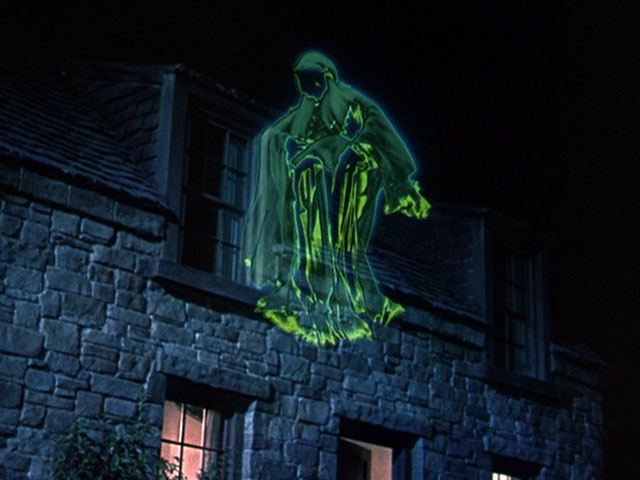 17. The Banshee
The Banshee summons the death coach for Katie and Darby asks King Brian to allow him to take her place.
Darby enters and rides off in the coach, but Brian, using another trick, kicks him out of the coach.
Katie has recovered and things are sorted out about Darby's retirement.
Michael is at the pub and sees Pony.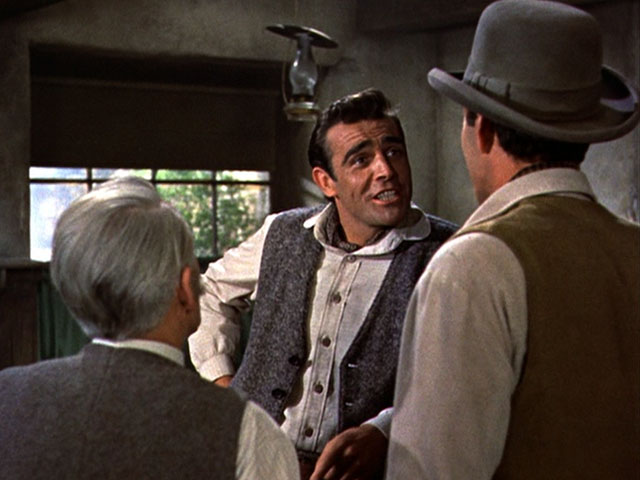 18. Michael has a message for Pony
Michael gives Pony a insulting message from King Brian, a few punches are thrown, Pony goes
to the floor, and leaves Michael and Katie to ride away together.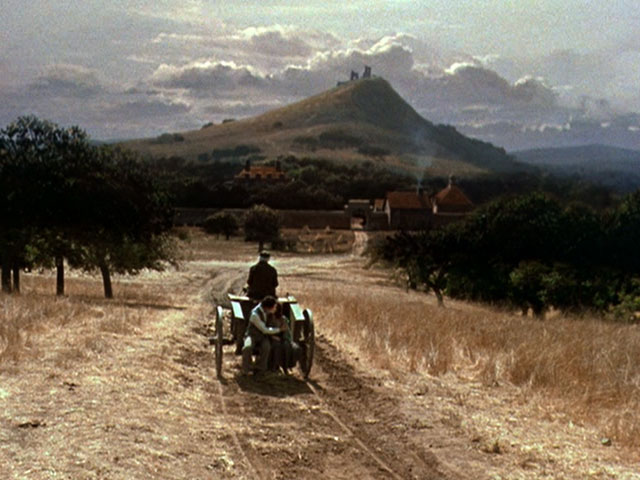 19. Michael and Katie