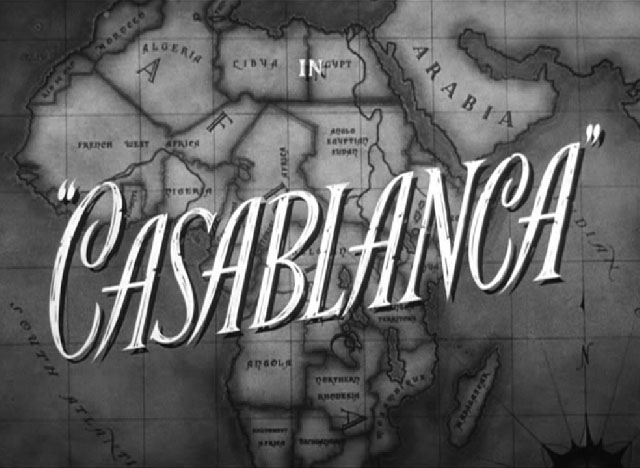 1. Title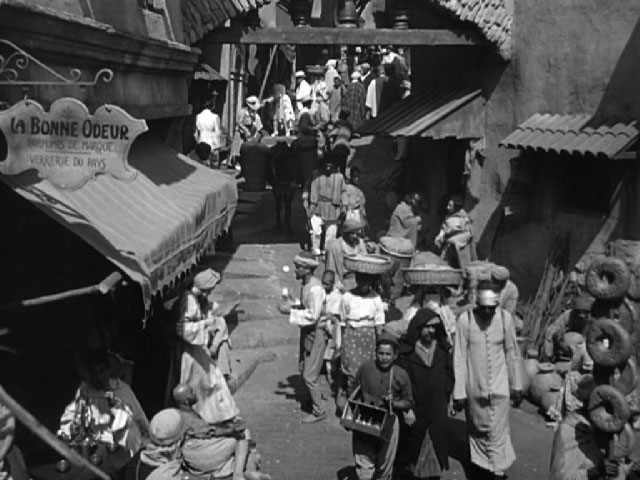 2. Casablanca marketplace
Casablanca is the home to many refugees fleeing the Nazi terror in Europe.
They need official documents to leave the city, which come with a price.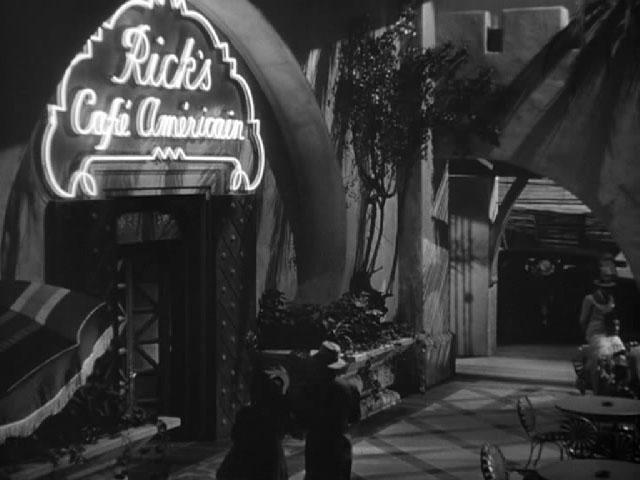 3. Rick's Café Américain
Rick Blaine, an American, owns a nightclub, "Rick's Café Américain".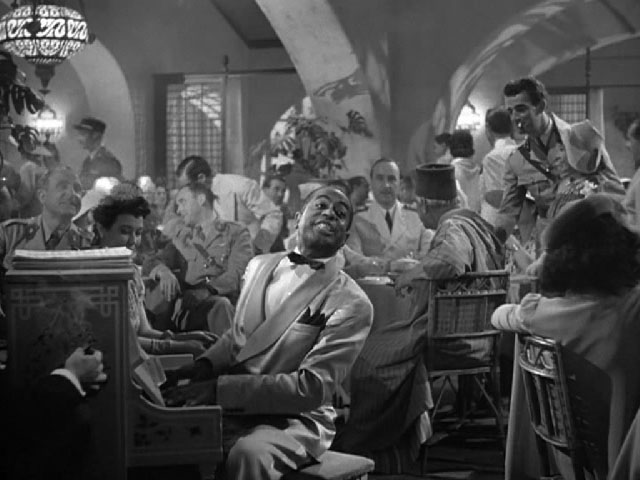 4. Sam, the entertainer
Sam is a pianist and singer, and is the chief entertainer for the club.
Ugarte, a local thief, murders two Nazis and steals two "Letters of Transit",
which can be used to leave the city.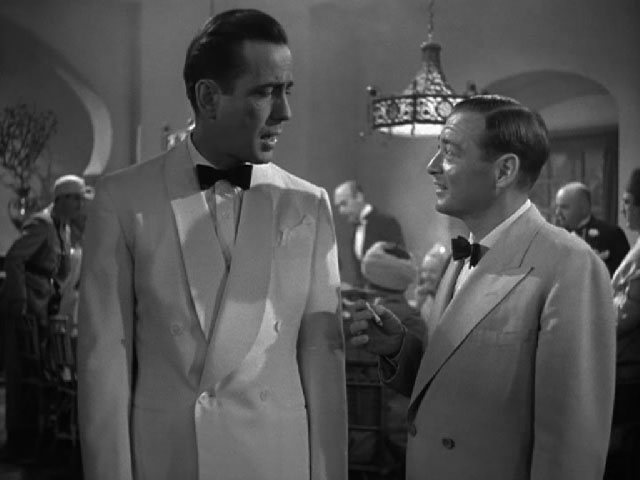 5. Rick and Ugarte
Ugarte leaves the stolen Letters of Transit with Rick and then is arrested and shot by police.
Mr. Ferrari owns a lower-class rival nightclub, the "Blue Parrot".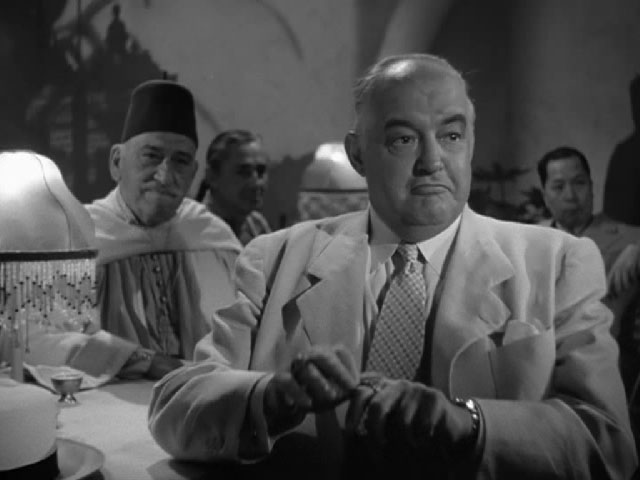 6. Mr. Ferrari, owner of the "Blue Parrot"
Mr. Ferrari wants to "buy" Sam from Rick, but Sam refuses to switch employers.
Captain Renault is the local French police chief, and he cooperates with Major Strasser.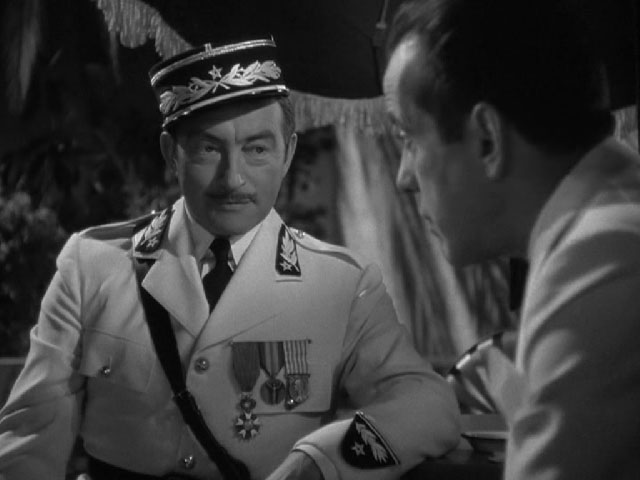 7. Captain Renault of the French police
Renault is wearing the Legion of Honor, World War I Service Medal, and World War I Victory Medal.
He sells exit visas, sometimes for cash, and sometimes to women for other consideration.
A number of Nazis arrive, including Major Strasser who is hunting for a fugitive resistance leader,
Victor Laszlo.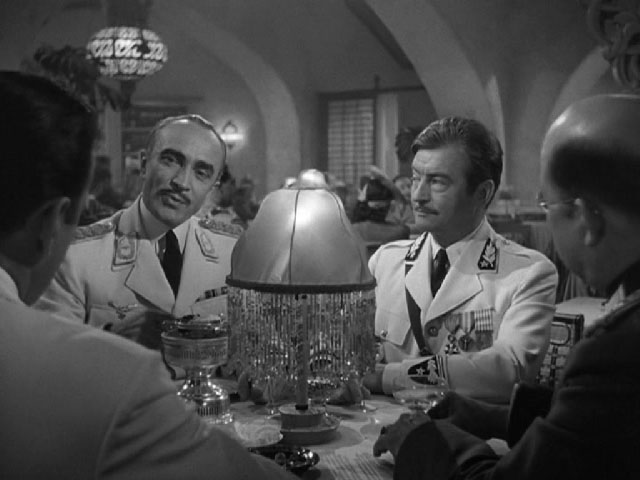 8. Major Heinrich Strasser
Strasser is a typical Nazi, he believes that Germany will succeed in invading New York.
Here he wears a Luftwaffe (Air Force) uniform, but implies that he is with the Gestapo (secret police).
Strasser knows about Rick's background and liberal politics, among other things Rick provided
guns to the Ethiopians fighting the Fascist Italian invaders and fought for the Spanish
Loyalists against the Fascist Franco forces.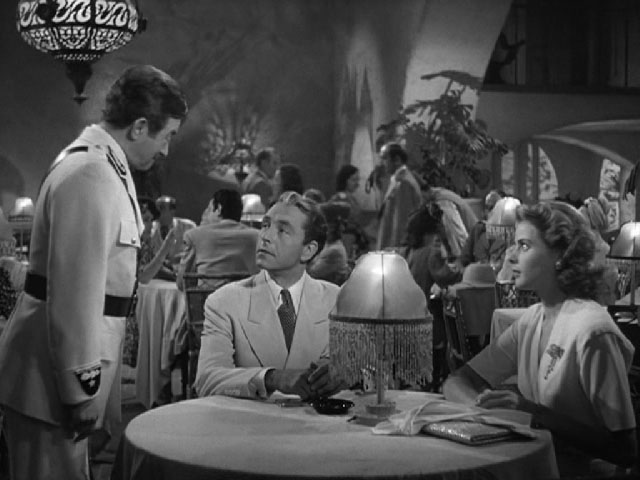 9. Victor and Ilsa at Rick's
Victor Laszlo is one of the chiefs of the anti-Nazi resistance in Europe and knows who the
other leaders are.
The Gestapo used "harsh interrogation" to get the names but failed.
Major Strasser offers him a safe passage to America for the names but fails again.
Victor is married to Ilsa Lund, a beautiful Norwegian woman who was once Rick's girlfriend
when they lived in Paris.
She was married to Victor then but believed that he had died in a concentration camp.
When she found out that Victor was alive and had escaped the camp, she dumped Rick.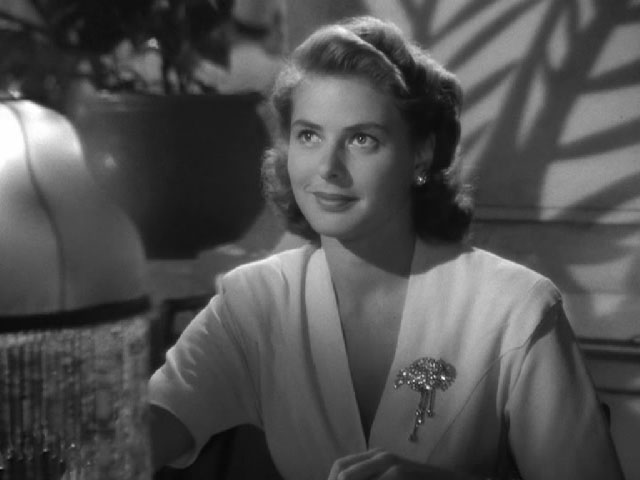 10. Ilsa looking beautiful
Ilsa visits Rick and asks him to help her and Victor get papers to travel to America.
Rick is still upset about the breakup and refuses to help.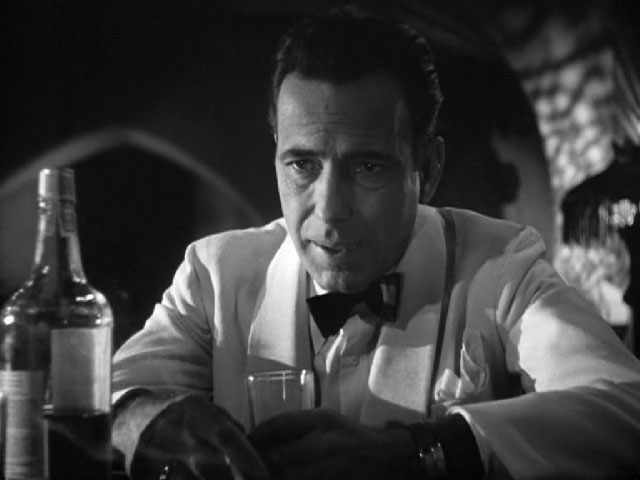 11. Rick drinking
Rick reminisces about his relationship in 1940 Paris with Ilsa.
In Rick's Paris apartment, Ilsa flips a coin.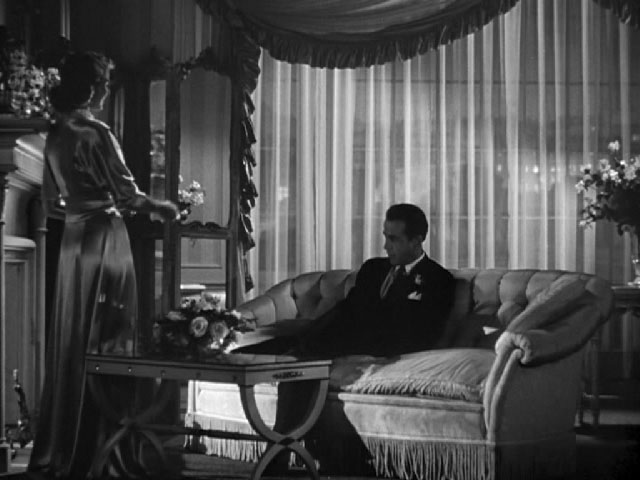 12. Ilsa flipping a coin
Ilsa: "A franc for your thoughts."
Rick: "In America they'd bring only a penny, and, huh, I guess that's about all they're worth."
Ilsa: "Well, I'm willing to be overcharged."

A French franc was worth about three US cents at the time.

A French franc coin from 1940: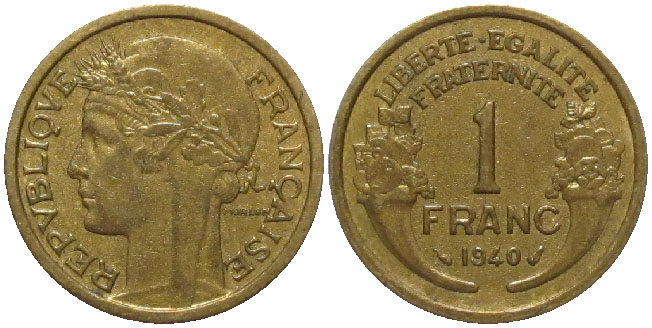 13. France franc 1940 Aluminum-Bronze
Back in Casablanca, Ilsa visits Rick and tries to get the Letters of Transit.

14. Ilsa with gun
She tries with a gun, then another gentler method, but both fail.
Rick heads to Renault's office.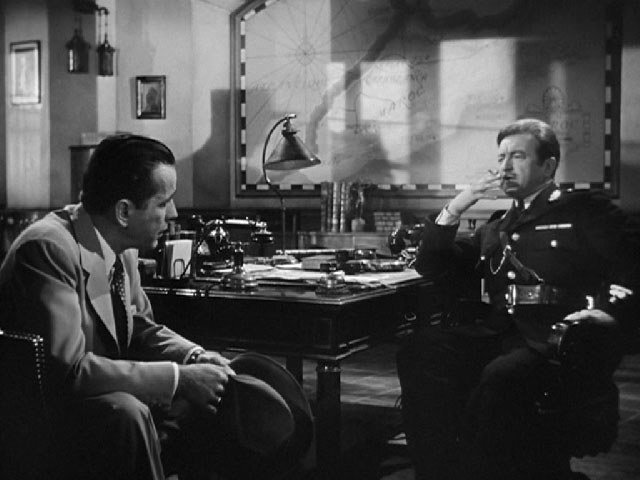 15. Rick and Renault in his office
Rick works out a deal with Renault to have Victor arrested, leaving Rick and Ilsa to get
back together and leave for America.
The infamous Letters of Transit appear.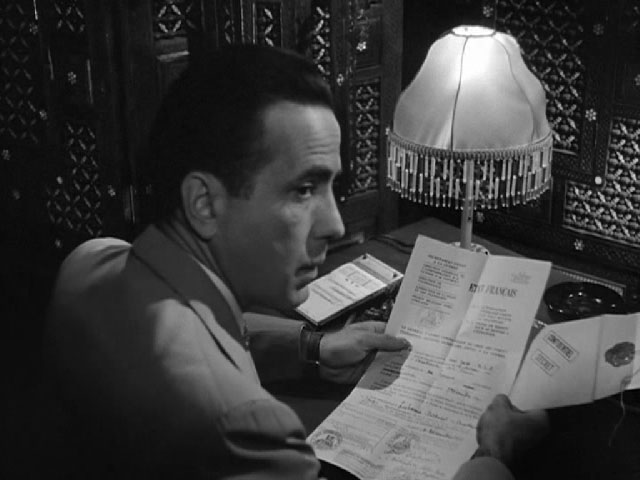 16. The Letters of Transit
Captain Renault arrests Victor, then Rick pulls a gun and informs him that the deal is off.
Renault supposedly calls the airport but actually calls Major Strasser.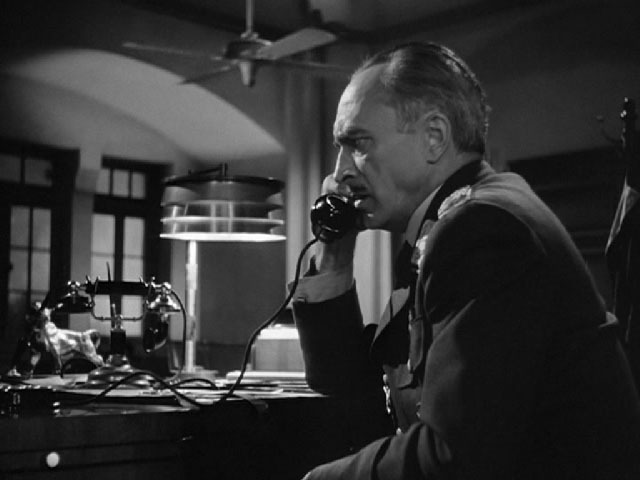 17. Major Strasser on the phone
Rick, Ilsa, Victor, Renault head for the airport, followed by Strasser.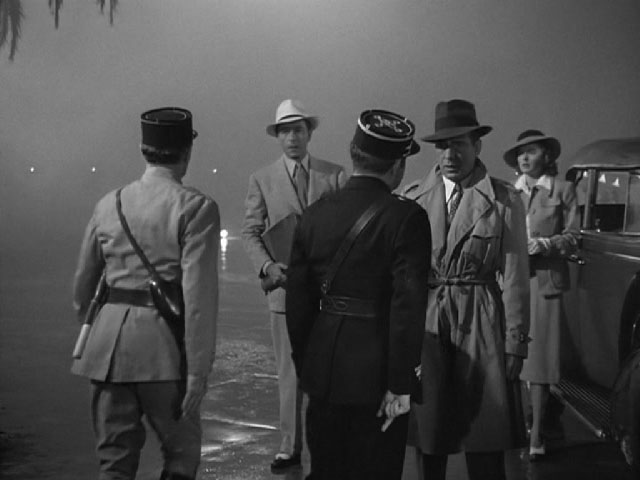 18. Airport
Rick gives the letters to Ilsa and Victor so they can go to America and tells Victor that
he and Ilsa have no personal interest in each other any more.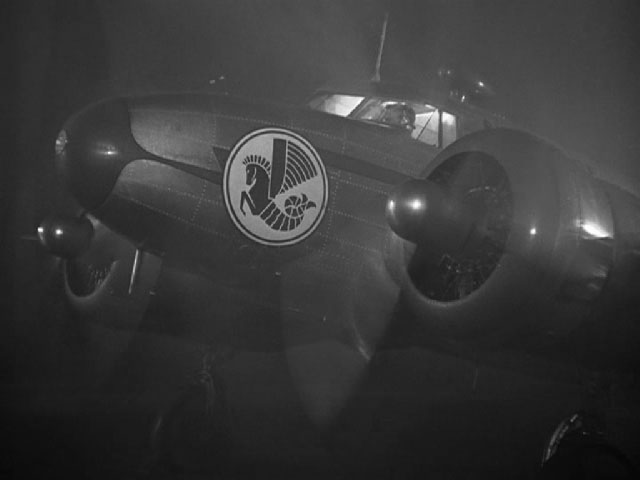 19. Airplane
The airplane displays an Air France logo.
The plane takes off with Victor and Ilsa.
Rick and Renault decide to team up and head for Brazzaville to join the Free French.