4. Franklin D. Roosevelt Chicago Exposition Medallion
Bronze, 32mm, 14.49gm
Obverse:
Hall of Science Building
A CENTURY OF PROGRESS 1934
CHICAGO
J O POLLACK CO CHI

Reverse:
Facing portrait of Franklin D. Roosevelt
FRANKLIN DELANO ROOSEVELT 31st PRESIDENT OF THE UNITED STATES
© (Copyright)

The J.O. Pollack Company of Chicago made items such as tokens and rings.

5. Franklin D. Roosevelt New Deal NRA Medallion
Aluminum, 32mm, 3.46gm
Obverse:
Franklin D. Roosevelt facing left
ONWARD AMERICA
A NEW DEAL
FRANKLIN D. ROOSEVELT

Reverse:
NRA Eagle holding gear and lightning bolts NRA MEMBER
WE DO OUR PART
U.S.
THE OSBORNE REGISTER CO. CIN. O. (Cincinnati, Ohio)

The National Recovery Administration (NRA) was the primary New Deal agency established
by President Franklin D. Roosevelt (FDR) in 1933.
The Osborne Register Company is now known as the Osborne Coinage Company.

6. Franklin D. Roosevelt Texas State Fair 1936 Medallion
Brass, 32mm, 10.70gm
Obverse:
HEADS YOU WIN / LUCKY COIN / 1836 TEXAS CENTENNIAL 1936
John Nance Garner and Franklin D. Roosevelt profiles

Reverse:
TAILS YOU LOSE / 1936
Elephant rear end, the elephant represents the Republican Party.

This item was issued in conjunction with the Texas Centennial 1836-1936 and the Texas State Fair.
John Nance Garner of Texas was Roosevelt's vice-president in 1932 and 1936.
The shield and initials MPB PIU are labor unions which indicate that the token was made by the
Bastian Brothers Company of Rochester, NY, which was a union company.
MPB PIU are Metal Polisher Buffers Union and Platers International Union(?).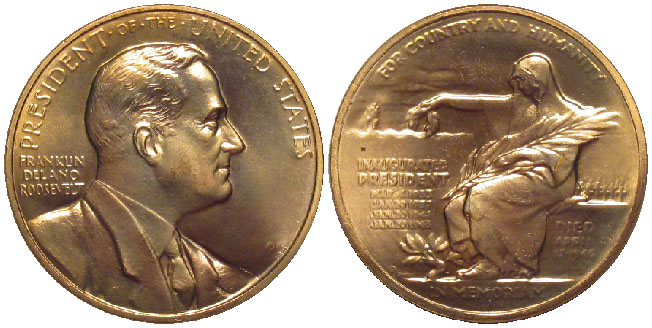 7. President Franklin D. Roosevelt Memorial Medal
Bronze, 34mm, 17.16gm
Obverse:
PRESIDENT OF THE UNITED STATES / FRANKLIN DELANO ROOSEVELT

Reverse:
FOR COUNTRY AND HUMANITY
INAUGURATED PRESIDENT / MAR 4, 1933 / JAN 20, 1937 / JAN 20, 1941 / JAN 20, 1945
DIED APRIL 12, 1945
IN MEMORIAM