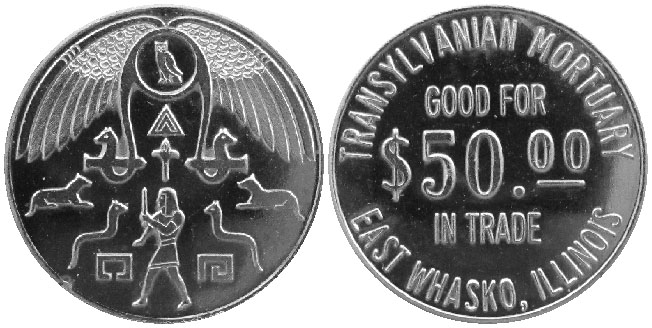 1. Johnson Smith Company Transylvanian Mortuary Token
Steel, chrome plated, 28mm, 8.28gm
Obverse:
Egyptian symbols, Pharaoh, cats, snakes, owl

Reverse:
TRANSYLVANIAN MORTUARY / GOOD FOR $50.00 IN TRADE
EAST WHASKO, ILLINOIS

This is a fantasy token, supposedly made by a Rockford, Illinois watch dealer.
They were sold by the Johnson Smith Company in the 1960's.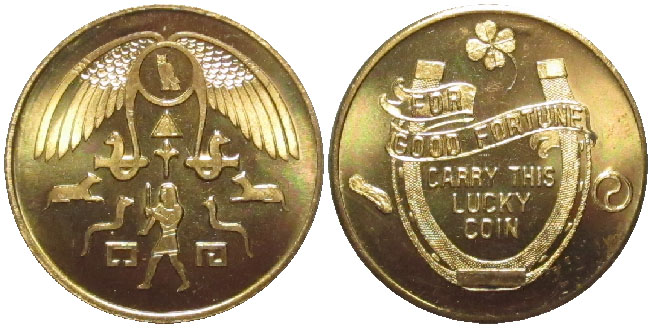 2. Johnson Smith Company Symbol of Luck Pocket Coin
Bronze, 32mm, 10.75gm
Obverse:
Egyptian symbols, Pharaoh, cats, snakes, owl

Reverse:
Horseshoe, Four-Leaf Clover, Rabbit's Foot, and
"Indian Sign" (A "Yin-Yang" symbol or backwards "S" in a circle)
FOR GOOD FORTUNE CARRY THIS LUCKY COIN

The "Symbol of Luck Pocket Coin" can be found in the Johnson Smith Company 1948 catalog of novelties.

3. Johnson Smith Company 1948 Catalog listing for above item
From the catalog listing:

Egyptian Symbol of Luck Pocket Coin
The admirer of symbols is offered an attractive and original token produced as a pocket coin or medallion.
Cleverly designed with a combination of many known and accepted charms and phrases popular today
as well as in the past.
The
Egyptian Symbol of Luck Pocket Coin
contains many of the same symbols and inscriptions
found on famous
Talismans
. Our illustration shows the
Egyptian Symbols of Luck
including the
Sphynx
and
Snake
.
On the other side of the coin is the phrase:
"For Good Fortune Carry This Lucky Coin"
,
surrounded by
Lucky Horseshoe, Four-Leaf Clover, Rabbit's Foot, Indian Sign
.
Coin is about 1¼ in. in diameter.
A great deal of artistic effort as well as expense has been put into the manufacture of the SYMBOL COIN.
It looks very much like a solid gold coin. A very unique and novel pocket piece.
No. 8101. SYMBOL OF LUCK COIN. Price Postpaid
...
15¢
Send Remittances in Any Convenient Form Such As Money Order, U. S. Stamps, etc.
Johnson Smith & Co., Detroit, Mich.